The Goldsworthy Family
George Goldsworthy - Eliza Agnes Hutchison
My grandmother, Eliza Agnes Goldsworthy married William Froggatt in Sydney in 1910. Her parents were George and Eliza GOLDSWORTHY. This page gives information about George and his family. Follow the links for information about the other families.
 Frederick    Elizabeth Thomas       Sarah                David       Esther  William      Isabella   James           Janet   James        Agnes

GOLDSWORTHY==v==STONE   DENNIS==v==BREWSTER             HUTCHISON==v==MORTON MILNE===v===McNAUGHTON ABERCROMBIE===v===GERSHOM ROBERTSON==v==REOCH 

             m:                 m:                               m:1794            m:1828                       m:1787                 m:1794

             |                  |        |              |          |                 |                            |                      |
           John                Mary    James        Charlotte    Ralph            Isabella                    Archibald                 Agnes
        GOLDSWORTHY===v=======DENNIS  BOWCHER===v===DIMBLEBY  HUTCHISON====v=======MILNE                     ABERCROMBIE=======v======ROBERTSON

          1797-1889  m:1828  1802-1874  1804-  m:1828 1803-    1806-1881  m:1828  1811-1894                      1802-?       m:1826   1803-1866

                       |                         |                         |                                                    |

                  John Frederick              Henrietta                  David                                                Eliza  

                   GOLDSWORTHY=====v===========BOWCHER                HUTCHISON=====================v======================ABERCROMBIE

                     1829        m:1851         1832-                 1831-1897                   m:1850                    1826-1898 

                                   |                                                                |


                                  

George

                                                        Eliza Agnes  

                              

GOLDSWORTHY

===========================v===========================HUTCHISON

                               1862-1929                          m:1883                        1860-1940 

                                                                    |               

                |---------------------------------------------|---------|---------|---------|---------|---------|----------|

             George F.                                   Eliza Agnes  Hetty      Ivy     Olive M. Reginald   Leslie G. Douglas R.

            1884-1940                                     1886-1954 1888-1889 1890-1964 1892-1893 1894-1895 1896-1966  1900-1977
               |                                             |         |         |         |         |         |          |    

                |                                             |                                          |------|          |
               |                                             |                               |----------|                 |------------|
             m:1906                                        m:1910                     m1:1918 D:1924 m2:1924        m1:1926 D:1934  m2:1935
              Amy                                         William                        Georgina    Frances             Margaret    Elsie
            WILLIS                                        FROGGATT                        BROWNE      BROWN               WATSON    TOMLINS
          1885-1947                                      1869-1946                      1896-1943   1902-1977            1904-1979 1908-2006
    |---------|---------|---------|--------|-------|         |                    |---------|           |---------|          |         |
Frederick   Elsie    Blanche   George    Eliza    Nola   8 children             Leslie     Loma        John     David     Valerie      1
1906-1979 1908-1931 1910-1967 1913-1987    ?   1924-1992                         1919-     1921-     1924-2008 1927-1977 1929-2014  
    |         |         |         |        |       |                              |         |           |         |          |
  m:1932               m:       m:1942                                          m:1959    m:1942        m:        m:         m:
  Edith              Stanley    Lesley  Richard                                  Opal     Donald       Anne     Marion      Noel
  ROGERS              MCKEE     SIMONS  HOOPER                                  GLASS    SANDFORD   PIETERSON   RUSSELL   MORTIMORE
1911-1915               |       ?-1998     |                                      |         |           |         |          |
    |                   |         |        |
12 children        6 children 5 children   1
George GOLDSWORTHY
George was born 19 July 1861 at 2 Bathhurst St, Paddington, London to John Frederick Goldsworthy and Henrietta (BOWCHER). He emigrated to Melbourne, with his family in August 1873, on the MacDuff. (See John Frederick Goldsworthy page).


1861 birth certificate for George GOLDSWORTHY.
George was about 12 years old when he arrived in Melbourne. After ten years in Melbourne he married Eliza Agnes Robertson HUTCHISON on on Wednesday,24th October 1883. The marriage certificate tells us George Goldsworthy was a bachelor and Mounted Trooper currently of North Fitzroy. The marriage was at the residence of Mr D. Hutchison, Prahran. The witnesses were J. Goldsworthy, probably George's brother John (their father was also John), and Maggie (Margaret) Robertson Hutchison, Eliza's younger sister.
Eliza Agnes HUTCHISON
Eliza was born 19 April 1860 at 15 Caledonia St, Glasgow, the daughter of David Hutchison and Eliza Abercrombie. (See the Hutchison page for more information). Eliza and family arrived in Melbourne in June 1880 on the Loch Maree.
The actual address of the Hutchison residence used for the wedding is not stated, but the Sands Post Office Directory for 1883 shows a David Hutchison resided at Moubray St, Emerald Hill which is now an inner part of the city of Melbourne, and not close to Prahran.
However the 1884, 1885 and 1886 directories list David Hutchison at 25 Chatsworth Rd, Prahran and this is likely to be the address at which George and Eliza wed. Today, Chatsworth Rd is a typical suburban street, lined both sides with tall, mature plane trees and a mixture of renovated 1880's houses and modern homes and apartments. It is a desirable part of Melbourne, as it would have been in 1883. The house at 25 Chatsworth St has been recently renovated, after being bought a few years ago in a rather poor condition according to a neighbour. It has been re-roofed, lost its chimneys and had a new fence, but the original character of the house is obvious. (Note that it is possible that Chatsworth St was renumbered and this may not be the actual house. However it is typical of the houses in this street.)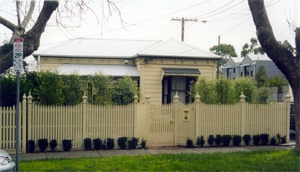 The residence of Mr D. Hutchison (25 Chatsworth St) today
The Family of George and Eliza
George and Eliza had 8 children:
Name
Date of Birth
Date of Death
Date of Marriage
Spouse
George Frederick
8 Nov 1884
Eaglehawk, Vic
24 April 1940
New Plymouth NZ
1906
Napier, NZ
Amy Amelia WILLIS
Eliza Abercrombie
31 Oct 1886
Moe, Vic
28 Dec 1954,
New Plymouth, NZ
12 May 1910
Sydney
William FROGGATT
Hetty
14 Aug 1888
Clyde St,
St Kilda, Vic
22 April 1889
Malvern
Ivy
16 Aug 1890
Sydney, NSW
1 Feb 1964
New Plymouth, NZ
Olive Margaret
31 Dec 1892
Sydney, NSW
6 April 1893
Sydney, NSW
Reginald
1 Oct 1894
Sydney, NSW
3 May 1895
Paddington, Sydney
Leslie Gordon
4 April 1896
Sydney
30 June 1966
Auckland, NZ
6 Nov 1918
New Plymouth, NZ
18 Oct 1924
Auckland, NZ
(i) Georgina Sarah BROWNE
(ii) Frances A BROWN
Douglas Roy
9 Nov 1900
Auckland, NZ
24 Feb 1977
Auckland, NZ
5 April 1926
Fitzroy, NZ
1 Jan 1935
Auckland, NZ
(i) Margaret WATSON
(ii) Elsie TOMLINS
George the Mounted Trooper - And the story of Ned Kelly
George enlisted in the Victoria Police on 13 April 1883, as a Mounted Trooper. (We are not sure where he learned to ride. It was unlikely to have been in London and he was about 12 or 13 when he arrived in Melbourne.) On 21 July 1883 he was sent to the Northwestern District to replace Constable Foley (deceased) but 10 days later, on 31 July 1883 he was transferred to Eaglehawk, to fill a vacancy. He returned briefly to Melbourne to marry Eliza Hutchison on 4 October 1883, and their first child, George Frederick, was born in Eaglehawk in November 1884. On 9 February 1885 he returned to Melbourne "To act as Orderly to the Governor". George was then transferred to Moe on 18 December 1885 "To take charge of the station". Eliza was born in the Police Station at Moe, in October 1886. George remained at Moe until his resignation on 31 January 1888. The family returned to Melbourne where Hetty was born in August 1888.
| | |
| --- | --- |
| George Goldsworthy's Police enrolment form (click on it for a larger version) | |
| | |
In later years, George claimed he was involved in the hunt for the Australian Bushranger Ned Kelly. Kelly was captured 28 June 1880, at which date George was only 18 years old, and well before he joined the Victoria Police. However, there is a note in his application to join the Police that states he had been a member of the East Collingwood Rifles for 8 years (ie from 1875 to 1883). George arrived in Melbourne in August 1873, aged 12, so would have been 14 when he joined the Rifles. The various volunteer rifle associations were formed to protect locals from the bushrangers, notably the Kelly Gang, and they were used to assist the local police force. Thus it is quite possible that George was involved in expeditions in search of the Kelly Gang. Whether they got anywhere near the gang is another matter.
To Sydney
George had resigned from the Victoria Police on 31 january 1888. He now enlisted in the NSW Police Force on 3 April 1889, some 19 days before Hetty died in Melbourne at the home of her grandparents. This suggests George and family had already moved to Sydney but left the ailing Hetty behind. Once in Sydney further children were born: Ivy, Olive, Reginald and Leslie.
| Date | Event | Address | Occupation |
| --- | --- | --- | --- |
| 16 Aug 1890 | Birth, Ivy | 25 Weymess St, Sydney, NSW | Constable |
| 31 Dec 1892 | Birth, Olive | 10 Wigram Rd, Glebe, Sydney | Constable |
| 6 April 1893 | Death, Olive Margaret | 10 Wigram St, Glebe, Sydney | Constable |
| 1 Oct 1894 | Birth, Reginald | Alma Cottage, St James Rd, Waverley, Sydney | Traveller |
| 3 May 1895 | Death, Reginald | 3 Glenview Tce, Paddington, Sydney | Undertaker |
| 4 April 1896 | Birth, Leslie Gordon | 17 Selwyn St, Sydney | Undertaker |
In the NSW Police Force
George enlisted in the New South Wales Police Force in Sydney on 3 April 1889, this time as a foot rather than mounted constable. He had service number 5759. His occupation at time of enlistment was Victorian Police. He was posted to the Metropolitan District, and was promoted from probationary to ordinary constable on 1 April 1890, and to constable 1st Class on 1 July 1892. He resigned from the Police on 31 March 1894.
To New Zealand
Some time between April 1896 and late 1900 the family moved across the Tasman Sea to New Zealand. Douglas Roy was born in Auckland in November 1900. Very little is known about this phase of their lives. Wises Directory for 1905 lists George as a Storekeeper in Gisborne. Their eldest son George Frederick was married in Napier in 1906.
More information about George's time in New Zealand has now come to light. Following up the entry in Wises Directory, there is a wealth of information about his time in Gisborne. It would appear that George and family arrived in Gisborne in early 1902, and by his own description (see below) had been "carpentering on wages". In June 1902 he invested his savings (about £56, equivalent to about $10,000 in 2020) into a second-hand shop in Gladstone Rd, Gisborne.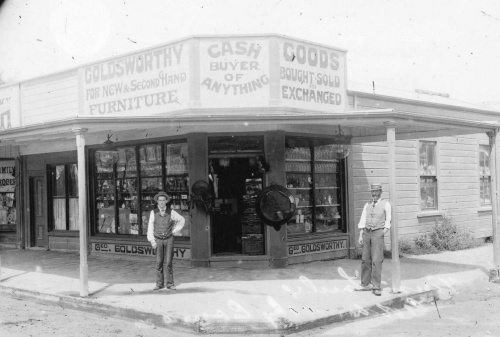 George Goldsworthy's Secondhand Shop, Gladstone Rd
In early 1903 George took out a series of advertisements in the local newspaper, The Poverty Bay Herald, beginning 2 January 1903 (The newspaper is available online from the National Library at paperspast.natlib.govt.nz).
George also figured in the paper for other reasons:

Poverty Bay Herald, 22 June 1903

Poverty Bay Herald, 25 June 1903

Poverty Bay Herald, 3 October 1903
But, the business was to come to an end on 16 October 1903 when the newspaper announced:
There followed a series of hearings:
| | |
| --- | --- |
| Poverty Bay Herald 20 October 1903 | Poverty Bay Herald, 26 October m1903 |
| Poverty Bay Herald, 23 October 1903 | Poverty Bay Herald, 10 November 1903 |
The creditors were paid an initial dividend on 9 January 1904. The whole process continued with an attempt to sell the remaining debt, finally coming to an end on 24 March 1905 when the Deputy Assignee applied to be released from administration.
| | |
| --- | --- |
| Poverty Bay Herald, 9 January 1904 | Poverty Bay Herald, 20 October 1904 |
| Poverty Bay Herald, 24 March 1905 | Poverty Bay Herald, 9 May 1905 |
George had been in business from June 1902 to October 1903, a total of about 16 months. He was a bankrupt from October 1903 to March 1905, or about 17 months. No wonder he fled back to Australia soon after this date. But his fortunes were soon to rise in Sydney, when he met up with a family he almost certainly knew in Gisborne - William Froggatt, who by 1910 had inherited his father's estate. William Froggatt and family had been living in Gisborne from about 1903 until their departure for Sydney in December 1906. It may not be a coincidence that William Froggatt married George's oldest daughter Eliza.
Back to Australia
The Goldsworthy family was living in Sydney in May 1910 for the marriage of Eliza Agnes to William Froggatt. These photographs were taken at the wedding.
| | | |
| --- | --- | --- |
| George Goldsworthy | | Eliza Goldsworthy |
Back again to New Zealand
But life in Sydney was not agreeable, and the Goldsworthy family, along with William Froggatt, his wife Eliza Agnes and their new daughter Ivy, returned again to New Zealand, this time settling down in New Plymouth where both families remained.
George had not entirely given up on the excitement of being part of he Ned Kelly story, or of his time in two police forces. He joined the Legion of Frontiersmen in New Plymouth.




George posing in his Legion of Frontiersmen uniform. Photo taken in New Plymouth in about 1920, and reproduced in the Taranaki Herald soon after his death.

George as a member of the Legion of Frontiersmen in New Plymouth. He is on the far left of the second row from the front, to the left of the woman with the hat.
I now have a copy of the original print of the photo reproduced in the Taranaki Herald, courtesy of the "Legion of Frontiersmen (New Zealand) Command". Can you name any of the other people in the photo?
George died in New Plymouth on 2 September 1929, and is buried in the Te Henui Cemetery.
Eliza Agnes, his wife died in 1940 and is buried with George.
By coincidence, the grave of George and Eliza lies next to that of John Hutchison - Hutchison being Eliza's maiden name. John was born in Dunedin, and is unlikely to be a close relation.
| | |
| --- | --- |
| The Goldsworthy grave at Te Henui Cemetery, New Plymouth, NZ | The headstone for Ivy, between those of her parents George and Eliza. |
| George Goldsworthy's headstone | Headstone for Eliza Agnes Goldsworthy |
---
---
The Children of George and Eliza GOLDSWORTHY
George Frederick Goldsworthy (1883-1940)
George Frederick was born on 31 July 1883 in Eaglehawk where George the Mounted Constable had been posted. George F. accompanied the family to New Zealand, where he married Amy Amelia WILLIS in 1906 in Napier. They had six children: Frederick Raymond, Elsie May, Blanche Edna, George, Betty, and Nola Ethel.
George Frederick died in New Plymouth on 24 April 1940. His wife Amy died on 1 April 1947.
---
Eliza Abercrombie Goldsworthy (1886-1954)
Eliza Abercrombie, originally registered as Janet but changed in the official records was later known as Eliza Agnes, the same name as her mother. She was known to the family by her nickname of "Tottie". Eliza was born at the Police Station in Moe, Gippsland in 1886. The exact form of the Police Station is unknown, but it was initially established in 1876 as a "Police Camp" of tents . Not until 1927 did it move into a solid wooden structure.


Birth certificate for Eliza Agnes Goldsworthy
On Thursday 12 May 1910 Eliza Abercrombie GOLDSWORTHY married William FROGGATT at the MacNeil Memorial Church, Waverley, Sydney. A photograph of the wedding party survives.

The wedding party in Sydney, 12 May 1910.
L to R: Alice Froggatt, George Frederick Goldsworthy, Eliza the bride, William Froggatt, Ivy Goldsworthy, George and Eliza Goldsworthy.

The MacNeil Memorial Church in Waverley, Sydney (now used as a day care centre)

Sarah and Frank Froggatt at the wedding
Eliza's Family
More is written on Eliza and William Froggatt here. They had 8 children, and after the oldest, Ivy, was born in Sydney in 1912 they moved to New Plymouth, NZ. By this time William was 43 years old. His youngest child (James) was born in 1932 when he was 62.
| | | |
| --- | --- | --- |
| Eliza Goldsworthy (sitting) with her daughter Eliza and grand-daughter Ivy. | The family of Eliza and William Froggatt taken about 1930. The children in decreasing age are Ivy, Gordon, Laurie, Florence, Douglas, Peggy and Audrey. Their youngest, James, was born in 1932. | Eliza Agnes Froggatt taken in New Plymouth in about 1940. |
Eliza's later life
Eliza's husband, William Froggatt died in 1946. A few years later, Eliza married William Ireland in New Plymouth. She died 28 December 1954 and is buried in Te Henui Cemetery, New Plymouth. Disappointingly, Eliza is in a separate grave. Although the grave of her first husband William was preferred by the family, her second husband insisted on a separate plot, large enough for him as well. However, his family in due course insisted he be buried with his first wife, leaving Eliza alone.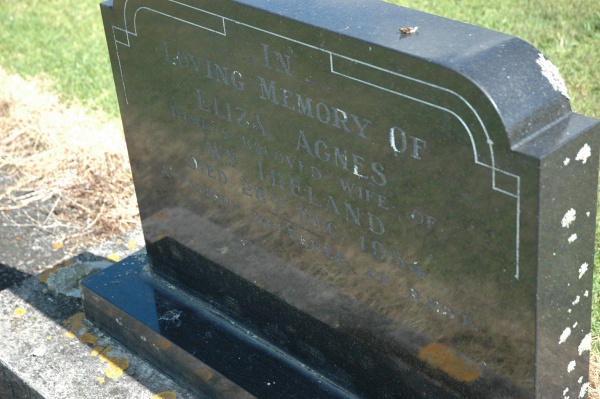 The headstone for Eliza Ireland, formerly Froggatt, nee Goldsworthy.
---
Hetty Goldsworthy
Hetty (or Hettie) was born in Clyde St, St Kilda, Melbourne, the third child of George and Eliza.
Hetty died a few months later, at the home of her grandparents, David and Eliza Hutchison, and is buried at St Kilda Cemetery, Independent Section, Grave number 0462.
| | |
| --- | --- |
| View of St Kilda Cemetery, with Hetty's grave in the centre. | Hetty's grave in the centre |
| General view of the grave and headstone. | Headstone reads: "In Memory of Hettie, granddaughter of D & E Hutchison" |
---
Ivy Goldsworthy (1890-1964)
Ivy was born in Melbourne on 16 August 1890. She accompanied the family to New Zealand on both occasions, the second time apparently to help look after her niece Ivy, the young daughter of her sister Eliza and William Froggatt. She lived in New Plymouth for the remainder of her life, never marrying. She died on 1 February 1964 and is buried with her parents at Te Henui Cemetery.
---
Olive Margaret Goldsworthy (1892-1893)
Olive was born in Sydney on 31 December 1892 and died a few months later on 6 April 1893. She is buried at Rookwood Cemetery, with her brother and her grandfather.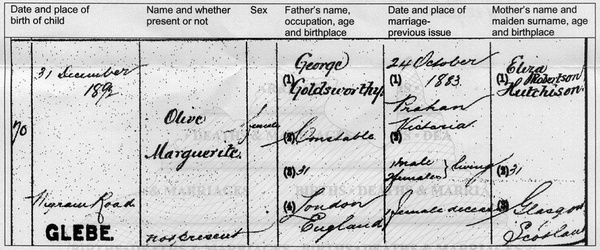 1892 birth certificate for Olive Goldsworthy.


Death certificate for Olive Goldsworthy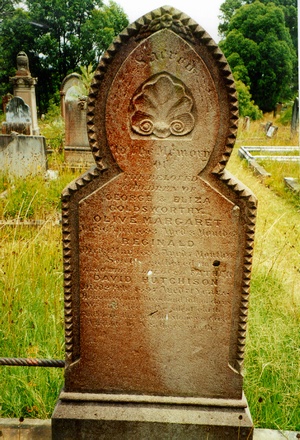 The headstone for Olive Margaret and Reginald Goldsworthy and David Hutchison in Rookwood Cemetery, Sydney.
---
Reginald Goldsworthy (1894-1895)
Reginald was born in Waverley, Sydney on 1 October 1894 and died in Sydney on 3 May 1895. He is buried with his sister Olive in Rookwood Cemetery.
---
Leslie Gordon Goldsworthy (1896-1966)
Les was born in Sydney on 4 April 1896.
He moved to New Zealand with his parents in about about 1900 and again in 1912. Les applied to join the Army in 1916 but was rejected on medical grounds (flat feet), so he became an ambulance officer. He married Georgina Sarah Browne in 1918 and they had two children, Leslie in 1919 and Loma in 1921. They divorced in 1924 and Les subsequently married Frances Amy Brown in October 1924. Les and Frances had two children, John Gordon in 1924 and David Keith in 1927. He died in Auckland on 30 June 1966.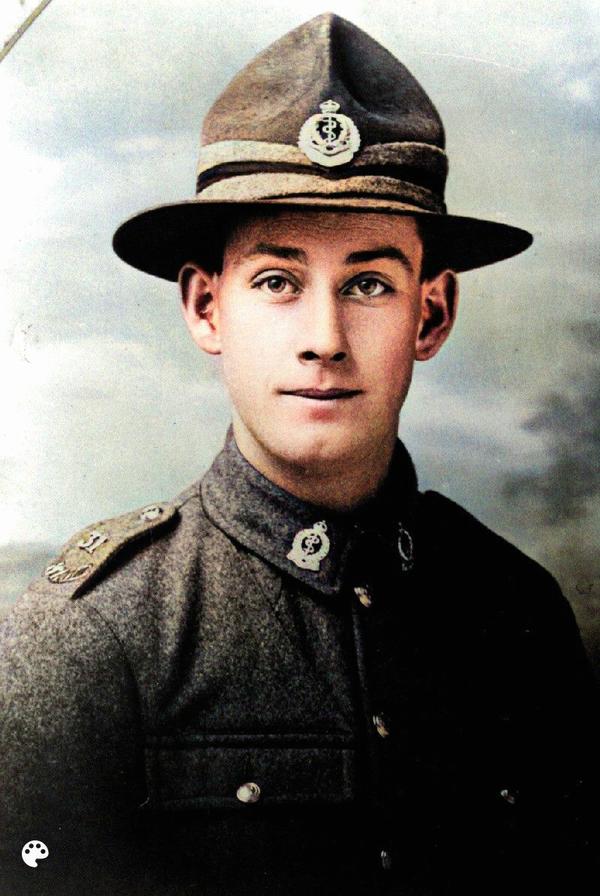 Leslie Gordon Goldsworthy in his Army medical corp uniform.
---
Douglas Roy Goldsworthy
Douglas was born in Auckland New Zealand on 9 November 1900. He married Margaret WATSON in 1926 and they had a daughter Valerie. Douglas divorced and subsequently married Elsie TOMLINS in Auckland in 1935. They also had a daughter, Judith. Douglas Roy died in Auckland on 24 Feb 1977.
Douglas Roy was an accomplished artist, with pencil and water-colour. He drew the New Plymouth Post Office (probably in the early 1950s), a picture his nephew Douglas Roy (Froggatt) was given as he started his working life in that building. The post office was demolished in 1969 but the residents of New Plymouth raised the funds for a replacement tower.

Old New Plymouth Post Office
Pencil sketch by Douglas Roy Goldsworthy

The replacement clock tower

The original Post Office, demolished in 1969
---
Return to John Frederick Goldsworthy Page
Last updated: 9 May 2021