The Abercrombie Family Of Glasgow
Eliza ABERCROMBIE - David HUTCHISON
My grandmother, Eliza Goldsworthy married William Froggatt in Sydney in 1910. Her mother was Eliza Agnes HUTCHISON. This page gives information about her mother's parents. Follow the links in the table for information about the Hutchison family.


     |             |       
|             |       |              |       |         |           |           |       |         |        |        |    |           |  
   James         Janet    James         Agnes   David          Esther William   Isabella   Frederick   Elizabeth Thomas    Sarah    Henry     Ann Henry        Mary

ABERCROMBIE==v==GERSHOM ROBERTSON===v===REOCH HUTCHISON===v====MORTON  MILNE=v=McNAUGHTON GOLDSWORTHY==v==STONE  DENNIS=v=BREWSTER BOWCHER==v==? DIMBLEBY==v==MARTIN
  1752-?   m:1787                 m:1794      1771-1856 m:1794 1780-?        |              1771-   m:1795            m:c1800               |            m:1796

             |                      |                     |                  |                         |                |                   |              |

         Archibald                 Agnes                Ralph             Isabella                    John             Mary               James         Charlotte
        ABERCROMBIE======v=====ROBERTSON              HUTCHISON======v======MILNE                  GOLDSWORTHY==v=====DENNIS             BOWCHER=====v====DIMBLEBY 

           1802-       m:1823  1803-1866              1806-1881   m:1828 1811-1894                 1797-1889 m:1828 1802-1874           1799-1843 m:1826 1800-1843  

                         |                                           |                                          |                                    |

                        Eliza                                       David                                       John                               Henrietta

                       ABERCROMBIE=================v==============HUTCHISON                                  GOLDSWORTHY=============v==============BOWCHER

                      1826-1898                  m:1850
           1831-1897                                   1829-1894            m:1851         1833-1910

                                                   |                                                                                 |

                                             Eliza Agnes=======================================v==================================George 

                                              1860-1940                                     m:1883                              1861-1929  

                                                                                               |  

                                                                                     Eliza Agnes GOLDSWORTHY  

                                                                                           1886-1954 

                                                                                               |
Elizabeth (or Eliza) ABERCROMBIE
Elizabeth (or Eliza) ABERCROMBIE was born in Glasgow around 1826, although she does not appear to be in the parish birth records. The 1841 census lists her as aged 15.
David Hutchison
David was born about 1831 in Inverkeithing, Glasgow, to Ralph and Isabella (Milne).
Marriage
Eliza and David were married at the Independent Church, Bridgeton, Glasgow on 12 July 1850.

Marriage of Eliza ABERCROMBIE to David HUTCHISON in 1850
The Hutchison Family
David and Eliza had 6 children.
| Name | Birth | Death |
| --- | --- | --- |
| Alexander Morton | 17 Feb 1857 | |
| William Cox | 27 Nov 1859 | |
| Eliza Agnes | 19 April 1860 | 1940 |
| Margaret R. | 1863 | |
| David I. | 1866 | |
| Sarah Isabella | 20 Jul 1867 | 27 Dec 1930 |


Birth record for Alexander Morton HUTCHISON in 1857


Birth record for William HUTCHISON in 1859


Birth record for Eliza Agnes HUTCHISON in 1860


Birth record for Sarah HUTCHISON in 1867
Census Records:


1851: David and Eliza were living at 35 Charlotte St, Glasgow St Andrew.


1861: David and Eliza with Alexander (4) and Eliza (11 months) were at 227 Upper Crown St, Hutchesontown, Glasgow. David was a tailors foreman.



1871: David and Eliza with Alexander, Eliza, Margaret, David, and Sarah were at 1 Cathkin Tce, Cathcart, Glasgow. David was now a clothier employing 6 men.
Residences in Glasgow
The Hutchison family seemed to live an itinerant lifestyle, perhaps dictated by David's work as a tailor.

| | | | |
| --- | --- | --- | --- |
| 1851 | census | 35 Charlotte St | Glasgow |
| 1857 | birth | 276 Parliamentary Rd | Glasgow |
| 1860 | birth | 15 Caledonia St | Glasgow |
| 1861 | census | 227 Upper CrownSt | Hutchesontown |
| 1867 | birth | 2 Darmley Tce | Shawlands, Glasgow |
| 1871 | census | 1 Cathkin Tce | Cathcart Glasgow |
Migration to Melbourne, Australia
On 30 April 1880 the family travelled to Greenock and embarked on the small sailing ship, the Loch Maree, bound for Melbourne, where they arrived in early July. The ship's manifest lists David aged 50 and Eliza aged 49. They were accompanied by William (21), Eliza Agnes (19), Margaret (17), David (14), and Isabella (11). Their oldest son Alexander was not with them. However, there is a shipping record for a Mr Alex M. Hutchison, aged 24, arriving in Melbourne in Sept 1880 on the ship Cuzco (see information below).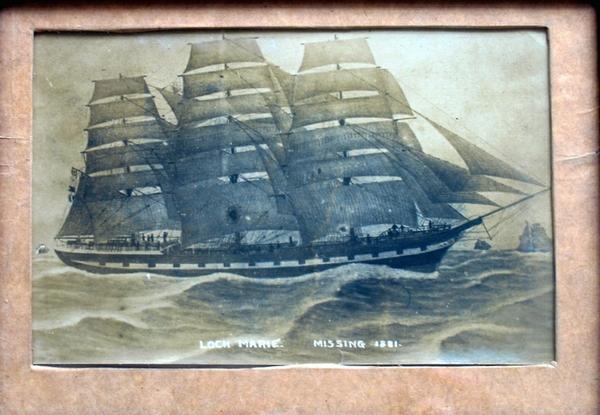 The Loch Maree (Click on it for a larger version)
Life in Australia
David continued as a tailor in Melbourne. The Sands Post Office Directory for 1883 shows a David Hutchison resided at Moubray St, Emerald Hill which is now an inner part of the city of Melbourne.
However the 1884, 1885 and 1886 directories list David Hutchison at 25 Chatsworth Rd, Prahran. Today, Chatsworth Rd is a typical suburban street, lined both sides with tall, mature plane trees and a mixture of renovated 1880s houses and modern homes and apartments. It is a desirable part of Melbourne, as it would have been in 1883. The house at 25 Chatsworth St has been recently renovated, after being bought a few years ago in a rather poor condition according to a neighbour. It has been re-roofed, lost its chimneys and had a new fence, but the original character of the house is obvious. (Note that it is possible that Chatsworth St was renumbered and this may not be the actual house. However it is typical of the houses in this street.)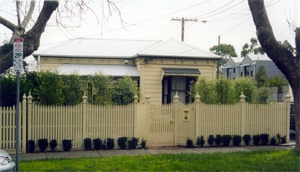 The residence of Mr D. Hutchison (25 Chatsworth St) today
Later Life
About 1896, David Hutchison moved from Melbourne to Sydney. His daughter Sarah Isabella had married Alfred LITTLEJOHN there in 1893 (see information about Littlejohn and his influence on the Froggatt family), and his other daughter Eliza (Goldsworthy) was also living in Sydney by 1893.
David died in Sydney on 2nd Feb 1897, aged 71. He is buried at Rookwood Cemetery.

Rookwood Cemetery in Sydney. The inscription reads:
SACRED
To the Memory
Of
THE BELOVED
CHILDREN OF
George and Eliza Goldsworthy.
OLIVE MARGARET
Died 6 April 1893 Aged 3 months
REGINALD Died 3 may 1895 Aged 7 months
Softly gathered in.
ALSO THEIR BELOVED FATHER
DAVID HUTCHISON
Died 2 February 1897 Aged 71 years.
Honoured and loved and full of days,
We laid thee in the silent earth.
And here this headstone we raise,
A Tribute to a Father's worth.


However, Eliza (Abercrombie) died in Melbourne on 11 Jan 1898, at the Convent of the Little Sisters of the Poor in Northcote. She is buried without a headstone in the Pauper's section of the Melbourne General Cemetery. It is difficult to believe that Eliza had been left in Melbourne when her husband moved to Sydney. It is more likely that she returned to Melbourne some time after her husband David had died, either to visit, or to live with her other sons and daughters still in Melbourne. By 1898 the Goldsworthy family of Sydney, in whose cemetery plot David is buried, had probably departed for New Zealand. Her other daughter Isabella, married to Alfred LIttlejohn (a policeman) remained in the Sydney area.
---
---
The Children of David and Eliza HUTCHISON
Alexander Morton Hutchison
Alexander Morton was born 17 February 1857, at 276 Parliamentary Rd, Glasgow.
Alexander did not accompany his family to Melbourne on the Loch Maree. He followed them later in the year, arriving in Melbourne in Sept 1880 on the ship Cuzco. This record is confirmed by his marriage record in Melbourne. On 22 Dec 1882 he married Frances Elizabeth JEFFERY at St Mary's Church, Preston.
Alexander and Frances had 6 children:
| | |
| --- | --- |
| David Emery | 1884 - |
| Alexander Morton | 1885 - 1888 |
| Francis Elizabeth | 1887 - 17 Jun 1949 |
| Alfred Michael | 1889 - |
| Elsie May | 1893 - 1895 |
| Edward Harold | 1897 - 1967 |
---
Last updated: 29 March 2021