Part 3: William's Later Life and Second Family
The Real William Froggatt Story from all of the Archives
William's Second Marriage
On Thursday 12 May 1910 William married Eliza Agnes GOLDSWORTHY at the MacNeil Memorial Church, Waverley, Sydney. He was then living around the corner from the Church at 35 Lawson St. The Goldsworthys were a family that had also lived in Gisborne, New Zealand and William may well have met them there. A photograph of the wedding party survives. The dresses are extravagant, giving credence to the family belief that William still had some money.

The MacNeil Memorial Church in Waverley, Sydney (now used as a day care centre)

The wedding party in Sydney, 12 May 1910.
L to R Alice Froggatt, George Goldsworthy, Eliza the bride, William Froggatt, Ivy Goldsworthy, George and Eliza Goldsworthy.

Sarah and Frank Froggatt at the wedding

George Goldsworthy (father of the bride)

Eliza Goldsworthy (mother of the bride)

35 Lawson St where William was living at the time of his wedding
As was the case after his first marriage, we have no further information about William until the birth of their first daughter Ivy Lillian on 18 October 1911 in Sydney.

`
Sarah in Foster Care
The next piece of information comes from the foster records for Sarah Louise Froggatt. These are held on card indexes in the Sydney Archives and refer to microfiche copies of the Foster Books in which the name of the child, the foster families and financial contributions are recorded.
Sarah was put into foster care on 5 July 1912 and her parents are listed as "Mother: deceased, Father: William Froggatt, Moonbie Station, Jerilderie". No trace of a Moonbie Station can be found, but there is a Moonbria Station a few kilometres north of Jerilderie. The origin of the name Moonbria cannot be located and there are no known locations elsewhere in the world with this name. It appears to be unique to the station at Jerilderie. Moonbria is a street name in Victoria, and in Queensland. A horse of that name (New Zealand bred) came third in the 1915 Melbourne Cup. In another note - "1909 R S Falkiner of Moonbria sheep station in NSW demonstrates first electric sheep-shears."
So after his marriage, and after the birth of Ivy, William had left Sarah in foster care and returned to sheep station life. We do not know if his new wife accompanied him to Moonbria, but whether she did or not Sarah was in foster care rather than living with her step-mother. The family story tells that at this time Alice was working as a house maid in Sydney and Frank was living with another family.
We do know that Alice married Walter Herbert CLOSE on 29 August 1917. Sarah's foster record shows that within a few weeks Sarah had been placed in Alice's care.
Losing Frank and the role of Inspector Littlejohn
While the family knew what happened to Alice and Sarah, they had no information about Frank. He had been informally fostered in Sydney, but the sisters lost contact with Frank as they too moved around. All three children were fostered through the efforts of Eliza's (Goldsworthy) uncle Police Inspector Alfred Littlejohn. He checked the families that Alice worked for and the families that fostered Sarah and Frank. When Alice married she was then able to provide care for Sarah and Frank. Littlejohn made these arrangements for Sarah, but he claimed that he did not know where Frank was - that Frank had got into a little trouble and had left Sydney to make a new life in Queensland.
Thus Frank vanished. The older sisters are reported to have spent a long time searching for him and Littlejohn would not divulge his whereabouts. Frank was forever lost to his sisters and to his father.
| | | |
| --- | --- | --- |
| Police Inspector Alfred Littlejohn | Isabella Littlejohn (nee Hutchison). Her sister married George Goldsworthy | Alfred LIttlejohn in his garden in Emmerick St, Sydney. |
| The Littlejohn house at Emmerick St today | The far extremity of Rookwood Cemetery, Sydney where Littlejohn is buried | Alfred Littlejohn's headstone |
The Froggatt and Goldsworthy Families Return to New Zealand (Again!)
We will never know why William was persuaded to leave his three children behind when he returned to New Zealand: Alice aged 15 or 16, Sarah aged 10 and Frank aged 6. We will never know why William and family, accompanied by his extended Goldsworthy in-laws left Sydney and moved to New Plymouth, New Zealand. As far as we can ascertain, neither William nor the Goldsworthys had lived in New Plymouth during their previous time in NZ.
The family story has it that some time after the birth of their first child Ivy (18 Oct 1911), after Sarah had been put into care (5 July 1912) and before the birth of the second child (Gordon - 29 Oct 1913) the extended family of Froggatt and Goldsworthy (perhaps 10 people) moved across the Tasman Sea to New Plymouth (NZ) where they settled. The family believed that William and the Goldsworthys came first and Eliza with Ivy came later when Ivy was old enough to travel.
But the shipping records tell a slightly different story. George, his wife Eliza Agnes (HUTCHISON), 3 children (Ivy, Leslie and Douglas Roy) plus Mrs Goldsworthy (senior) arrived in Wellington from Sydney on 13 December 1911 onboard RMS Moana. Also on the voyage was Mrs Froggatt and infant under 1 year old. They were not accompanied by William. He did not arrive in Wellington until 30 October 1912, onboard the TSS Maunganui, almost a year after his wife and young daughter, confirming the story that he stayed in Australia until his children were cared for.


1911 shipping record for the Goldsworthy family arriving in Wellington in December 1911


1911 shipping record for the Eliza FROGGATT and young daughter Ivy arriving in Wellington


William FROGGATT travelling alone from Sydney to Wellington in October 1912.
New Family in New Plymouth
Once settled in New Plymouth, William and Eliza had 7 more children, one of whom died in infancy. These children cannot recall William's early life ever being spoken of. The only evidence they saw of William's life in Australia were two large emu eggs that adorned the mantelpiece (lost about 1944); William's stories of living in the Outback, and his ability to recite long passages from AB (Banjo) Patterson's poems. A few rare photos have survived.
| | | |
| --- | --- | --- |
| Baby Ivy Lillian being held by Grandmother Eliza Goldsworthy, with mother Eliza behind. Ivy appears to be about 1 year old, so the photo was taken in New Plymouth. | The growing family. L to R: Ivy holding Peggy, Douglas, Laurie (at back), Gordon, Florence. Taken about Christmas 1924 | The family about June 1927. William and Eliza at back (holding Audrey Clare), Gordon on left with the same tie as in 1924, Ivy on right, on left is Florence with Peggy in front and Laurie with Douglas in front. |
| Eliza Agnes Froggatt | Eliza Agnes Froggatt later in life | William Froggatt on the street of New Plymouth, with Florence behind. About 1938, WIlliam aged about 69 |
After settling in New Plymouth, WIlliam worked as a labourer, finding work where he could. He spent time repairing the tram lines, as a wool classer and as an oil refinery worker. He worked as a labourer for the New Plymouth Council for some time, but his wages were minimal. He suffered several family health issues and in 1925 found himself without the means to pay off his debts. He then filed for bankruptcy.
| | |
| --- | --- |
| | Taranaki Daily News, 26 August 1925 p8 |
As the Depression of the 1930's worsened and William turned 60 he found it even more difficult to find work. His youngest child (James) was born in 1931 and this entitled him to a small Social Security income. The family moved from house to house, but a search of the Land Title Deeds office showed that Eliza took out a mortgage in 1922 on the lease of a house in Cutfield Rd, New Plymouth. Apparently she was unable to keep up the payments and the lease and mortgage were terminated a year later. She rented out a room in the house but the tenant did not pay the rent.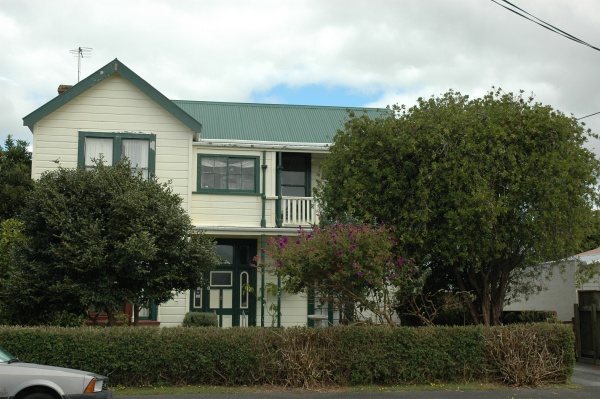 The house in Cutfield Rd that Eliza leased from Gais Brewer.
William died in New Plymouth Hospital on 7 May 1946 and was buried at Te Henui Cemetery. Eliza Agnes remarried in 1948 to William Ireland and died in 1954. She is buried in her own plot in Te Henui.
| | | |
| --- | --- | --- |
| William Froggatt's plot in Te Henui Cemetery. His sons Gordon and Douglas and his daughter Audrey are also interred here. | The Goldsworthy plot at Te Henui. Eliza (died 1940, on left). George (died 1929) on right. Ivy, their daughter (died 1964) is also buried here. | The headstone for Eliza Agnes Ireland, previously Froggatt, née Goldsworthy. |
The End of William's Story - or is it?
In his life, William married twice, had 14 children, the first when he was 28 and the last when he was 62 years old. He died in 1946 aged 77. Despite his education, he never worked at one job or in one place for more than a few years, never owned any possessions of note and the family inheritance was a book and some debts.
This might have been the end of the story - but what about Frank???????
Frank remained an enigma, a veritable brick wall. We knew he was born, that he returned to Australia in 1907 (remember the shipping record); and he was present at William's second marriage (see the photograph). After that he vanished. The Family History was not complete without finding Frank. I was determined to succeed. But where to look?
Read on to Part 4......
---
Part 1 or Part 2 or Continue to Part 4
Last updated: 14/10/2020