WILLIAM FROGGATT
Born Sandiacre, Derbyshire 1869
Died New Plymouth, New Zealand 1946
This is the family history of William Froggatt of Sandiacre, the sole descendant of the Froggatt family of Brewhouse Yard to live to carry the family name forward.
This is also a story of how to build a family history from almost no information at all, or at least very little information that could be relied on. It is also a story of perseverance, as the final pieces of the family story took over 95 years and three generations to bring together.
By way of introduction:
In 1982 we decided it was time to attempt to uncover the family history of William Froggatt. This was largely precipitated by his son, Douglas (my father) who, having retired and embarked on his overseas trip to the land of his father, arrived at the Immigration queue at Heathrow Airport. With shiny new New Zealand passport in hand he was directed to the "Foreigners" queue, whilst others of many nationalities and languages other than English walked right into England with barely a glance from Immigration officials. With indignation he faced the Immigration Officer and declared it an injustice that he had spent 5 years of his life and still carried the injuries from fighting a war to keep such people OUT of England. Now he was faced with having to fight to get himself IN.
Such indignation led him to seek a British Passport and to never again be treated as a foreigner in Britain, the land of his forefathers.........
But where to start?
His father died in 1946, his mother in 1954, his older brothers and sisters in 1972, his maiden aunt in 1964. Only his younger sister and an older brother remained, and they knew nothing definite about the family. So much for starting with existing family!
All we had to start the story was:
William's gravestone inscription: William James Froggatt 1870 - 1946 (photo below)
An inscription in a book - "A mon jeune ami, William Whitehead, Sandiacre, Decembre 1883"
Douglas' birth certificate that showed William born in Sandiacre, England and his parents being William FROGGATT (Timber Merchant) and Sarah (nee GOODLIFFE).
Knowledge of William's marriage to Eliza GOLDSWORTHY in Sydney, Australia and family stories that soon after their first daughter was born they had sailed across the Tasman Sea to New Zealand along with most of the Goldsworthy family.
A vague, hushed-up family rumour that William had been married before, and there may have been a daughter.
A story that William had a brother who was killed in a railway accident in the South Island. (But William was not known to have had a brother.......)
William did not talk about any of his life so we had nothing first-hand, and by the time we started on this story, all his contemporary relatives had died. All we had to start on were official records and later on a few rare photos and a letter and a postcard.
And that was it. Nothing else - and as we soon found, even many of these details were wrong....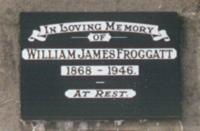 William Froggatt's Headstone. Two of the 3 pieces of information are wrong. (In this story you can click on photos for an enlargement)
To return to the immigration queues - Douglas was so incensed that into St Catherine's House in London he went (the location of Births, Deaths and Marriages at the time) and after seeking assistance he paid his money and ordered a birth certificate. After returning from a tour of France he collected the certificate and found: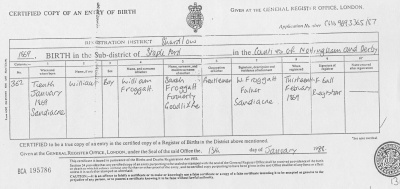 William Froggatt's birth certificate
So the headstone had an extra name (James) and the wrong year, but this was his father, and the British Passport arrived in the mail a short while later. He was no longer a Foreigner, AND his grandfather was a Gentleman - he owned land and maybe had had money!!!
But a note of caution - opening the door on family history is much more likely to uncover skeletons than to locate a fortune waiting for you to claim. Genealogy is not for the timid or faint hearted. So read on.......
---
The New Zealand BDM Records
Douglas knew he was one of 8 children of William and Eliza (Goldsworthy) and by this time five had died. As we were not sure of birth dates for the eight children, and because of the rumour about a first marriage, we searched the New Zealand BDM indexes (on microfiche). This uncovered the records of five more children born to William FROGGATT but with Martha (SHORT) as their mother. Their birth records showed William and Martha had married in Australia and we later found there was a sixth child born in Australia.
Perhaps there was more to that family rumour about the first marriage?
Now we had 14 children spanning 34 years. William was aged 28 when Alice was born and aged 62 when James was born. Not a bad innings.
| Name | Birth year | Place | Mother |
| --- | --- | --- | --- |
| Alice | 1897 | Australia | Martha (Short) |
| William | 1899 | Poukawa, New Zealand | Martha |
| Elizabeth Ellen | 1900 | PakiPaki New Zealand | Martha |
| Frederick James | 1901 | PakiPaki NZ | Martha |
| Sarah Louise | 1903 | Gisborne, NZ | Martha |
| Frank | 1906 | Whataupoko, Gisborne, NZ | Martha |
| Ivy Lillian | 1911 | Sydney, Australia | Eliza (Goldsworthy) |
| Gordon Keith | 1913 | New Plymouth | Eliza |
| Laurence | 1916 | New Plymouth | Eliza |
| Florence Evelyn | 1920 | New Plymouth | Eliza |
| Douglas Roy | 1922 | New Plymouth | Eliza |
| Peggy Adair | 1924 | New Plymouth | Eliza |
| Audrey Clare | 1927 | New Plymouth | Eliza |
| James | 1931 | New Plymouth | Eliza |
Further, the NZ BDM records showed that three of Martha's children (William, Elizabeth and Frederick) had died young.
Making the Australian Connection...
So it appeared that William had married twice, both times in Australia, and both times having a daughter before coming to New Zealand. But this just opened up so many more questions:
When did he leave England?
Where did he travel to?
Where did he marry?
Why did he come to New Zealand?
What did he do?
Why did he return to Australia?
What happened to his first wife?
What happened to the six children?
Why did he return to New Zealand?
Did he have brothers and sisters?
Did he ever return to England?
etc..; etc.. etc..
Sometimes in genealogy you strike it lucky:
At about this time, Douglas was taken by a friend to a local family history fair and there looked through a directory of the surnames people were researching in England. He looked up FROGGATT and noted that a Clive Froggatt in England was researching this name. So off went the letter, and back came a surprise. Clive was researching a different family line, but he had been contacted by a person in Australia who had been enquiring after a William Froggatt from Sandiacre so perhaps there might be some connection and they could help. And help they did, not only had they documented the Australian relatives but they had paid a professional genealogist in England to research William's family. In one letter most of the family connections were revealed, back through 5 generations to 1795.
William was the oldest of the 6 children of William and Sarah (GOODLIFFE). They were all born at Sandiacre, Derbyshire, but three died at a young age. William we knew about, his sister Helen Elizabeth had married at Sandiacre and died in Darlington, Yorkshire, and there was no more information about James. The researcher suggested he may have emmigrated, but did not know where and finding him would be difficult and costly.
Of the Australian connection, Alice and Sarah Louise had both married and had lived on farms in rural New South Wales. They had large families but by this time both had died. However many of their children and grandchildren were still alive, and one, Pauline White, was compiling a history of the family.
His Brother James Froggatt
We now knew that William had a brother - James, but we did not know anything about him. However, whilst searching through the NZ BDM indexes, I came across the death of a James Froggatt in Christchurch NZ in 1905. There was a large Froggatt family in Christchurch, originally from Mayfield Derbyshire so I thought nothing more. But James was a loose end, and I decided to pay my money and get the death record. Sure enough, this was our James, born in Sandiacre in 1870. He was a clerk with the Railways and had died at age 35 from tuberculosis. He had married Louisa SHARPE in 1894 but there were no children. So the story of a brother who worked for the Railways in New Zealand and died in an accident was mostly true.
(The moral of the story: never completely discount family rumours - they generally have a basis in fact.)
Newspaper notice of the marriage of James Froggatt
Death notice for James in 1905
Obituary for James in 1905
The First Trip to Australia
Having established the relationship between William's first and second families, a visit to meet them was a high priority. By this stage, the family researcher Pauline had died, but the daughters of Alice and Sarah were over-awed at meeting an uncle they had never known about, especially one who was a similar age. Their story ran like this:
The daughters of Alice and Sarah
The Australian relatives remember:
William and Martha had met and married on a sheep station in outback Australia. Alice was born a year later, then they moved to New Zealand. William had worked on the railways (his occupation on the early birth certificates was Plate Layer), but then he moved further north on the East Coast of the North Island and William took to sheep farming.
Soon after Frank was born in 1906 William received a letter from England to say his mother was dying and he should return home to claim his inheritance. The story continued that the family returned to Australia and William embarked immediately for England, returning some months later. Meanwhile Martha and the 3 children lived with her family in Narromine, which is in the outback from Sydney. William returned at Christmas and at a party to celebrate his return Martha caught influenza and died. Martha's family was suspicious of the death and accused William of poisoning Martha. William took the children to Sydney and forbade them from returning to Narromine. They never again saw their grandparents.
In Sydney, William looked for work and fostered out the three children. He met the Goldsworthy family (who incidentally had lived in Gisborne, New Zealand at the same time as William) and married their daughter - Eliza Agnes Goldsworthy. They soon had a daughter Ivy Lillian, then the new Froggatt family and all of the Goldsworthy relations packed up and moved to New Plymouth, New Zealand. Apparently the new wife did not like the three Froggatt children so they were left in foster care, overseen by Police Inspector Alfred Littlejohn, a Goldsworthy relative by marriage.
Alice married and was then able to legally foster her siblings. Sarah was a housemaid in Sydney but Frank had disappeared. Littlejohn had kept close contact with the girls and he said Frank had gone to Queensland. Alice and Sarah were not sure and they spent their lives looking for Frank, and so did their children and grandchildren.
William and Eliza wrote a few letters and postcards to Alice from New Zealand but there was no other contact. The Australian families felt they had been abandoned by William. Although they lived on farms in rural New South Wales, times were hard with little money. They long thought that William and his new family were living well in New Zealand on his inheritance, but in reality William spent the rest of his life in poverty. His six children in NZ were brought up in donated clothes, lived in run-down houses and frequently went hungry. One of the children did not even have a bed to sleep in for several years.
The Second Trip to Australia
Now that we knew something of William's life in Australia, a trip to Sydney was needed to visit addresses, and spend some time in the State Archives. On this trip, Douglas visited addresses and locations associated with William at the time of his second marriage. I spent several trips buried in the Archives at The Rocks, Sydney. Unfortunately Sydney is only three hours away from New Zealand, and the early morning flight from Wellington allows you to arrive at the door of the Archives right on opening time at 9am, ready for a full day of searching. To give your eyes a rest you can always go outside to view Sydney Harbour. Sometimes this family history searching is tough going.
The Third Trip to Australia
Several years after meeting the Australian relatives, we decided to revisit Australia and travel into the Outback, to visit the sheep station and other localities that were associated with William and his first wife. It is a long way from Sydney, due west to Bourke and I still wonder what attracted William to such a remote part of the World.
---
Continue to Part 2 or Part 3 or Part 4
Last updated: 14/09/2020