Part 2: William's Early Life and First Family
The Real William Froggatt Story from all of the Archives
Compiling the life of William Froggatt has taken the combined resources of many archives. As we progressed through this research the Internet made searching and communication so much easier. However, much of the research was undertaken by visiting various archives, libraries and the places that William visited and lived in.
The Family in Nottingham and Sandiacre
William's grandfather, William, was born at Brewhouse Yard, Nottingham, where he married Elizabeth BOWLER in 1832. They had seven children, but only three - Ann, William and Joseph survived. By 1851 the family had left Brewhouse Yard, and moved to 27 Castle Wharf, then to Standard Hill, and finally to 8 Lenton Road, The Park.
| | | |
| --- | --- | --- |
| Brewhouse Yard, Nottingham today. The Froggatts lived in a building, now demolished, in front of these buildings. | The iconic Trip to Jerusalem pub at Brewhouse Yard. | Early sketch plan of Brewhouse Yard, showing the curved building where the Froggatts lived for 5 generations. |
| The house at 8 Lenton Rd, The Park, where William lived at the time of his marriage to Sarah Goodliffe. | Douglas at the gate of 8 Lenton Rd. | Paul and Douglas at the grave of William and Elizabeth Froggatt, Nottingham General Cemetery. |
William's marriage to Sarah GOODLIFFE
William married Sarah GOODLIFFE, also from The Park, in 1867 and they moved to a property on Derby Road, Sandiacre, known as "The Chestnuts. William ran a successful coal, timber and twine business based at Station Rd, a small stretch of Derby Rd next to the Erewash canal. They had six children, only three of whom survived infancy – William (1869 - 1946), James (1870 - 1905) and Elizabeth (1874 - 1921).
The Return of Landowners, 1873 identifies William as a landowner, and the size of his property as 3-1-3 acres:
After several years of extensive searching, I have been able to determine the exact address as being 155 Derby Road, the property known as "The Chestnuts". Today it is opposite Woodside Road and has recently been redeveloped into a gated community of several houses. As far as I can tell, the original house still stands and there is still a line of chestnut trees leading up to it.
| | | |
| --- | --- | --- |
| The entrance to "The Chestnuts" as it is today.. | The driveway on the left of the entrance goes up to the original house, with some of the chestnuts still standing. | |
| A closer view of the house - probably the original where William Froggatt was born in 1869. | A view of the new development with one building in the same style as the original. | View down Derby Road towards Sandiacre. Willam's timber yard was beside the canal at the far end of the road. |
Death of William in 1881
William (senior) died of tuberculosis in 1881 leaving an estate of about two thousand pounds in trust for his wife and children. The trustees were his brother Joseph and brother-in-law Frederick Arnold Goodliffe. The children had been well educated as William spoke fluent French and could recite long passages of poetry, an ability he retained all his life.


The probate record for William
The only record we have of this time, and William's only possession late in life, is a copy of a book by Jules Verne "Cinq Semaines en Ballon" inscribed "William Whitehead, tutor and friend, Sandiacre 1883". William Whitehead is listed in the 1881 census in Sandiacre as a teacher, living with his sister, also a teacher. William's grave is a few feet away from the grave of William Froggatt (senior) in the cemetery of St Giles Church. The inscription in the book has been the most valuable and reliable piece of information we have concerning William.
| | | |
| --- | --- | --- |
| The church of St Giles, Nottingham where William's family are buried | The interior of St Giles | The window behind the altar at St Giles, dedicated in early 1881, just before William (snr) died. |
| William's headstone at St Giles | Part of the churchyard where William's 3 siblings are buried. | The headstone for William Whitehead, William Froggatt's tutor. His book inscription gave us more information than any other source. |
| Douglas at Station Rd, Sandiacre, where William had his timber and coal business | The bridge over the Erewash Canal at Sandiacre. Station Rd is just before the bridge on the right. | The Red Lion hotel at Sandiacre, adjacent to Station Rd and virtually unchanged from when William left in 1885. (Compare to this contemporary photo) |
Travel to Australia and First Marriage
Despite his education, William left home in 1885, aged 16, boarding the ship Austral at Plymouth (London) on 15 April 1885 bound for Melbourne, Australia. He is listed as a saloon passenger: "Ticket No. 84 William Froggatt, Grocers Asst, aged 17". He arrived in Melbourne in June 1885.
The Austral was a 5,524 gross ton ship, built by John Elder, Glasgow in 1881 for the Orient Line (which later became part of the P&O group). There was accommodation for 120-1st, 130-2nd and 300-3rd class passengers. She started her maiden voyage from London via Suez to Melbourne and Sydney on 18/1/1882.
Nothing is known about William's time in Melbourne or Australia in general. There is a William Froggatt listed in the Sands Post Office Directory for 1889, 1890 and 1891 living at 161 Elizabeth St, Richmond, but there were other William Froggatts in Melbourne by this time. However, in 1896 he walked into the Registry Office in the remote outback town of Brewarrina to marry Martha Elizabeth SHORT. It was Tuesday 7 April, the first day of business after Easter. At this time both William and Martha had been working on a remote sheep station named "Talawanta". We could not find any references to this name for many years until I purchased a new road map of NSW and it had Talawanta marked on it. We were then able to visit the location. In the late 1980s, Talawanta was the largest sheep station in northern New South Wales. It stretched as far north as the border with Queensland.
| | | |
| --- | --- | --- |
| The Courthouse, Brewarina | Brewarrina Court Sign | Three generations of Froggatts at Talawanta Station |


Scenes of Brewarrina at the time of William Froggatt's marriage there.
Meanwhile, the lives of William's siblings - James and Sarah
James followed in William's footsteps, also boarding the "Austral" and arriving in Melbourne in May 1887. He did not stay long, as he later joined the New Zealand Railways in 1896 as a clerk. He married, lived in Christchurch (New Zealand), but died of tuberculosis in 1905, without any children.
The third sibling, Elizabeth Helen, remained living with their mother Sarah at Sandiacre for several more years. They are recorded on the 1891 census at Derby Rd. Elizabeth married Frederick HOPE at Sandiacre in 1894 and in 1901 they and Sarah are recorded at 7 Cavendish Place, Newcastle-on-Tyne. Frederick was a travelling salesman for a biscuit manufacturer, and soon they moved to 18 Langholm Cres, Darlington, where Sarah died in 1909, Elizabeth in 1921 and Frederick in 1926. Again there were no offspring.

A carte de visite of Frederick Hope
William's First Family and life in New Zealand
William and Martha's first child Alice was born on 27th January 1897 at Girilambone Mine, not far from Brewarrina in outback NSW. The family moved to New Zealand shortly after, (I have not tried to locate the shipping records.... yet), and their next child was born in Hawkes Bay in 1899. Five children were born in New Zealand but only 2 survived in addition to Alice: Sarah (1903) and Frank (1906).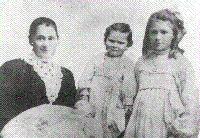 Martha holding young Frank with Sarah and Alice. Taken in mid 1906 a few months before returning to Australia
William moved many times between 1897 and 1906, first working on the railway south of Napier, and then moving to Gisborne as a sheep station manager. His daughter Alice has a rare postcard sent by William from Gisborne to the remote inland sheep station he was managing. What is unusual about the card is the address he used - Alice Froggatt, Moonbria Station, Tiniroto. No records of Moonbria exist, and it is not a local or Maori name, but there is a station of that name in southern New South Wales. At a later time William was recorded on Alice's foster records as being at Moonbria Station, NSW, strongly suggesting he had worked there before his first marriage.
Travel to Christchurch
William's daughter Alice told the story of travelling by ship to "Dunedin" for a short time where they stayed with a family that had young children. The identity of this family is unknown, but there are two shipping records in the Poverty Bay Herald (Gisborne) for a Messr. Froggatt travelling on the s.s. Zealandia for "southern ports". The first was on 18 February 1903 (Alice would have been 6) and the other on 1 September 1905 (Alice was nearly 8). The second trip was just one month after William's brother James died in Christchurch. Thus it is likely that William and family travelled to Christchurch rather than Dunedin. James's widow had a brother with young children but they were living in Wellington by this time. Perhaps the children were neighbours.
| | |
| --- | --- |
| Poverty Bay Herald 18 Feb 1903 | Poverty Bay Herald 30 August 1905 |
Return to Australia, England and 2 deaths in the family
In December 1906 William, Martha and 3 unnamed children (presumably Alice, Sarah and Frank) are recorded on the ship Manuka travelling from Gisborne, to Auckland (NZ) and then on to Sydney, Australia. This is the first piece of evidence that 3 children left NZ with William (and the importance will be seen later). The family legend suggested William was summoned back to England to claim his inheritance but his mother did not die until June 1909. Martha and the children are reported as finding their own way inland to Narromine to stay with her parents and this is substantiated by the shipping records.


The Poverty Bay Herald newspaper report for the sailing of the ship Manuka on 08 December 1906.
The shipping records for late December 1906 (Sydney-London) are missing from the Sydney Archives, but the duplicate set for his arrival in London have survived. William indeed did visit England, as he is recorded as arriving in London on 10 February 1907 on the ship "Oroya", travelling steerage. He returned to Australia on the Oruba departing London on 5 April 1907 and arriving Sydney on 18 May 1907. William travelled Third Class on the return. The family story recorded above had William returning at Christmas, but the shipping shows he departed at Christmas. Again the story retains some of the essential facts.


The manifest of the "Oroya", arriving in London on 10 February 1907.
Given the travel time by steamer from Sydney to London and return, William's time in England would have been 64 days or about 2 months. His mother Sarah was placed in a nursing home on 2 July 1907 where she died in June 1909 of "senile decay". William may well have been required to visit his homeland to agree with the institutionalisation of Sarah. It is likely too that the family agreed to pay him his share of the family estate at that time. The family story has William receiving the inheritance money before his wife Martha died in December 1908. This was at least 6 months before his mother Sarah died and the Will of William (senior) could be wound up.
William (senior) left an estate of about £2,000 in 1881. Some time later the property at Derby Rd was sold, and later again Sarah, William's widow inherited part of her father's estate. By 1907, the family estate might have been worth 3,000 to 6,000 pounds and William would have received half. In 2018 money William might have received between $250,000 and $500,000.
Just after Christmas, on 30 December 1908, William's wife Martha died of pneumonia. She is buried in the cemetery at Narromine. Today, her SHORT relations still live in Narromine.
| | | |
| --- | --- | --- |
| Martha's headstone at Narromine. Note spelling of Martha. | An early photo of William Froggatt | William playing snooker, presumably in Sydney about 1910 |
We know nothing of subsequent events but apparently William fell out with Martha's family, who accused her of poisoning Martha. He moved back to Sydney where he is recorded as a "Tobacconist" in Sands Directory. There are rumours that he had money to invest in shops and theatres at this time, but the only evidence is a record in the Register of Companies in Sydney recording The Star Agency, formed on 24 November 1910 and operating at 44 Castlereigh St. This is nearly 2 years after Martha died and 18 months after his mother died.
---
Return to Part 1 or Continue to Part 3 or Part 4
Last updated: 12 August 2022