The Goldsworthy Family Of Devon and London
John Goldsworthy 1797-1889
My grandmother, Eliza Agnes Goldsworthy married William Froggatt in Sydney in 1910. Her father was George GOLDSWORTHY. This page gives information about this branch of the Goldsworthy family.
I start this story with John GOLDSWORTHY and his wife Mary DENNIS. A tree can be constructed for John back another seven generations to Henry GOLDSWORTHY and Margery MARTIN who married in 1602, all in the Clyst St George area of Devon, but I do not have high confidence in the tree.
          Frederick       Elizabeth   Thomas        Sarah   
        
GOLDSWORTHY===v===STONE      DENNIS===v===BREWSTER  
          
1771-     m:1795                   m:?            

                       |                       |             

                      

John

                    Mary          

                   

GOLDSWORTHY

=====v=========DENNIS     

                    1797-1889     m:1828    1802-1874  

                                    |                   

        |-------------|-------------|-------------|------------|------------|---------|   
 John Frederick   Thomas        Frances      Anne Sarah      Emma       Jessie     Julia   
   1829-1894       1831-       1833-1853     1837-1895    1839-1924    1842-1907 1844-1848 

        |             |             |             |            |            |         |  

      m:1851        m:1865                      m:1858       m:1865
    Henrietta      Fanny                       William       George
     BOWCHER       MORRIS                     WILLIAMSON    BOWCHER
   1833-1910         |                        1835-1885    1835-1916
       |             |                            |            |
  14 children                                 3 children   6 children
  (emigrated
  Australia)               

 
John Goldsworthy 1797-1889
John Goldsworthy was born in Sidbury, Devon, being baptised there on 29 September 1799. (Strangely, this date came from the old IGI but it is also available as an extracted record on Ancestry. The images of the Sidbury church register are not available but John does not appear in the updated transcripts on FamilySearch - although his sister Elizabeth does.) His parents were Frederick Goldsworthy, baptised at Clyst St George on 3 April 1771 and Elizabeth STONE. (There is more information about the Goldsworthy family of Clyst St George here.)
John became a baker and likely to have been an apprentice in Sidbury before moving to London.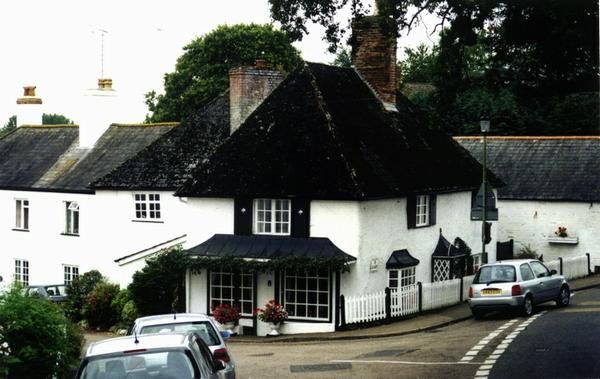 The bakery at Sidbury today - possibly where John began his baking trade.
John moved to London prior to 1828. On 13 March 1828 he married Mary DENNIS at the St George Parish Church, Bloomsbury, London. We can assume he lived in this vicinity at the time of marriage. This church was consecrated on 28 January 1730 and catered for the "nobility, gentry and well to-do taking up residence in the fashionable streets and squares of Bloomsbury" (see the history of the church here.) Mary had been baptised on 29 August 1802 in Roxwell, Chelmsford, Essex, to Thomas DENNIS and Sarah BREWSTER.

Marriage of John Goldsworthy and Mary Dennis
St George's Church, a sketch by Bradshaw
(see British History Online)

St George's, Bloomsbury today.
At a later date (after 1831 when John and Thomas were born and before the 1841 census) John and Mary moved to 10 New St. Marylebone where he ran a bakery until his death in 1889 - at least 48 years. New St has been renamed Melcombe St, and is part of Dorset Square. The 1841 Post Office Directory lists John as a baker at Dorset Square. A newspaper advertisement also places him at 10 New St in 1850.
John and Mary had at least seven children. There are family trees which have a daughter, Annie - born 1827 - but I find no evidence for this and the birth date is before John and Mary married in 1828.
| | | |
| --- | --- | --- |
| John Frederick | 31 Jan 1829 | 6 Dec 1894 |
| Thomas | 31 Jan 1831 | |
| Frances Elizabeth | 1833 | Sep 1853 |
| Anne Sarah | 1837 | |
| Emma | Sep 1839 | Jun 1924 |
| Jessie | 28 Jan 1842 | 12 Jun 1907 |
| Julia | Jun 1844 | Jun 1848 |
Census Records:


1841: The family is at 10 New St, Marylebone

1851: John (51) and Mary (44) are at 10 New St, Marylebone, with daughters Annie (14), Emma (11) and 5 apprentice bakers.



1861: John, Mary and daughters Jessie (19) and Annie S. are at 10 New St.


1871: John, Mary and Jessie (age 25) are at 10 New St.


1881: John (81), now a widow is still the baker at 10 New St, with daughters Jessie (38), Anne Sarah (Williams) (48), grandson Albert Williamson (16) and niece Jessie Dennis (33).
Death of John and Mary
Mary (DENNIS) died at Marylebone in the March quarter, 1874 (1a/453). John continued as the baker. These photographs were probably taken shortly before Mary died.
| | |
| --- | --- |
| John GOLDSWORTHY | Mary DENNIS |
John Goldsworthy died at 10 New St, Marylebone, 30 Nov 1889, aged 92. The death certificate notes the informant as Jessie Dennis, Daughter of 10 New St. This is ambiguous as John's daughter was Jessie Goldsworthy, but his niece was Jessie Dennis. Both Jessies lived with John at 10 New St (see the census records).
After John's death the bakery then continued to be run by his daughter Jessie and her cousin Jessie DENNIS until Jessie the daughter died in tragic circumstances in 1907.


1891: Jessie (47) remained at 10 New St, with her sister Annie (58), and cousin Jessie Dennis (43).


1901: Jessie (58) is still the baker at 10 New St, with nephew William Williamson (38) and his son Albert (10), and cousin Jessie Dennis (53).
10 New St, Dorset Square Today
I visited Dorset Square in 2003. It is adjacent to the Baker St Underground station, and just around the corner from Baker St and the Sherlock Homes Museum (at 221B of course). At some stage New St was renamed Melcombe St. Starting around 1900 the buildings in New St were demolished to make way for more modern apartments. No 10 was eventually replaced by either one of the buildings that became Clarence Gate Gardens or the baker St Post Office (now also replaced). New St Mews became Chagford St, Park St became Glentworth and Park Lane became Siddons Lane.

1895 map of New St, with Baker St on right. The bakery was probably on the right corner of New St and Park Lane.

Current map of the Baker St - Melcombe St area, showing the name changes

Claimed to have been taken in 1904 looking toward Baker St. Caption claims New St Mews in centre and hoarding around the old Hope Tavern prior to its demolition and replacement with Clarence Gate Gardens. If the location is correct, Goldsworthy's bakery was further along New St, hidden by the horse and carriage. (From the History of Clarence Gate Gardens.

1910 photo looking from Baker St. The first block of Clarence Gate Gardens is finished.

An interesting photo of "Nos 9 and 10 New St". The street with the lamp stand is either Park St (now Glentworth) or Park Lane (now Siddons Lane). It is a narrow lane so maybe it is Siddons Lane. From London Picture Archive

No 10 on right. Is the "10. J." above the window the start of J. Goldsworthy Baker? The window has "germ" and "malt" on it - types of flour.

Siddons Lane today. Was No 10 on the right of the lane?.

A 1912 photo of Baker St looking into Melcombe St. No.10 would have been just around the corner, out of sight.

Melcombe St looking towards Baker St in 2003. What was Caffe Saporito is beside Chagford St, the two brick buildind are divided by Glentworth and the No Entry sign marks Siddons Lane, the likely site of Goldsworthy's bakery.
---
---
The Children of John GOLDSWORTHY and Mary DENNIS
John Frederick GOLDSWORTHY (1829-1894)
John Frederick was born 31 January 1829 in Milton St, Marylebone, London and baptised 22 February 1829 at St Mary's Church, Wyndham St, Marylebone, London. This church is a block south of Marylebone Rd, close to the bakery at New St (Melcombe St).


1829 baptism for John Frederick GOLDSWORTHY at St Mary's Church Marylebone.
John followed his father into the bakery trade. He married Henrietta BOUCHER in 1851. They had 14 children. John and Henrietta emigrated to Australia in 1873 with some of the children.
---
Thomas GOLDSWORTHY (1831-)
Thomas was born 31 January 1831 at 8 Milton St, London and baptised 27 February 1831 at St Mary, Bryanston Square, London. Thomas is not with the family in the 1841 census as he was at school in Kensall Green, Willesden, London. In fact Thomas was never recorded with his parents in a census. Thomas followed his father's occupation and became a baker. By 1851 he was aged 20, a baker and managing the business for Anne Crabb at 99 Albans St, St Pancras. By 1861 he had his own bakery at Hoppers Rd, Edmonton, London where he remained for most of his life. In 1861 his sister Emma was assisting him in the bakery.

1831 baptism for Thomas GOLDSWORTHY at St Mary, Bryanston Sq., London .


1841 census for Thomas at school in Kensall Green, London.


1851 census for Thomas at Albans St, St Pancras.


1861 census for Thomas and his sister Emma at Hoppers Rd, Edmonton, London.
Thomas married Fanny MORRIS on 3 October 1865 at St James, Paddington.


1865 marriage for Thomas GOLDSWORTHY and Fanny MORRIS at St James Church Paddington.
Thomas and Fanny had only one child, a daughter Fanny, born June 1867 and baptised at St Paul's Church, Winchmore Hill, Edmonton on 26 August 1867. The family of three are in the 1871 census.


1867 baptism for Fanny GOLDSWORTHY at St Pauls, Winchmore Hill, London .


1871 census for Thomas and family at Hopper St, Edmonton, London.

Sadly, Fanny died in late 1873 at Winchmore Hill. She is buried at Kensal Green Cemetery, grave CONS/4577.

.


1873 cemetery register for the burial of Fanny GOLDSWORTHY at Kensal Green, London.
In 1881 Thomas was still running the bakery at Hoppers Road, Winchmore Hill. His daughter Fanny was at school at Sunbury House, Finsbury.

1881 census for Thomas and family at Hopper St, Edmonton, London.

1881 census for Fanny at school at Sunbury House, Sunbury.
Thomas was recorded as the occupier of The Grove, Winchmore Hill in the 1885 electoral roll, but his name is crossed out, suggesting he was no longer the occupant. Certainly by 1891 Thomas had left Hopper St in Winchmore Hill. By 1891 he would have been aged 60. Both Thomas and his daughter Fanny disappear from the records at this point. They do not appear to be in the marriage or death records. This suggests they emigrated, maybe to Australia where Thomas's brother had gone in 1873. But they do not appear in the Victoria records either.
---
Anne Sarah GOLDSWORTHY (1837-1895)
Ann(e) was born 17 February 1837 at 10 New St Marylebone, London and baptised at St Marylebone Church on 16 March 1837. She married William WILLIAMSON in 1858. They had three children, including the highly acclaimed actress and writer Maud WILLIAMSON.
---
Emma GOLDSWORTHY (1839-1924)
Emma was born 18 September 1839 at 10 New St Marylebone, London and baptised 2 November 1839 at Christ Church St Marylebone, London. She was recorded with the family in the 1841 and 1851 censuses and with her brother Thomas at his bakery in Winchmore Hill in 1861.
---
Jessie Goldsworthy (1842-1907)
Jessie was born on 28 January 1842 in Marylebone (presumably 10 New St), where she appears to have lived all of her life. She was baptised in Christ Church Marylebone on13 March 1842.
In the 1881 census she is unmarried, and her occupation appears to be "tradeswoman", presumably working in the bakery, where her father, aged 81 was still the baker.
After her father John died in 1889, Jessie remained at 10 New St, taking over the bakery. She was joined at the bakery by Jessie Dennis, her cousin from her mother's side. The 1895 Post Office Directory lists Jessie as the baker at 10 New St.
Jessie died tragically on 12 June 1907 at 88 Balcombe St, Marylebone, thus ending over 60 years of the Goldsworthy Bakery at 10 New St, Dorset Square. Jessie left her estate of nearly £200 to her sister Emma (BOWCHER). Jessie died from an overdose of laudanum according to the coroner:
In the 1911 census, 10 New Street is occupied by Percy CROSBIE, fishmonger.
---
Last updated: 07 April 2021