THE FROGGATTS OF BREWHOUSE YARD:
AN EXTRA-PAROCHIAL PLACE ADJOINING NOTTINGHAM CITY
(1797 – 1835)
James Froggatt 1725-1808
This story starts with James FROGGATT, born in Clifton, Ashbourne Derbyshire in around 1725. James migrated towards Nottingham, settling at Brewhouse Yard some time before 1797, when his wife Ellen died:

                          
1724-1797              1725-1808                          1741-1814

                            Ellen                  James                               Ann

                            PEACH========v=========FROGGATT=============v============REDGARD

                                        1763                           1798

                                         |                              |

                                         |                              -

              |-----------|--------------|-----------------------|            
          1764-1769      1767         1770-1824              1775-1840

            Mary        Elizabeth      James                   Hannah

              |           |              |                       |
              -           |              |                       |

                       m:1803         m:1801                  m:1794

                          |              |                       |

                        John           Mary                    Samuel

                       BARRATT         LOWE                    GODKIN

                          |              |                       |

                          ?              |                       

                                         |                       

  |------------|-----------|-------------|----------|-----------|
  |            |           |             |          |           | 

1802-1802  1803-1811   1805-1840     1807-1866  1810-1816   1812-1824

James         John       James        William    Edward       Mary

  

|

            

|

           |             |          

|

           

|



                          m:1833        m:1832

                           |             |

                          Mary        Elizabeth

                         HOPKIN        BOWLER

                           |             |

                           ?             |

                                         |

                |------------|-----------|-------------|----------|-----------|------------|

                |            |           |             |          |           |            |

            1833-1873    1835-1866   1837-1866     1840-1863  1842-1865   1845-1917    1848-1868  

              Mary         Anne       William      Elizabeth    Sarah       Joseph       James

                |            |           |             

|

          

|

           |            

|


              m:1854       1856         1867                                 m:1867

                |            |           |                                    |
              William      Henry       Sarah                              Elizabeth
              CLARK       CANTELO    GOODLIFFE                             POUNDS
                |            |           |                                    |


(Note: you can read through each page, or you can follow the links for the people in the tree for more information on each one. There is a link at the bottom of each page to bring you back here!)
JAMES FROGGATT (c.1725 – 1808)
Marriage to Ellen Peach
James Froggatt (baptised 17 Nov 1725 in Clifton, Ashbourne, Derbyshire) married Ellen PEACH (born c.1724) at St Alkmund in Duffield on 17 November 1763.


Marriage for James FROGGATT and Ellen PEACH at Duffield, Derbyshire.
They are known to have had 4 children, all baptised in Derbyshire:
| Name | Date of baptism | Place | Date of Death | Place |
| --- | --- | --- | --- | --- |
| Mary | 16/9/1764 | Duffield | 16/3/1769 | Wirksworth |
| Elizabeth | 18/9/1767 | Duffield | after 1803 | |
| James | 12/9/1770 | Wirksworth | 2/1/1824 | Nottingham |
| Hannah | 13/9/1775 | Wirksworth | after 1794 | |


Baptism for Mary FROGGATT at Duffield, Derbyshire.


Burial for Mary FROGGATT at Wirksworth, Derbyshire.

Baptism for Elizabeth FROGGATT at Duffield, Derbyshire.

Baptism for James FROGGATT at Wirksworth, Derbyshire.

Baptism for Hannah FROGGATT at Wirksworth, Derbyshire.
James and Ellen moved from Duffield to Wirksworth sometime between September 1767 and March 1769 and moved on to Nottingham before August 1797. Their earlier occupations are unknown but they were likely to have been agricultural workers and were drawn to Nottingham by the availability of employment as framework knitters.
Ellen Froggatt died in Nottingham and was buried on 31/8/1797.
Marriage to Ann Redgard
The first record we have of a FROGGATT living at Brewhouse Yard is the marriage of James to Ann REDGARD at St Nicholas in Nottingham on 29/09/1798:
Marriage of William to Ann Redgard 29/9/1798
John Froggatt & Ann Redgard both of Brewhouse Yard an extraparochial place adjoining this parish Were married in this Church by licence the twenty ninth Day of September in the Year 1798 by me Charles Joynes Rector.
This Marriage was solemnized between us
James Froggatt Ann Redgard
In the Presence of Elizabeth Froggatt X her mark
Wm Joynes
Both James and Ann signed their names, but the witness, Elizabeth Froggatt (James' daughter) signed with her mark although she was aged about 31.
Ann REDGARD had been resident at Brewhouse Yard for several years prior, being recorded as paying Land Taxes to Cornelius Launder (proprietor) of 5 shillings per year for 1791 to 1798. We do not yet know if she was a spinster or widow. It would appear that after the marriage James Froggatt moved into Ann's residence presumably with his children of Elizabeth and James (Hannah having married Samuel GODKIN in 1794), for he is recorded as paying the land tax on the same residence in the following years. Although a James Froggatt is recorded as paying the tax from 1799 to 1819, James (I) died in 1808 and Ann in 1814, so we can conclude that James (II) lived at the same address and continued to pay the tax. In 1807 the property was described as "one dwellinghouse and garden".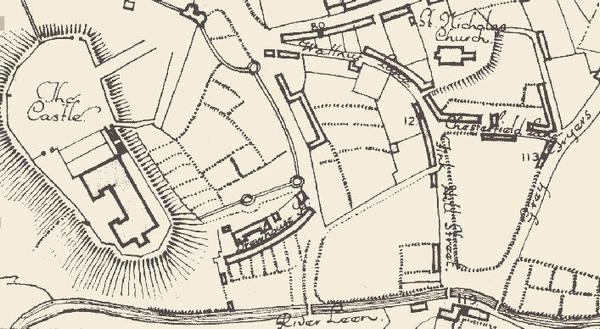 Badder & Peat map of Nottingham and Brewhouse Yard. The long building on the south side of the yard with the gardens behind was owned by Cornelius Launder and would have been where 4 generations of Froggatts resided from 1798 – c.1833: James & Ellen, James & Mary, William & Elizabeth and their children.
The Death and Will of James Froggatt
James Froggatt died in Nottingham on 20 November 1808. In his Will he left all his possessions, including 7 stocking frames to his wife Ann.
Will of James Froggatt – 30th Oct 1805
This is the last Will and Testament of me James Froggatt of Brewhouse Yard in the County of Nottingham, made this thirtyth day of October in the year of our Lord one thousand eight hundred and five viz. I give and bequeath unto my Wife Ann Froggatt all my seven stocking frames together with all my money securities for money of what nature or kind soever, also my household furnature (sic) and all the property I have or may become possessed of, for ever, and finally I do hereby constite (?) and appoint my said wife sole Executor of this my last will and testament, In witness whereof I have hereunto set my hand and seal the day and year first above written
Signed sealed and delivered in the presence of us
J Jephion John Barratt
I do hereby certify that on the 15th day of April in the year of our Lord 1809 Ann Froggat (sic) of Brewhouse Yard extraparochial in the County of Nottingham the widow relict and sole executrix named in this the last Will and Testament of James Froggatt late of Brewhouse Yard aforesaid in the Diocese of York Sawyer deceased was sworn well and truly to execute and perform the same And that the whole of the goods chattels and credits of the said deceased within the Diocese of York do not amount in value to the sum of Twenty Pounds. Witness my hand Charles Joyle (?) Surrogate.
Pass'd 2nd May 1809
The Will was witnessed by John Barratt, James' son-in-law who had married Elizabeth Froggatt in 1803 and who presumably still lived close to Brewhouse Yard.
This Will left all of James' possessions to his second wife Ann (REDGARD) even though James' three offspring Elizabeth, James (II) and Hannah were still alive, and James (II) and family were living with James and Ann at Brewhouse Yard. The probate for the Will records James as a "sawyer" so he was trading in timber by the time of his death. The seven frames owned by James would have cost him at least £175 new or about £70 if second hand and would have brought him in about 7-10 shillings per week in rent at the end of the 18th Century. The fate of the seven knitting frames referred to in the Will is unknown but in 1812, soon after James died in 1808, large scale factory production was beginning to replace home-based framework knitters. I surmise that as the estate was valued at under £20, and James was a sawyer, then he had already sold the frames. Second-hand frames at this time were worth about £10 each.
A Note About Stocking Frames
The frame work knitters worked at home, having either a frame shop or workshop in the garden or a special room often on the top floor of the house with a special extra wide window to let in the maximum light for the stockinger to work. The yarn was supplied to the stockinger by the hosier who employed him. A careful check was kept on the amount of yarn used. The amount of yarn supplied and the finished articles would be weighed and any short fall had to be accounted for. One quarter of an ounce wastage was allowed on every pound of yarn. Stocking frames were expensive. In the years 1780 to 1810 a new frame cost from £25 to £50 depending on its size and quality. A second hand frame would have cost about £10. Wages during this time were about l5 shillings a week and only a few pence of this could be saved. It was therefore rare for a stockinger to own his own frame. Most frames were rented from the hosier for between 9d and 2 shillings a week.
By the time of the Restoration in 1660 knitting frames were in Leicester and many other villages. In the next 100 years, using the existing cottage industry set-up, Framework Knitting spread throughout the East Midlands. This period coincided with the Enclosure of much of the farmland and many people left agriculture to take up framework knitting. By the early 1800's, of the 45,000 Knitting Frames in the country, 90% were in the East Midlands. The making of long hose suited a family unit, the man did the knitting, the woman did the sewing up and the children wound the hanks of wool onto cones. The Knitting Frame, incorporating a seat and foot pedals, supports the metal knitting machine. A row of fixed hooked needles hold the knitting, whilst the operator works on the new row. On 19th century machines, five or six rows of knitting with 288 stitches to the row could be achieved in one minute.
By the 19th century, Derbyshire was concentrating on the production of silk garments, Nottinghamshire on cotton, such as Nottingham Lace, and Leicestershire on worsted, woollen garments. As the 19th century progressed trade slumped as fashions changed, long hose was no longer needed and gentlemen went into trousers, The factory system began to replace the cottage industry and machines were developed to use first steam, then electric power. By 1811, as the frameknitters of the Midlands were being forced to rent the frames they worked on by the manufactures, only a year later mass production was being introduced by the use of wide knitting frames.
---
The Children of James and Ellen
Elizabeth FROGGATT (1768 - ?)
Marriage of Elizabeth to John BARRATT 26/12/1803
"John Barratt & Elizabeth Froggatt both of Brewhouse Yard an extraparochial place adjoining this parish
Were married in this Church by Banns the twenty sixth day of December in the Year 1803 by me Charles Joynes Rector
This Marriage was solemnized between us John Barratt Elizabeth Froggatt X her mark
In the Presence of Wm Porter
Hannah Godkin X her mark"
Note that Hannah Godkin was Elizabeth's younger sister.
Elizabeth and John appear to have had two children:
John BARRATT baptised 17 October 1804 in the Wesleyan Chapel, Nottingham and
Jane BARRATT baptised 22 March 1805 at St Peters, Nottingham.
It appears that Elizabeth and John had died before the 1841 census so it is difficult to determine where they lived, but Hodson's 1814 Directory and Pigot's Directories of 1815, 1819, 1822, 1828 & 1831 list a John Barratt as a Painter of High Pavement.
---
James FROGGATT (1770-1824)
The story of James Froggatt can be found here.
---
Hannah FROGGATT (1775 - 1852)
The story of Hannah and her marriage to Samuel GODKIN is here.
---
THE LAST FROGGATT OF BREWHOUSE YARD
The Froggatt family relationship with Brewhouse Yard came to an end with the death of Joseph Froggatt in 1917. This closed the history on four generations and 17 children who had lived or been born at BHY. Of those 17 children, 9 survived to adulthood but only 4 were male and who had offspring to continue the Froggatt name. Two of these were the youngest born at BHY (William and Joseph). William's 2 surviving sons (William and James) emigrated to Australia with only William having children (14 in total) leaving Joseph's son Harry Joseph Froggatt as the sole remaining Brewhouse Yard descendent bearing the FROGGATT name in England. And Harry died in 1956 without heirs.
William (1869-1947) had 14 children in Australia and New Zealand but only 5 were sons who reached adulthood. The oldest, Frank, was adopted early in his life and become known as Frank HUME the other 4 having 7 sons between them.
---
Back to Froggatt Family History
Last updated: 09/07/2017