The Goodliffe Family of Lambley Lodge, Rutland
John - 2nd son of Thomas and Mary Goodliffe
John Goodliffe was born February the 23rd 1798 in the family home of Lambley Lodge near Belton in the County of Rutland. Although John was the second son, his older brother Thomas, born in 1794, died in 1816, aged 21 years leaving John as the oldest surviving son.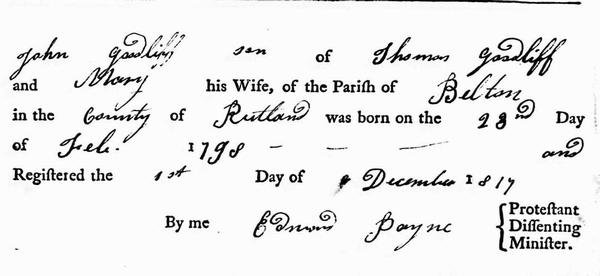 1792 register of births for John GOODLIFFE at the Morcott & Barrowden Baptist Chapel
 
                   John GOODLIFFE===================v===================Elizabeth STOKES

                     1798-1864                     1832                     1808-1886            

                                                    |

    |-----------|----------------|------------------|-------------|-------------|--------------|--------------|------------|

John Thomas  Ann Maria   William Frederick      Henry Arnold  Alfred Pitt Simpson Stokes Elizabeth Alice Albert Stokes  Mary Jane

1832-1901   1834-1910        1836-1913          1837-1921     1839-1917     1842-1922      1846-1932      1847-1923    1848-1916

    |           |                |                  |             |             |              |              |             |

    |           |                |--------|         |             |             |              |              |             |

  m:1856      m:1865          m1:1882  m2:1876      ?          m:1863         m:1867         m:1868         m:1874        m:1881

 Mercy        George           Eliza   Elizabeth  Elizabeth      Ann          Sarah         Charles       Elizabeth       Daniel

 STALEY      REYNOLDS         BROWNSON  COOPER    LAWSON       INNOCENT      GOODLIFFE        WARD          PERRIN       GOODWIN

    |           |                |        |         |             |             |              |              |             |

  


John married Elizabeth STOKES on 20 Oct 1832 at St Martins, Leicester. Elizabeth was born late 1807 to William and Elizabeth STOKES and was baptised at Owston St Andrews, Leicestershire on 10 January 1808.


1808 baptism for Elizabeth STOKES at Owston, Leicestershire.


1832 marriage licence for John GOODLIFFE and Elizabeth Stokes.
John and Elizabeth settled into Lambley Lodge, where they had 9 children:
The births of the first four children were recorded at the Morcott and Barrowden Baptist Chapel.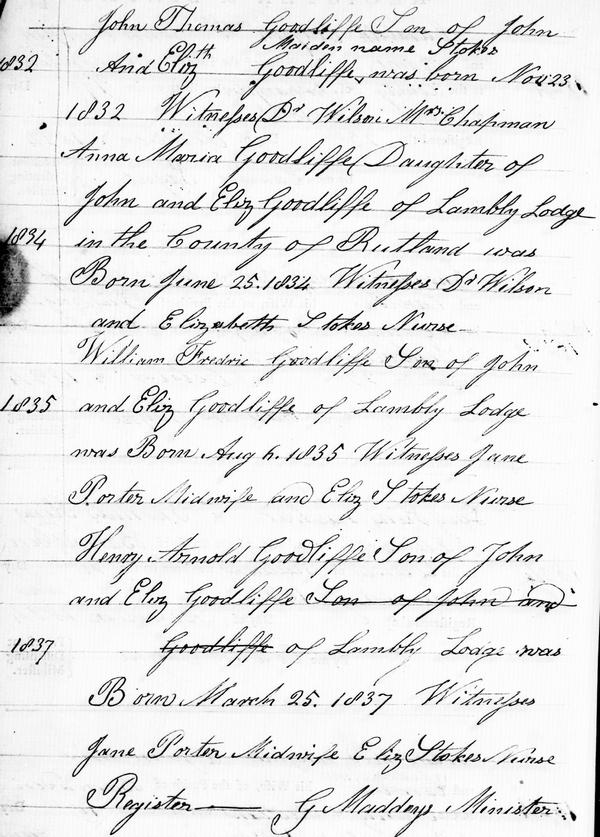 1832-1837 birth records for the children of John and Elizabeth GOODLIFFE at Morcott nad Barrowden.
For some reason, John and Elizabeth also had seven of the children baptised together at Belton St Peter's on 1 August 1847. Only William Frederick missed out. Perhaps he was away at school, certainly by 1851 he was living in Nottingham wih his uncle Henry PITT.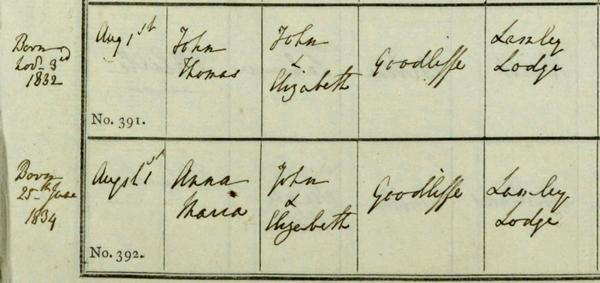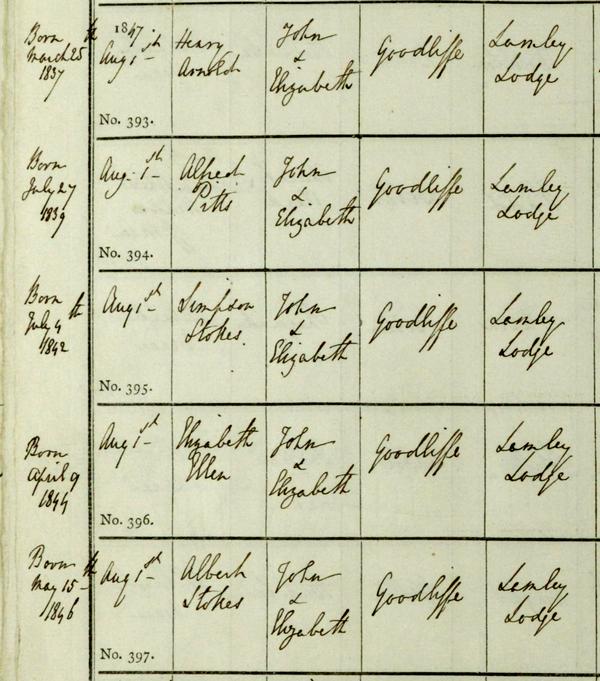 1847 baptism records for the children of John and Elizabeth GOODLIFFE at Belton St Peter's.
The family was recorded at Lambley Lodge in the 1841, 1851 and 1861 censuses. In 1861 the family was enumerated twice: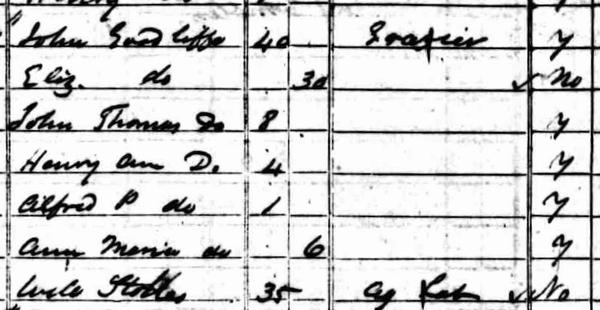 1841 census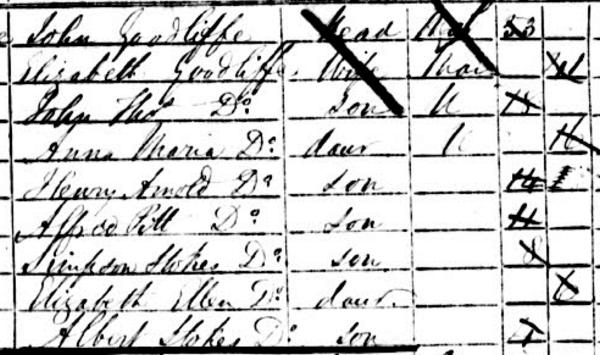 1851 census



1861 census
John Goodliffe died 5 March 1864 at Lambley Lodge. He was buried at Belton St Peter's.


1864 burial of John Goodliffe at Belton St Peter's.
John Goodliffe left an extensive Will. He left the farm to his son Simpson Stokes but he required Simpson to allow his widow Elizabeth to reside at Lambley Lodge for as long as she desired and to pay her a weekly stipend.
| | | |
| --- | --- | --- |
| 1864 Will of John Goodliffe. | | |
As per John's Will, Simpson Stokes took over the farm and in 1871 Elizabeth, John's widow, was living at Lambley Lodge with Simpson and family. But by 1881 Elizabeth was living alone at Main St, Braunston (on the corner with Brook St), although she had Elizabeth Reynolds (granddaughter) with her on census night.


1871 census

1881 census
Elizabeth died on 5 May 1886 and is buried with husband John at St Peters Church, Belton.

1886 burial of Elizabeth Goodliffe at Belton St Peter's.
The headstone for John and Elizabeth at St Peters Church, Belton.

Photo of the headstone taken in 1936 by Annette Goodliffe of Mamaroneck, New York - John and Elizabeth's granddaughter.
The inscription reads:
"Affectionate remembrance of
JOHN GOODLIFFE
of Lambley Lodge
who departed this life
March 5th 1864
Aged 66 years.

Elizabeth Stokes
Wife of John Goodliffe
Died 5th May 1886
Aged 78 years."
---
---
The Children of John and Elizabeth
John Thomas GOODLIFFE
John Thomas was born 3 November 1832. He emigrated to the United States, departing Southhampton on 1 September 1856 on the Palestine. He is shown as John GOODLIFF, age 24 and a carpenter. He was accompanied by his wife Mercy, whom he married in London earlier that year.
There is more information here about the life of John and Mercy in Mamaroneck, New York.
---
Annie Maria GOODLIFFE
Annie Maria also listed as Ann and Anna, married the boy next door - George Robert REYNOLDS in late 1865 registered at Oakham (Dec qtr 7a/577). The Reynolds family lived at Cottage Lodge, which was adjacent to Lambley Lodge in Belton.
There is more about Annie and the REYNOLDS family here.
---
William Frederick GOODLIFFE
William Frederick apparently known as "Billy Pitt" married Eliza Ann BROWNSON in Dec qtr 1858 in Nottingham. They had six children.
More information about William and his family is here.
---
Henry Arnold GOODLIFFE
Henry Arnold married Elizabeth LAWSON and became a grocer in Nottingham, as did several of his uncles and cousins. Henry and Elizabeth had 7 children.
Details of his family are here.
---
Alfred Pitt GOODLIFFE
Alfred Pitt married Ann INNOCENT on 27 Jan 1863 at St Peters, Nottingham. They had 7 children.
More information about Alfred and Ann and their family details are here.
---
Simpson Stokes GOODLIFFE
Simpson Stokes GOODLIFFE married Sarah GOODLIFFE in Dec qtr 1867, at Uppingham 7a/661. They lived at Lambley Lodge, taking over from Simpson's father, John. They had five children:
More information about Simpson and Sarah and their family details are here.
---
Elizabeth Alice (Ellen) GOODLIFFE
Elizabeth Ellen married Charles Bryan WARD on 24 Dec 1868 at Braunston. They had 6 children:
| | |
| --- | --- |
| Edith Ellen | Jun 1870 |
| Eliza Ann | Mar 1873 |
| Charles Bernard | Jun 1876 |
| Joseph William | Jun 1876 |
| Florence May | Jun 1878 |
| Eveline Beatrice | Dec 1879 |
In the 1871 census, Elizabeth and Charles are living at Launde, Leicestershire with Charles' mother Eliza, their daughter Edith (1) and Charles' sister Ruth Ward (44).
In 1881 they have moved to a farm at Burrow Village, Somerby, a few miles west of Oakham. The family was now Elizabeth and Charles, Edith (11), Eliza (8), Charles Joseph (5), Florence (3), Evelyn (1), and Eliza Ward and Mary Jane Ward, Charles' mother and aunt.
In 1891 they were farming at Newton Harcourt. Charles died 7 Nov 1896.
In 1901Charles Bernard remained on the farm at Main St, Newton Harcourt with his sister Lillie (Eliza). Their mother Elizabeth Ellen was visiting her sister Annie Reynolds at Jubilee Lodge.
Charles Bernard married Lucy DEACON in late 1902 and they lived on the farm at Newton Harcourt until the 1920's when they were forced to leave. They had 7 children.
| | |
| --- | --- |
| William | Jun 1903 |
| Phyllis May | Dec 1904 |
| Kathleen Deacon | Dec 1905 |
| Ruth Ellen | Sep 1908 |
| Charles Bryan | 20 Aug 1909 |
| Thomas Bernard | Mar 1911 |
| John Goodliffe | Mar 1912 |
Elizabeth Ellen died in Leicester on 29 February 1932.
---
Albert Stokes GOODLIFFE
Albert Stokes married Elizabeth PERRIN in the Dec qtr 1874 registered at Salford. They had 9 children:
| | |
| --- | --- |
| Fanny | Dec 1875 |
| John Arthur | Sep 1878 |
| George Geoffrey | Dec 1880 |
| Edith | Jun 1884 |
| Lilly | Sep 1885 |
| Nellie Alberta | Dec 1887 |
| Walter Harold | Dec 1890 |
| Marjorie Eveline | Dec 1891 |
| Albert Frank | Dec 1894 |
Albert (14) is in the 1861 census, residing with his brother Henry Arnold at Main St, Hucknall Torkard.
In the 1871 census, Albert (25) was a grocer, lodging at 48 Peel Sq, Bradford.
By 1881 Albert was married and with 3 children, Fanny (5), John (2) and George (6 months). He was a wholesale grocer, living at 15 Southbrook Tce, Little Horton, Bradford.
In 1891 the family was at 10 Neal St, Horton, Bradford, with Fanny, John, George, Edith, Lily, Nellie, and Walter.
In 1901 they were living at 29 Houghton Place, Bradford with all 9 children. Albert was still a wholesale grocer.
Albert died in Bradford 18 Dec 1923.
---
Mary Jane GOODLIFFE
Mary Jane is a puzzle. She is not in the index of births, nor is she listed on the 1851 census with her family. She married Daniel GOODWIN in the March qtr 1881 (Oakham 7a/355), prior to the census on 3 April. Mary and Daniel had only 1 child:
Mary (aged 13) is in the 1861 census visiting her cousin Anna MOULD (nee Culpin) on a farm at Wood Newton.
In the 1871 census, she is visiting her brother Simpson Stokes at Lambley Lodge.
In 1881 Mary and Daniel had just married, and they were living at Brook St, Braunston, 2 doors away from her mother Elizabeth.
In 1891 they lived at The Village, Braunston, with son Alfred Henry (9).
In 1901 they were at 5 School Rd, Braunston, with Alfred Henry (19).
In 1911 they were still living at Braunston. Daniel was aged 71 and Mary 62.
Mary Jane died in Braunston in 1916 (March quarter Oakham 7a/422).
Daniel appears to have died in 1924, aged 88 (March qtr, Blaby 7a/84).
---
Last updated: 10 July 2021