The Goodliffe Family of Lambley Lodge, Rutland
Anna - Third daughter of Thomas and Mary GOODLIFFE


Thomas GOODLIFFE====v====Mary ARNOLD   George CULPIN====v====Alice STANGAR

   1756-1829      m:1791  1769-1855      1750-1806     m:1774   1756-1802

                    |                                    |

              

Anna GOODLIFFE

===========v============John CULPIN

             1796-1886               m:1823            1789-1850

                                       |

           |------------|--------------|---------------|----------------|

       Elizabeth      Anna           Sarah            Mary             John 

       1824-1835    1827-1890      1829-1898       1832-1906          1834-

           |            |              |               |                |

                      m:1851         m:1853          m:1856           m:1860

                  Simmons MOULD  Edward EDGSON    John STANYON    Fanny NICHOLLS

                        |              |               |                |

                   8 children     9 children      6 children       7 children 

 

Anna (or Ann) Goodliffe was born 31 August 1796 in the family home of Lambley Lodge near Belton in the County of Rutland. She was the 4th child of Thomas and Mary.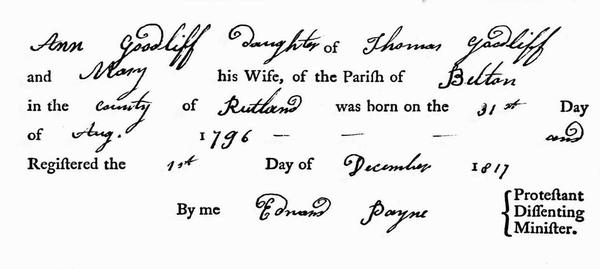 Anna's birth was recorded at the Baptist Chapel Barrowden and Morcott.
Anna married John CULPIN (a miller) at Duddington St Mary (Northamptonshire) on 6 OCtober 1823. They lived in Kings Cliffe Northhamptonshire. From Arnold's Memoirs- (bottom of page 34) "... she married an excellent man John Culpin by whom she had one son and 3 daughters, 2 of whom lived with us for years".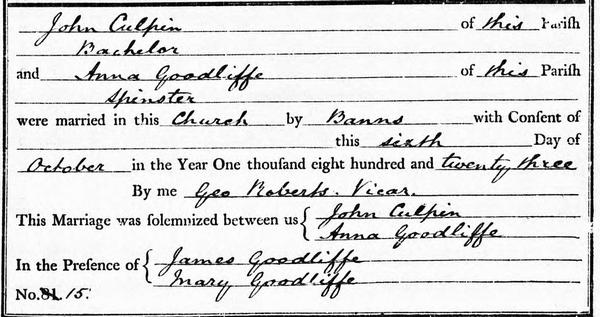 Anna's marriage to John Culpin at the parish church of St Mary, Duddington, Northampton. The witnesses were her brother and sister.
Anna and John had 5 children:
| Name | Born | Died |
| --- | --- | --- |
| Elizabeth | 17 July 1824, Barrowden | 24 March 1835, Kings Cliffe |
| Anna | 4 Sept 1827, Kings Cliffe | bur 15 Jun 1890, Wood Newton |
| Sarah Goodliffe | 31 Oct 1829,Kings Cliffe | 12 Jun 1898, Kings Cliffe |
| Mary | Bap. 4 Feb 1832 Baptist Chapel Morcott & Barrowden | 17 Dec 1906 Ketton |
| John | 5 Nov 1834, Kings Cliffe | 12 May 1918, Great Easton |
The CULPIN family became regular attendees at the Barrowden and Morcott Baptist Chapel in Barrowden. The births of their five children were recorded there.
In the 1841 Census Anna and John were living at Park St, Kings Cliffe, with daughters Anna (13), Mary (9), and son John (6). Daughter Sarah was living with her uncle Arnold Goodliffe at Bridlesmith Gate, Nottingham, just as Arnold had noted in his memoirs.
In 1851 Ann and daughter Anna were in Park St, Kings Cliffe. Ann was a widow, as John had died in 1847 (Dec quarter, Oundle 15/207). (His headstone was at the old baptist Chapel in Barrowden but was too worn to be read.) Daughter Sarah was a servant for Elizabeth Bretland at 17 Carlton St, Nottingham. Mary is living with her uncle Arnold Goodliffe in Nottingham. Son John is living with the Miller and Baker at Morcott, next door to his grandmother Mary Goodliffe.


1851: Ann CULPIN at Kings Cliffe


1851: Sarah CULPIN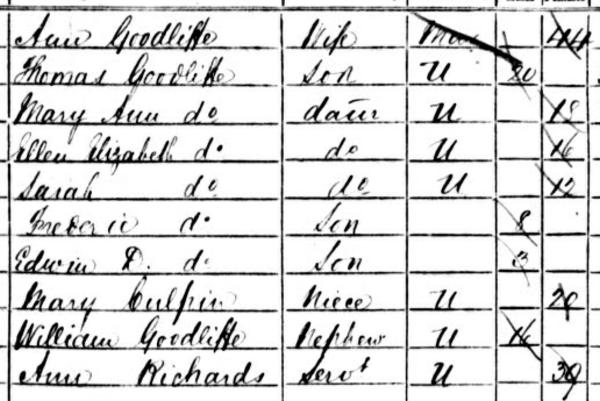 1851: Mary Culpin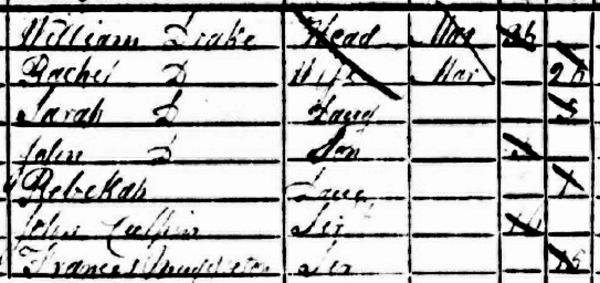 1851: John Culpin
In 1861 Anna is living alone, a widow aged 64, still at Park St, Kings Cliffe.
In 1871 Anna is still living at Park St, Kings Cliffe, aged 74.
In 1881 Anna is now living with her daughter Anna and family at Wood Newton, aged 84.
Anna Culpin died 24 August 1886 at Ketton, aged 89. John and Anna's headstone is in the churchyard of the old Baptist Chapel at Barrowden, alongside a number of Goodliffe graves.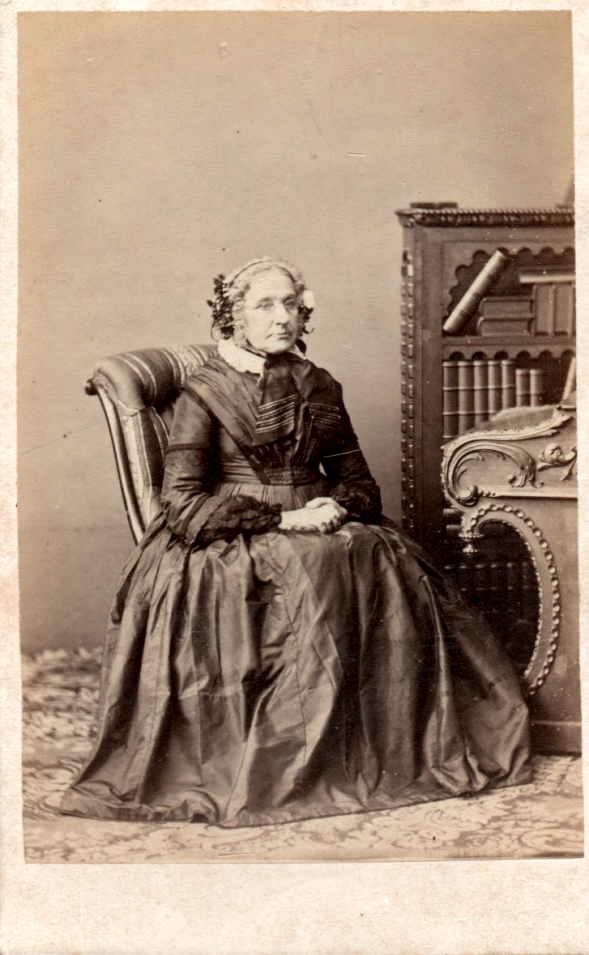 Anna CULPIN (née GOODLIFFE) in old age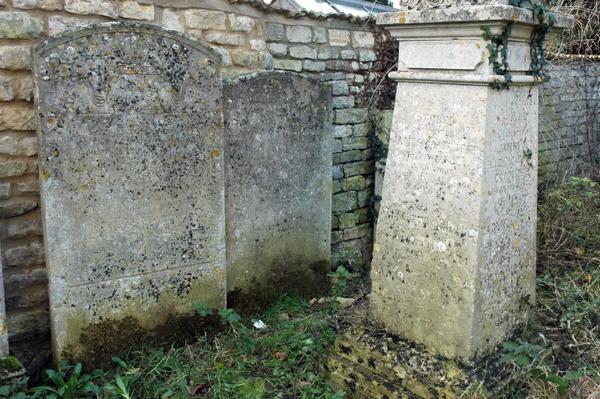 The old church yard of the Baptist Chapel at Barrowden. The large plinth contains many Goodliffe names, the flat stone on the right is for John and Anna Culpin
---
---
The Children of Anna and John Culpin
Anna Culpin
Anna was born 4 September 1827 at Kings Cliffe. She married Simmons MOULD on 9 June 1851 (Oundle 15/499). They had 9 children.
---
Sarah Goodliffe Culpin
Sarah married in Dec 1853 to Edward EDGSON (Oundle 3b/497). Edward was a tailor and grocer, and they lived first in Morcott, then Kings Cliffe. They had 9 children:
---
Mary Culpin
Mary was born in early 1832 and baptised 4 February 1832 at the Baptist Chapel in Morcott. She married in Sep 1856 (Oundle 3b/309) to John STANYON, a carpenter and wheelwright, also of Kings Cliffe. They also had 9 children. In the 1861 census they were living at Tansor, but moved to Ketton between 1865 and 1867.
---
John Culpin
Son John was born in Kings Cliffe on 5 November 1834. He became a baker and married Fanny NICHOLLS in the March quarter 1860 at Kendal. John and Fanny had 9 children:
---
Return to Arnold Goodliffe page
Last updated: 27 July 2023