The Family of Benjamin Benton The Grocer of Plaistow, West Ham, Essex
John Laybank Benton - Cabinetmaker
    |          |         |           |         |          |          |            |

  John===v====Ann      David==v===Elizabeth  John===v===Martha      John===v===Elizabeth

STENNER 1793 RAWLE     TAME  1823  DIGGER   BENTON  |      ?      LAYBANK |       ?

         |                    |                     |                      |

         |                    |                     |                      |

  William STENNER===v===Elizabeth TAME       Benjamin BENTON==v==Elizabeth LAYBANK Thomas GODRIDGE==v==Ann HOUGH 

     1897-1871     1823   1805-1889             1793-1877    1818     1789-1847                    1814

                             |                                |                                     |

                        Mary STENNER============v========

John Laybank

====================v=====Sarah GODRIDGE

                         1836-1863             1856       

1826-1913

                     1867    1825-1907

                                                |                                        |

                                                |--------- ----|---------------|

                                           John William  Benjamin James Frederick Laybank 

                                            1857-1938      1859-1926       1862-1863  

                                                |              |               |

                                             m:1886          m:1908

                                            Mary HOWE    Isabel MORRISON

    |----------|------------|-------|-----------|              |

   John  Reginald James  Cecile  Dorothy  Cyril Frederick

1888-1888  1889-1970     1891-  1893-1929     1896-

               |            |       |           |

             m:1915       m:1918              m:1926

           Elizabeth      George               Alma

             KEITH        PEARCE              SPENCE

               |            |                   |
     


John Laybank BENTON was born 22 April 1826 at Plaistow, Essex and baptised at All Saints, West Ham on 30 July 1826.


John Laybank Benton's baptism at All Saints, West Ham
At age 14 he was apprenticed to carpenter John Hollywell FISHER of Plaistow, Essex on 9th June 1840, for the wage of one shilling per week in the first year.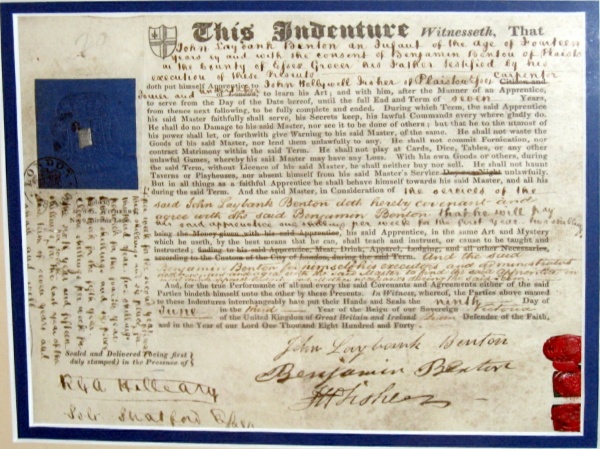 John Laybank Benton's Indenture paper
The next we know about John Laybank was his departure for Adelaide on 12 April 1848 on the ship the Forfarshire. He was 10 days short of his 21st birthday and his departure was 7 months after his mother died. He left behind his father, three brothers and a sister.
Little is known of John Laybank's early life in Australia. He arrived in Adelaide but there was little work available. Although a cabinetmaker, there is a family story of him pulling nails out of packing crates, being the only work available. The next record we have is his signature (indexed as BONTON) on the Goldfields Petition, organised in Bendigo in 1863. (see the list of names here). We can be reasonably sure that it was John as Laybank is given as his middle name.
Marriage to Mary Stenner
John Laybank married Mary STENNER on 20 December 1856 at the residence of the Bride in Flinders St, Melbourne. Mary had been born in London on 17 September 1836. He was aged 30 and she 20. (More information about Mary and her family is here).
They had three children:
| Name | Birth | Death |
| --- | --- | --- |
| John William | 24 Oct 1857 | 14 Aug 1938 |
| Benjamin James | 2 Dec 1859 | 24 Nov 1926 |
| Frederick Laybank | June 1862 | 20 Aug 1863 |
Death of Mary
Mary died of TB on 19 November 1863 at Martyn Street, South Yarra, Melbourne. Her death came two months after that of her youngest son Frederick:
Marriage to Sarah GODRIDGE/CLARK
John Laybank married Sarah CLARK (nee GODRIDGE) in Emerald Hill on 10 October 1867. He was aged 41 and she 39 according to the marriage record. Sarah's death certificate gives her birth in 1825, making her 42 at marriage, so she may have lowered her age to appear to be younger than John.
Who was Sarah GODRIDGE? Her marriage and death records show Sarah was born in Derby and her parents were Thomas GODRIDGE and Ann HOUGH. There is a marriage between these two in All Saints Church, Dalbury, Derbyshire on 7 March 1814. Thomas was from Sutton on the Hill, a village about a mile west of Dalbury.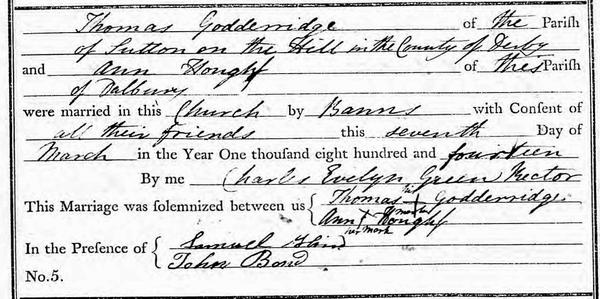 Marriage between Thomas GODRIDGE and Ann HOUGH at Dalbury, Derbyshire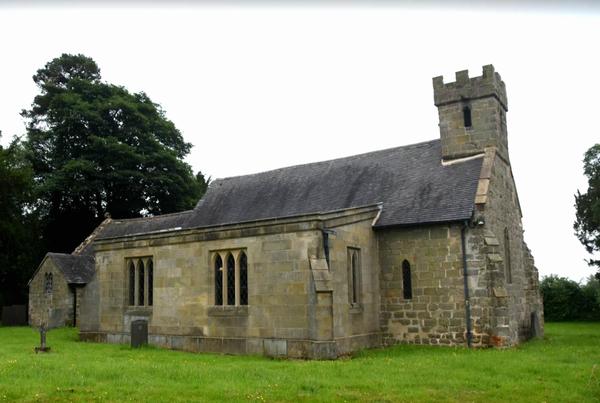 All Saints Church, Dalbury, Derbyshire
Thomas and Ann had at least four children, all baptised at All Saints, Dalbury. There is also a baptism for a Charles GODRIDGE in 1814, just nine months after their wedding. The parish register shows the parents as Thomas and Nancy, but this could be Thomas and Ann.
| Name | Birth | Death |
| --- | --- | --- |
| Charles (parents shown as Thomas and Nancy but this may be an error) | Bap 9 Oct 1814 | |
| William | 6 Jun 1819 | |
| Thomas | 18 August 1822 | |
| Sarah | 20 February 1825 | |
| Mary Ann | 7 March 1831 | |
Sarah married George CLARK in London (St Mary, Islington) on 10 February 1852.


1852 Banns and marriage date of Sarah GODRIDGE
According to her later marriage record to John BENTON, she and George had four children before George died. All four children were deceased by the time Sarah married John Benton in 1867. Despite extensive searching the births of the four children and their emigration to Australia are not obvious in the records. Sarah's death shows she had lived in NSW for 1½ years and then Victoria for 53 years. That would indicate she arrived in Australia around 1852, soon after she and George had married in London.
Later life of John Laybank and Sarah BENTON
John and Sarah did not have any children. They lived in South Melbourne. By 1875 they were living at 72 Market St, Emerald Hill, with John listed in the Rates Book as Owner and Occupier. Today No.72 has been replaced, but No.70 could represent the style of house John and Sarah owned.


1875 Rates Book for Emerald Hill, Melbourne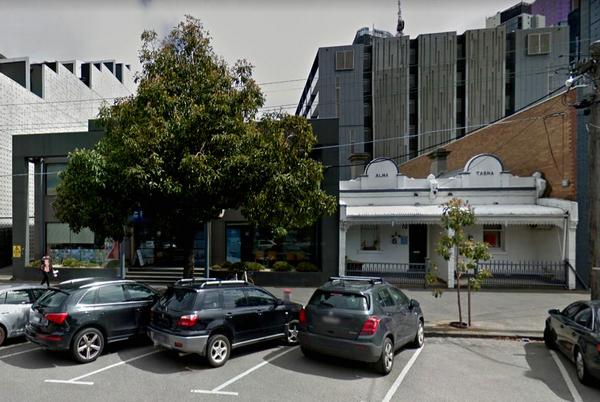 72 Market St is behind the tree.
In 1900 John Laybank BENTON appeared as a witness for a Board of Works hearing on subsidence caused by the installation of sewerage in South Melbourne. He stated he lived at 103 Moray St but he owned 16 Tope St. These two properties back on to each other but today the buildings have been demolished. The whole block has been a car park for many years.
Sarah died on 12 August 1907 in Carrington Road, Randwick, NSW. They had named the property "Plaistow" after the suburb in London where John was born.
John Laybank died six years later, on 9 October 1913 at "Melrose", Kensington Rd.
---
Last updated: 11/01/2020