The Benton Family
John William Benton
John HOTSON==v==Emma POWELL John Laybank BENTON==v==Mary STENNER Joseph HOWE==v=Mary ROWARD

           m:1862                1826-1913       |   1836-1863      1826      |     1826

            |                                  m:1856                       m:1851

            |                                    |                            |
      Kathleen HOTSON========v==============

John William

=======v========Mary Agnes HOWE
        1887-1973         m2:1933            

1857-1938

         |            1854-1916

            |                                               m1:1886 

                                                               |

     |-------------|-------------|-----------|-----------------|

    John     Reginald James   Cecile    Dorothy Agnes      Cyril Frederick

 1888-1888     1889-1970     1891-1987   1893-1929           1896-

     |             |            |            |                 |

                 m:1915       m:1918                        m:1926

           Elizabeth Iris     George                         Alma

                 KEITH        PEARCE                        SPENCE

                   |            |-----------------|           |----------------------------| 

                   |                              |                                        |

     |-------------|----|---------|-------|       |------|-------|-------|----|-----|      |---|-----|--------|------|
Reginald    Keith     Cyril     Arthur  Betty  Dorothy Muriel Marjorie John Beryl Heather unk Nina William Lorraine Dawn
1916-1991 1918-1943 1919-2006 1922-2006 1926-   1919-        1922-1941                 1943-1943

    |         |         |         |       |

  m:1941              m:1950    m:1943  m:1950
 
Cecilia             Shirley   Irene    Colin

  MORONEY               HALL   FULLICKS  WEEKES

    |                    |        |       |
     


John William BENTON was born 24 October 1857 in Richmond, Victoria, the son of John Laybank BENTON and Mary STENNER. He became a teacher and at some point moved to New South Wales, where he was appointed to the Department of Public Instruction as a teacher class 2A, on 23 April 1883, aged 25.
He married Mary Agnes HOWE on 29 December 1886 in Richmond, Melbourne. Mary was also a teacher. Mary Agnes was the daughter of Joseph Williams HOWE and Mary Agnes ROWAND (there is more information about the HOWE family here.
According to the Public Service records, John William spent most of his teaching carreer in small isolated rural schools, where he was the sole teacher (well, the sole male teacher, women were not recorded on the permanent list).
| Year | School | Notes |
| --- | --- | --- |
| 1909 | Mulbring | sole |
| 1910 | Boolaroo | junior of 2 |
| 1911 | Boolaroo | sole |
| 1912 | Boolaroo | sole |
| 1913 | Boolaroo | sole |
| 1914 | Boolaroo | sole |
| 1915 | Boolaroo | senior of 2 |
| 1916 | Nicholson St | senior of 2 |
| 1917 | Nicholson St | senior of 2 |
| 1918 | Nicholson St | senior of 2 |
Prior to 1909 he was at Coolamon in 1899 when he was appointed as a local Presbyterian Church trustee and thereby became responsible for the local burial ground. He left that town in 1903:


Government Gazette, NSW 15 July 1899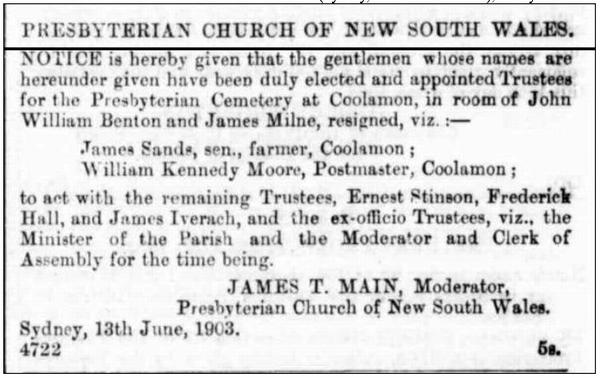 Government Gazette, NSW 19 June 1903
John William and Mary had five children:
| Name | Date of Birth | Date of Death |
| --- | --- | --- |
| John | 1888; Maclean, NSW | 1888; Maclean, NSW |
| Reginald James | 16 March 1889; Willoughby, Sydney | 29 July 1970; Mona Vale, Sydney |
| Cecile Millicent | 20 May 1891; Humula, NSW | 16 Nov 1987; Richmond, Sydney |
| Dorothy Agnes Laybank | 31 May 1893; Wagga Wagga, NSW | 20 April 1929; Chatswood, Sydney |
| Cyril Frederick Kennedy | 29 April 1896; Junee, NSW | 12 March 1972; Maitland, NSW |
John's last day of work with the Department of Education was 14 February 1919. He would have been 61 years old.


Government Gazette, NSW 24 December 1918, p6669
Mary died on 7 November 1916 at Richmond, NSW. The informant was John William BENTON, widower of 47 Waterview St, Balmain.


Death certificate for Mary Agnes BENTON
Some time after Mary's death, John William went to live with his son Reginald James and his family
Book publisher
While teaching, John W. wrote several books as teaching aids, including Atlas and geography, compiled by John W. Benton published in 1890 and "Writing Instructions" published in 1909.
After retiring from teaching John endulged his interests in philosophy and economics. He clearly had Socialist leanings and published several books and pamplets including:
Living : What is living? : an art, a science, a philosophy published 1925
Living A pamplet. Copyright application 16893, John William Benton, Pennant Hills-road, Thornleigh, 30th November, 1927.
The philosophy of inequity published 1930
Monetary problems and banking published 1934
Valuation : human and financial published 1936 co-authored with Kathleen HOTSON
Departure to Adelaide
The family story relates that after his daughter-in-law (Elizabeth Iris KEITH) criticised John for not helping around the property, John William packed up and departed for Adelaide never to be heard from again. Evidence would suggest this would have been in the early 1930s. By this time John William had been involved in Socialist politics for several years, so maybe the family were uncomfortable with this. It is also clear that he would have met a young Socialist campaigner - Miss Kathleen HOTSON - at one of her lectures in Sydney. They had a common interest in global economics, especially as this was at the depths of the Great Depression when many people were unemployed. John W and Kathleen published a book together on Banking and the Gold Standard.
Kathleen HOTSON was a well-known activist and there are several (short) biographies about her.
"Kathleen Hotson was educated at Dryburgh House and the University of Adelaide. She is another of the clear-thinking women peace-makers who was a highly educated 'Advanced Woman', one of the first generations of women entering the universities. Born in Robe, South Australia, she taught for a while at Miss Twiss's College in Adelaide, before going to Naracoorte to teach at St Andrews School in 1907. She achieved excellence presumably in 'sociology', and in music among other fields. She wrote verse. At the outbreak of World War 1 she was involved in South Australian intellectual and political circles including the Navy League, and by September 1915, she participated in a delegation to the South Australian government about free speech."
The Labour History Melbourne website has this to say about Kathleen:
HOTSON, Kathleen. Educated University of Adelaide; 'student of political economy and social economics'; school teacher; during World War I travelled throughout Australia advocating peace, feminism and socialism; regarded by authorities as a 'notorious sower of discord' and the 'embodiment of militant pacificism', she was a leading activist in the South Australian peace movement; gifted orator and leading speaker for Australian Peace Alliance, addressing crowds at Adelaide's Botanic Park and at lunchtime meetings outside factories; secretary Adelaide branch of APA... In Brisbane during 1918; helped form Queensland branch of APA. By 1918, had widened commitment to pacificism & feminism to embrace socialism also. Member South Australian Socialist Party/Social Democratic League; represented Party at Easter Peace Conference 1917 & 1918; addressed meetings of Victorian Socialist Party, Australian Socialist Party (Sydney) and Broken Hill branch of IWW; 1918 became women's organiser for Shop Assistant's Union in Queensland but resigned after 10 months after becoming disheartened with attitude of male unionists & difficulty of organising women workers.
Marriage to Miss Kathleen HOTSON
John William BENTON married Miss Kathleen HOTSON at the Registry Office in Flinders St, Adelaide on Tuesday 21 March 1933. John was aged 75, retired teacher and a widower. Kathleen was 45, a spinster.
They lectured extensively and wrote two books during their time together. At some point they moved to 5 McKinnon Tce, North Adelaide.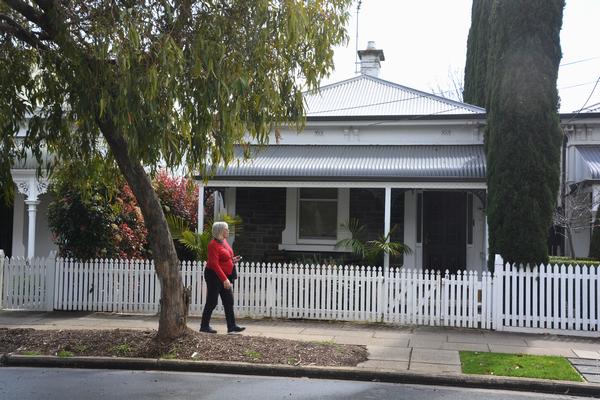 5 McKinnon Parade, North Adelaide
John William BENTON died at Sister Berryman's Private Hospital, 8 Harrow Rd, St Peters on 14 August 1938.


Death notice for John William BENTON


Death certificate for John William BENTON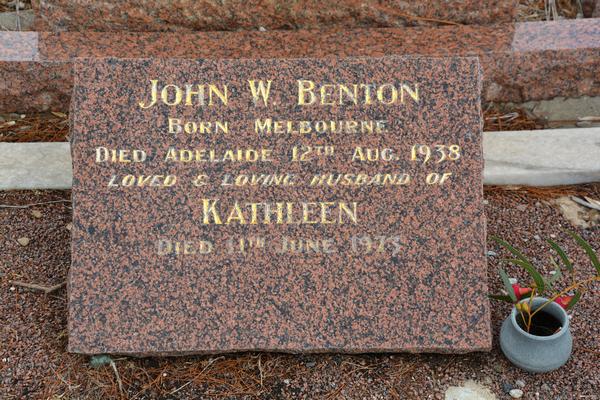 Headstone for John William BENTON in North Adelaide Cemetery
After John William's death, Kathleen drops out of the public eye. She moved to 78 Carlton Parade, Torrensville, West Adelaide where she resided for the rest of her life. It did not stop her continuing to write about politics as there are frequent letters to the editor. The last letter appears to have been in 1951: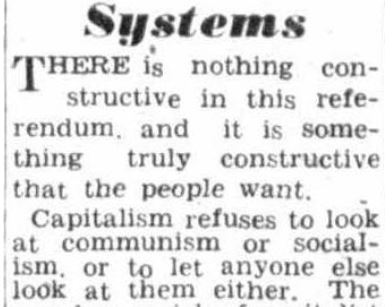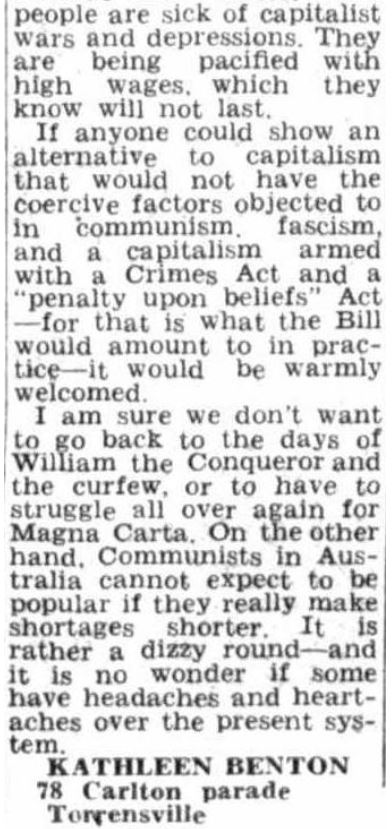 Kathleen BENTON's last Letter to the Editor in Adelaide, 1951
Kathleen BENTON (née HOTSON) died in Adelaide on 11 June 1973. She is buried with her husband John William BENTON at North Adelaide Cemetery.
---
---
The Children of John William BENTON and Mary Agnes HOWE
Reginald James BENTON 1889-1970
Reginald James was the second child of John William and Mary but the older brother had died at birth.
---
Cecile Millicent BENTON 1891-1987
Cecile Millicent was born 20 May 1891 at Humula in northern NSW. She was the older daughter of John William and Mary. Cecile married George Albert PEARCE, an orchardist, the son of John PEARCE and Louisa Voss HIVES. He was 37 and Cecile was 27.

1918 marriage for Cecile BENTON to George PEARCE
George and Cecile had six children:
| Name | Date of Birth | Date of Death |
| --- | --- | --- |
| Dorothy M | 1919; Richmond NSW | |
| Muriel Louisa | | |
| Marjorie Agnes | 1922 | 12 July 1941; Richmond, NSW |
| John Albert | | |
| Beryl Lillian | | |
| Heather Millicent | | |
---
Dorothy Agnes Laybank BENTON (1893-1929)
Dorothy Agnes was the fourth child of John William and Mary, born 31 May 1893 at Waggawagga. She died 20 April 1929 at Chatswood and was buried at Macquarie Park Cemetery.
---
Cyril Frederick Kennedy BENTON (1896-1972)
Cyril Frederick was born 29 April 1896 at Junee. He married Alma Gladys Spence in 1926 at Paddington. They had 5 children: Unnamed (1943-1943), Nina, William, Lorraine, and Dawn. Cyril died in Maitland on 12 march 1972. Alma died 7 Jan 1988.
---
Return to John Laybank Benton page
Last updated: 21/04/2020