The Family of Mary Agnes HOWE - wife of John William BENTON
Robert HOWE of High Row, Crosthwaite & Threlkeld 1706-1797
John William BENTON was born 24 October 1857 in Richmond, Victoria. He married Mary Agnes HOWE in 1886 in Richmond, Melbourne. This is the story of Mary's family, beginning with Robert HOWE of High Row, Crosthwaite, near Kendal, Cumberland, England.
Robert HOWE 1706-1797
The transcribed parish records tell us that Robert HOWE was baptised at the parish church of St Mary's at Crosthwaite, Cumberland on 14 March 1706. His parents were William HOWE and Mary. The parish records have a marriage for a William HOWE to Mary WREN on 24 June 1701, so this is likely to be Robert's parents. The records also have a baptism for a Mary WREN at Crosthwaite on 9 April 1689 to Gawine WREN and Ann. Also a baptism for a William HOWE at Carlisle on 4 May 1685, father William HOWE. These dates appear to be too young, suggesting William was only 16 and Mary only 12 when married, unless they were about 10 years old when baptised, which would have been very unusual for the time.
Robert had at least three siblings, John (baptised 28 June 1702), Mary (30 November 1703) and William (9 February 1708). All were baptised at Crosthwaite.
Marriage of Robert to Sarah COCKBAINE
Robert married Sarah COCKBAINE at St Mary's Crosthwaite on 12 December 1759. Sarah was baptised at Threlkeld, Cumberland on 22 July 1733, her parents were Christopher COCKBAINE and Esther GRAVE, who had married at Threlkeld on 27 March 1704. We cannot be sure that these are the correct parents, but Robert and Sarah's second son was named Christopher, adding credence to the connection.
| | |
| --- | --- |
| Crosthwaite Church today | St Marys, Threlkeld, today |
The HOWE family tree from William HOWE to John William BENTON
     William HOWE=====v=====Mary WREN     Christopher COCKBAINE===v===Esther GRAVE

                    m:1701                                      m:1731 

 |-------|------------|----------------|                          |

John   Mary   Robert (of High Row)   William                Sarah COCKBAINE

1702-  1703-      1706-1798           1708-                   1733-1806  

                      |                                           |

                      |======================v====================|

                                           m:1759

                         |-------------------|-----------------------| 

                       John                                     Christopher  

                     1759-1835                                   1765-1849  

                         |                                           |  

                       m:1783                                      m:1788  

                     Mary ABBOT                                Sarah GREENHOW

                     1759-1850                                   1761-1824

    |---------|----------|----------|------------------|             |
  Sarah      Mary       Ann       Robert             Esther       Thomas 

1783-1851 1785-1861  1787-1867  1790-1825            1795-1839   1793-1857

    |         |          |          |                  |             | 
  m:1808               m:1809    m1:1815   m2:1829   m:1817        m:1819 
 
Daniel                John      Jane-----Joseph    Robert        Hannah  
 PEARSON              MAKEMSON    DIXON   
CROSIER  DAVISON       WILLIAMS

    |                    |      1787-1863 1791-1845    |         1798-1864  

    |                    |          |         |        |             |

                                                              Joseph Williams 
-                                                                  1826- 

                                                                     |

                                                               m:1851 (Australia)

                                                              Mary Agnes ROWARD

                                                                 1823-1896

                                                                     |  

                                                                 Mary Agnes 

                                                                 1854-1916

                                                                     | 

                                                                   m:1886 

                                                             

John William

 

BENTON

 

                                                                 

1857-1938



                                                                     |

                                                              Reginald James 

                                                                 1889-1970 

     -                                                               | 

                                                                   m:1915 

                                                             Elizabeth Iris KEITH 

                                                                     |  


Robert was a farmer at High Row, Threlkeld as was his son John, as this is recorded on his headstone in St Marys Church.
| | |
| --- | --- |
| High Row Farm on Blease Road, west of Threlkeld today | The view from High Row Farm across the valley towards Threlkeld, today |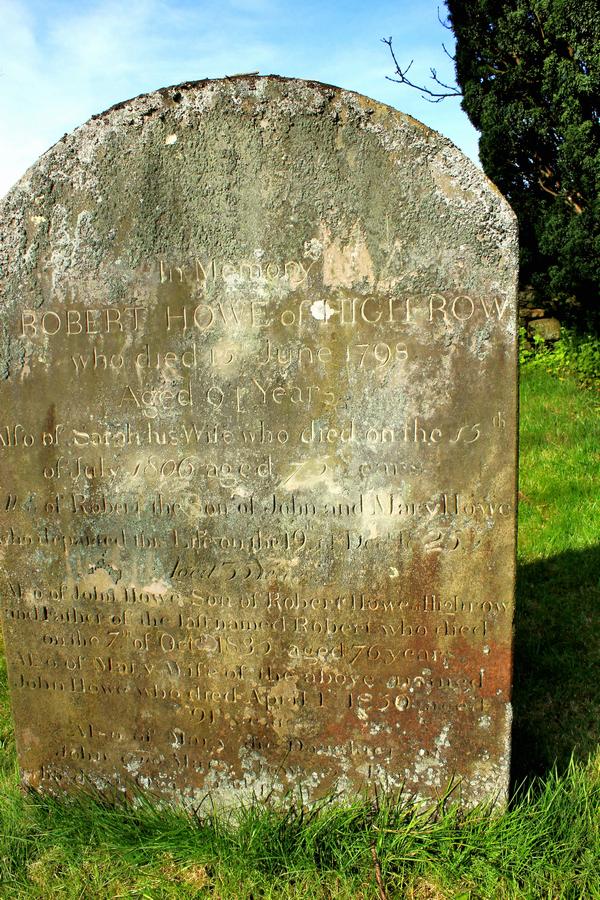 In Memory of
ROBERT HOWE of HIGH ROW
who died 15th June 1798
Aged 91 years
Also of Sarah his wife who died 15th
of July 1806 aged 75yrs.
also of Robert, the son of John and Mary Howe
who departed this life on the 19th Dec 1825 aged 35 yrs.
Also of John Howe, son of Robert Howe of Highrow
and father of the last named Robert who died
on the 7th of Oct 1835 aged 76 years
Also of Mary, wife of the above named
John Howe who died April 1st 1850 aged
91 years
Also of Mary the daughter of John and Mary Howe on Oct 2nd, 1861
As the headstone records, Robert HOWE of High Row Threlkeld died on 15 June 1798 and is buried at Threlkeld. His wife Sarah COCKBAINE died 15 July 1806. The farm appears to have been taken over by Robert's oldest son John and later his son Robert. Robert of High Row's other son, Christopher went into the clergy and was for a short time the vicar at the family's original village of Crosthwaite before he went on to be the vicar at Glossop for 56 years.
---
---
The Children of Robert HOWE and Sarah COCKBAINE
John HOWE
John was the oldest son of Robert and Sarah and so inherited the farm when Robert died. He married Mary ABBOT on 29 July 1783 at Threlkeld. Mary was born in 1759 and baptised 17 February 1759 at Caldbeck, Cumberland, a small village a few miles north of Threlkeld. Her parents were William Abbot and Mary NELSON, married at Caldbeck on 14 November 1736. John and Mary had five children
---
Christopher Thomas HOWE
Christopher was the younger son of Robert and Sarah, baptised in Threlkeld on 19 August 1765. He married Sarah GREENHOW at Threlkeld on 24 August 1788. Christopher first became a teacher but soon went into the church ministry, being the vicar for a short time at the family's old village of Crosthwaite before moving to Glossop where he remained for 56 years until his death in 1849. Christopher and Sarah had five children.
---
Return to John Laybank Benton page
Last updated: 04/04/2020