The Benton Family
Joseph Williams HOWE
John William BENTON was born 24 October 1857 in Richmond, Victoria. He married Mary Agnes HOWE in 1886 in Richmond, Melbourne. This page covers the life of Mary's father Joseph Williams HOWE, baptised in Glossop in the Peak District before emigrating to Australia with his parents and some of his siblings in about 1840.
    |
Robert HOWE=v===Sarah COCKBAINE Thomas GREENHOW==v==Sarah NELSON    
1706-1798 m:1759  1733-1806                    m:1749
            |                                    |
     Christopher Thomas===========v=======Sarah GREENHOW Joseph WILLIAMS==v==?
        1765-1849               m:1788       1761-1824                     |
                                  |                                        |
    |---------|---------|---------|---------|                              |
  Robert    Sarah      Ann      Jane      Thomas======v=============Hannah WILLIAMS  
1790-1867 1796-1872 1798-1877 1801-1881 1793-1867   m:1819 
    |         |          |        |                   | 
                                                       |
     |---------|--------|--------|--------|-----------|-----------|----------|----------|---------|
  Joseph Christopher Rowland   Joseph   Henry      William     Matilda     Eliza     Martha    Edward 
1820-1821 1821-1860 1822-1897  1824-?   1826-     1828-1900   1830-1874  1834-1905  1836-1868 1840-1900
    |         |         |        |        |           |           |          |          |         |
                               m:1851
                                Mary  
                               ROWAND 
                             1823-1896
   |----------|--------|---------|----------------------|------------------------------------|
  Joseph  Mary Agnes  Charles  Frances              Theodore                           Josiah Stuart      
1852-1889 1854-1916 1857-1893 1859-1859             1861-1935                            1861-1861

    |         |         |         |                     |----------------------------|       |  
  Mary      m:1887    m:1885                         m1:1889                      m2:1898 
 RODMAN  John William  Annie                          Emma                     Catherine (Rose)
   |       BENTON    KELSALL                        TURNBULL                       WEIR
          1857-1938 1857-1930                       1869-1896                    1874-1938
              |         |                               |                            |
              |         |---------|---------|           |--------|----------|        |---------|---------|

           Reginald  Phyllis    Helen    Marjorie     Keith     Hilda     Freda    Muriel     Edna     Maxwell 
         
1889-1970 1886-1907 1887-1958 1892-1942   1890-1891 1891-1951 1893-1962 1899-1982 1909-1998 1914-1914  

              |         |         |         |           |         |         |         |         |         |  

            m:1915              m:1907    m:1919                m:1921    m:1915    m:1923    m:1934

          Elizabeth             Samuel    Ernest                Thomas   Spencer    John      Peter

            KEITH               McKAY    MILLER                CRASE    DOMAN    BLAIR    SKELLON

          1891-1985             ?-1932      |                     |         |        |          |
              |                   |         


Joseph Williams HOWE 1824-?
The parish records tell us that Joseph Williams HOWE was born to Thomas Christopher and Hannah HOWE on 27 July 1824 in Manchester (possibly Smithy Door) and baptised at the parish church at Glossop, Derbyshire on 3 October 1824 by his grandfather the Rev Christopher HOWE. Christopher was the local vicar. The life of Rev Christopher HOWE can be read here.
His father Thomas was a draper. He had married Hannah WILLIAMS in East Retford Nottingham in 1819 before moving to Manchester to the Old Shambles location of Smithy Door (now long demolished). By 1826 he was back in Glossop operating a draper's shop at Bridge End in the centre of the town.
In 1840, when Joseph was about 15 years old, he accompanied his parents and some of his siblings to Melbourne, Australia. We do not have the shipping record so we are not certain which of his siblings emigrated, but we do know that Rowland and Eliza remained in Glossop with their grandfather, and Matilda remained in Nottingham with the WILLIAMS grandparents.
The first records in Australia for Joseph Williams HOWE are in trade directories for 1847 and 1850 listing him and his brother Christopher as confectioners living in Corio St, Geelong.
Marriage to Mary Agnes ROWAND
Joseph Williams HOWE married Mary Agnes ROWAND on 26 April 1851 at Christ Church, Geelong, Victoria. Joseph was 26 and Mary was 27.


Report of marriage of Joseph HOWE in the Geelong Advertiser 28 April 1851.
Mary ROWAND was the oldest daughter of Charles ROWAND, MD surgeon of Geelong. She had been born 5 Octber 1823 in Vauxhall, London to Charles ROWAND and Maria GRIFFIN. She was baptised 15 October 1823 at St Mary's Lambeth, London. But just to be sure, she was baptised again, along with her sibings on 11 October 1826 at St Marks, Kennington, Surrey. Charles ROWAND emigrated to Australia in 1849 bringing Mary Agnes along with her two brothers and two sisters..


Baptism for Mary Agnes ROWAND at St Mary's Lambeth in 1823.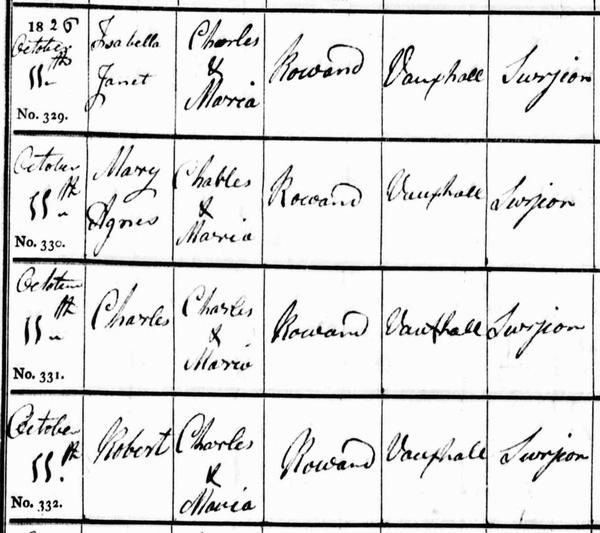 Second baptism for Mary Agnes ROWAND and her siblings at St Mark's Kennington in 1826.
Joseph and Mary Agnes had seven children, all born Geelong, Australia.
Name
Birth
Death
Joseph Henry
7 Nov 1852
9 April 1889: Broken Hill NSW
Agnes
1853
1853
Mary Agnes
5 Nov 1854
7 Nov 1916, Richmond Cemetery, Sydney, NSW
Charles Frederick
1857
?
Frances Maria
1859
1859
Theodore Griffin
1861
?
Josiah Stuart
(according to Mary's death certificate)
1861
1861
Desertion
The next record we have of Joseph Williams HOWE is his appearance in court in 1863 to answer a charge of desertion brought by his wife Mary Agnes. She alleged he deserted her in September 1861. He was ordered to pay 15/- per week to his wife and children. But Mary Agnes was back in court 5 weeks later to complain that Joseph had not paid her.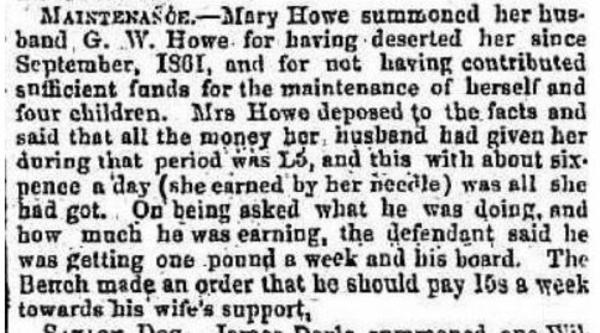 Geelong Advertiser 8 September 1865


Geelong Advertiser 17 March 1863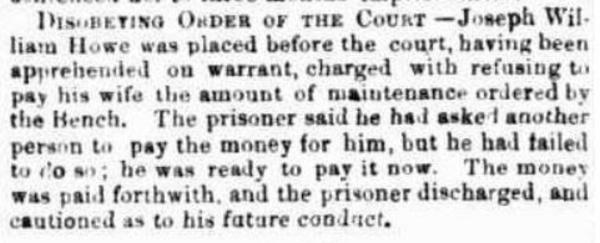 Geelong Advertiser 17 March 1863
But the case continued. In August 1865 Mary Agnes sought surieties for the maintenance owed. We see the first glimpse here of her father's hand in the issue. When Joseph said he would take his wife back, Dr Rowand said this was impossible.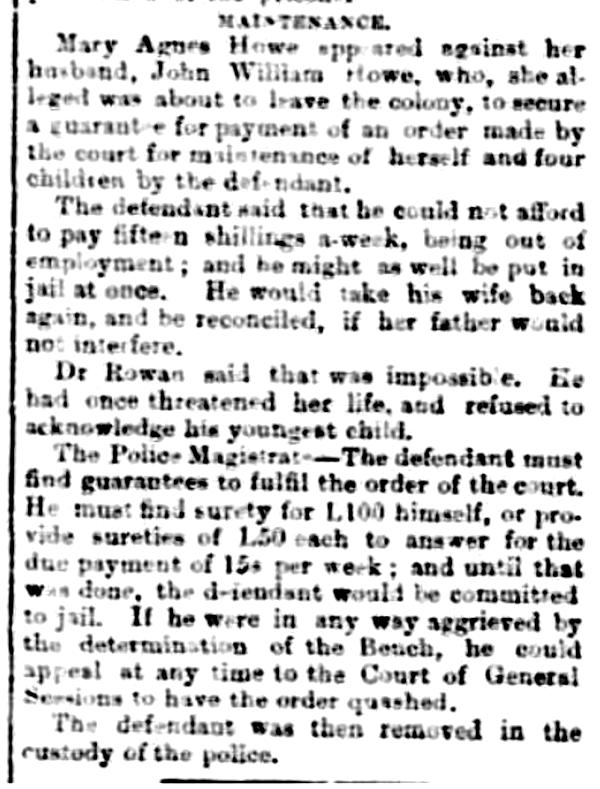 Geelong Advertiser 3 August 1865
Two months later, in October 1865 Mary Agnes went back to court concerning the bail money put up by her brother-in-law William HOWE. Again we see the hand of Dr Rowand when he claimed the house provided by Joseph HOWE was "not a fitting one" for his daughter.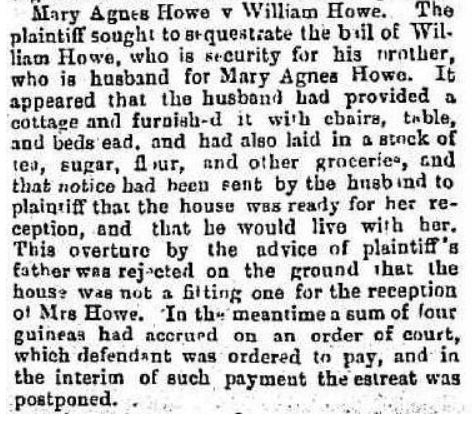 Geelong Advertiser 28 October 1865
Shortly after leaving Martha (or vice versa) Joseph went to New Zealand in search of work. But he returned to Geelong. In September 1864 he appeared in court, again, but this time as a witness to a robbery. He was working as a barman at Bushell's Leigh Hotel, Mr JT BUSHELL being the proprietor. This item is significant: Mr BUSHELL was Joseph's brother-in-law and would soon figure again in Joseph's saga.
On Friday 1 September 1865 Joseph Williams HOWE went to court to seek removal of the order to pay 15/- per week to Mary Agnes. This time the full history of the case was reported:
HOWE v. HOWE.
This was an appeal made to vary an order of maintenance, in which the appellant had been ordered to pay 15s weekly to the re- spondent, his wife. Mr Armstrong appeared for the respondent Mr Aspinall for the appellant. The magis- trates who had made the order were E. Knight and W. H. Bonsey, J.P.'s. Mr Aspinall opened the case, stating that the appellant was a pastrycook, and wished to live happily with his wife, but her aristo- cratic relations, her father being a doctor, con- sidered it infra dig to allow their relations associating with a pastrycook. The appellant had gone to New Zealand, from whence he had forwarded money to his wife, as he had also done when in this colony ; in fact she wanted to live with her relations and still make her husband support her; and he con- sidered that the father had been the perpetual stumbling-block to their coming together again, and had got hold of the cottage through some pecuniary transactions, which formerly belonged to the appellant. In fact, if he un- derstood the case, the wife had deserted her husband, and still wished him to support her. Joseph Howe stated-I was married some years ago to Miss Rowand. I was a confec- tioner. It was without the consent of her parent. She knew I was going to New Zea- land, she came to see me off. I was there close upon 18 months, during which time I pro- cured four months work, I sent home L20, and on being thrown out of employment I went to Canterbury in search of some. Since my return I have been at work for Mr Bushell, he is a publican, and
my brother-in-law. I got LI per week from Mr Bushell, I was there for about three years during which time I was paying her 15s a week. I sought a reconciliation with my wife, and said I would do all I could to support her. She made no answer, except " Wait a few days." The father said I was a villian. At the end of a few days I got a summons from her. There could not have been more than one week due. I was then sent to prison for about a month. I was in gaol on two occa- sions, altogether seven weeks. I was aware that she made application for protection for her earnings. My son is getting wages 6d a week. He is riding for the mail. I had a cottage some time ago; it was mortgaged to Dr Rowand. Dr Rowand said it waa made over to the children. Dr Rowand advanced L50 on the property. I would sooner that my wife returned to me. It is her wish, to live away. If she does so, and I have to work as a laborer, I could not earn more than 15s a week. My wife has me now under securities to go to gaol, or pay the 15s a week, and this I am unable to do. By Mr Armstrong-I returned from New Zealand in 1862, and from that period until within the last few weeks have been paying the 15s a week. I never objected to it until lately, when, having left my employment, I could not pay it. I did allow the money to go a few pounds in arrear. I might have used violence sometimes to my wife, but never threatened her life. I would remain in Geelong if I could find employment.
J. T. Bushell stated that the total amount of arrears waa 45s. He had seen the wife, who had said why did not her husband come back again. He had brought him down, when they had kissed each other, and witness thought it was all made up again. The father called the husband a diabolical villian. Howe had been in his employ 123 weeks, and out of this witness had paid over L100 to the wife. This closed the appellant's case. Ann Howe, examined by Mr Armstrong Stated that her husband had left for New Zealand much against her will. He had ta- ken all the money with him and borrowed
L10, for which she had to pay 15s interest She did receive LI on two occasions. She was sued for L48 rent, and was turned out of house and home with four children to sup- port. She had been compelled to summons her husband on different occasions to pay for her maintenance. Her husband had led her a miserable life for ten years. He had repeatedly threatened to take her life, and had turned herself and children out of doors. She would decline returning to him, until he had be come a thoroughly re- formed man. The witness was cross examined at some length by Mr Aspinall, in the course of which, she stated that file had gone to see her hus- band off by the train, in order to make sure of his leaving Geelong. ' Br Mr Armstrong-My husband threatened my life on several occasions, and once two years before we parted. He accused me of unfaithfulness on several occasions. Mr Armstrong addressed his Honor, attri-
buting the separation to the violence of the husband's temper. Mr Aspinall, commented strongly on the conduct of the father, who had instructed Mr Armstrong to ask about the unfaithfulness of his daughter, endeavoring as it were to make the breach wider. The appellant having paid over L100 out of L120 proved fully that he wished to support her, and in fact was willing to take his wife back if the step father would not interfere. In the interests of morality, his Honor should teach the woman, that for her husband, she must desert father and mother, and all His Honor summed up-Remarking that the course that the husband ought to have pursued, was to give his wife notice that he had provided a home for herself and children : simply coming into court and making such a promise, could not avail. His Honor would not either vary the order, having no doubt that the bench of magistrates would rescind the order at once, if the husband proved that he had provided a home, no matter how hum- ble it might be. His Honor declined making an order at all, and it therefore stood the
same as before, and the court adjourned sine die.
A few days after Joseph's case was heard, Mary Agnes went back to Court to complain that one of Joseph's sureties had become bankrupt. This was JT BUSHELL, whose latest venture, the Clyde Hotel was sold off to pay the creditors. (See story about Martha Howe).


Geelong Advertiser 8 September 1865
As a result, the Court determined that John William HOWE should pay the surety now that JT Bushell was insolvent.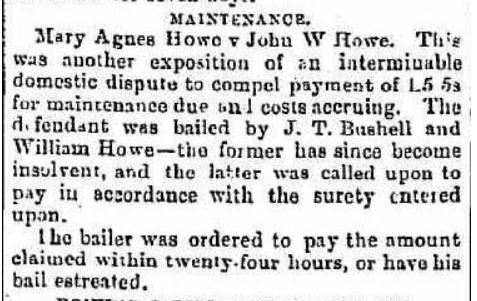 Geelong Advertiser 19 September 1865
The feud now settled down, or the Geelong Advertiser tired of reporting it. Dr ROWAND died on 25 May 1874 so an aggravating influence was removed. Joseph Williams HOWE now disappeared. He appeas to have left Geelong but we do not know where he went. THere are not further records for him, including his death. Some researchers state a death of 1867 but this is merely the earliest it can be. According to his father's death certificate Joseph was still alive in 1867. Others claim a death in 1898 at St Kilda but the age at death is wrong.
Mary Agnes HOWE (née ROWAND) died in Melbourne on 26 September 1896 at the home of her son Theodore and was buried at Melbourne General Cemetery. She was 72 and died of "old age".

Geelong Advertiser 19 September 1865


Death certificate for Mary Agnes HOWE
But what happened to John Williams HOWE? Clearly he was not reconciled with his wife Mary Agnes (or more likely his father-in-law Charles ROWAND). There is nothing more in the records for John Williams after his 1865 court appearances. Mary's death certificate does not tell us if John William was still alive. Perhaps mary and son Theo did not know.
---
---
The Children of Joseph Williams HOWE and Mary Agnes ROWAND
Joseph Henry HOWE 1852-1889
Joseph Henry was born at Geelong Victoria in 1852. His birth is difficult to find in the records as iot is listed under WILLIAMS, his father's middle name. After that, he vanishes until his death in 1889 in Broken Hill. He apparently moved to Adelaide at some stage, marrying there before moving on to Broken Hill. Despite the family trees of some researchers, he did NOT marry Annie FRY in Adelaide although there are parallels with the names of the children of that Annie and her husband Harry Albert HOWE.
According to Joseph Henry's death certificate, he died in Broken Hill on 9 April 1889. That date we can rely on, but the rest of the information was supplied by John RALPH, a "friend" so is not reliable. I cannot find a marriage to Mary RODMAN in the records, nor the births of Roland and Henry. And if the children are 3 and 1 and Joseph was married for twelve years what happened in the interim?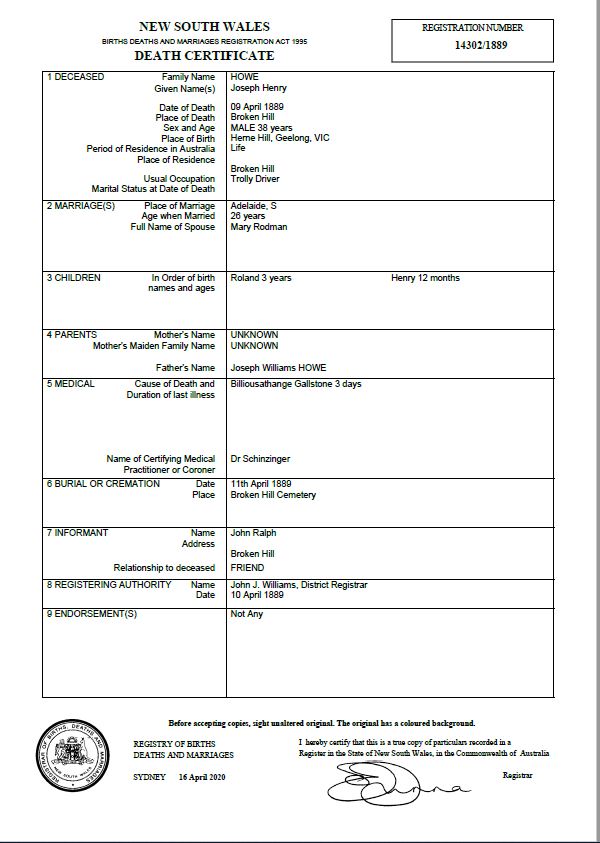 Death certificate for Mary Agnes HOWE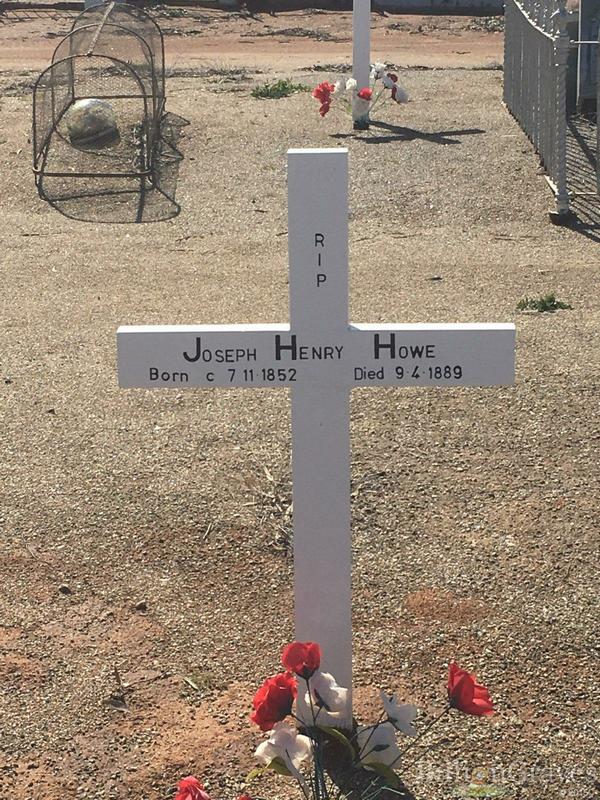 Grave of Joseph Henry HOWE in Broken Hill Cemetery
Return to top
---
Mary Agnes HOWE 1854-1916
Mary Agnes was born at Geelong Victoria.
Soon after arrival in Melbourne the family moved west to Geelong. By 1847 brothers Joseph and Christopher had set up a shop as confectioners on the main street in Geelong:
Shortly.
---
Charles Frederick Ballarat HOWE 1857-1893
Charles Frederick was born at Geelong Victoria in 1857. He went into the ministry and became a Presbyterian Minister, following in his great-grandfather's footsteps (Rev Christopher HOWE of Glossop). He served at Yackindandah and Daylesford before moving to Lismore in May 1891.
Charles married Annie KELSALL in 1885 and they had three children. Note the middle names: Kelsall was Annie's maiden name, Rowand was from Charles' mother. The Stuart is less obvious, but was the middle name of Charles' youngest brother who died at birth.
| Name | Birth | Death |
| --- | --- | --- |
| Phyllis Mary Kelsall | 1886; Yackindandah | 1907; Ballarat |
| Helen Stuart | 1887; Daylesford | 17 September 1958; Toorak Rd, South Yarra |
| Marjorie Emily Rowand | 1892; Lismore | 1942 Echuca, Victoria |
Charles died on 7 February 1893 at Camperdown and was buried on 9 February 1893 at the Lismore Cemetery.
Annie HOWE (née KELSALL) died at the home of her daughter Helen at 68W Toorak Rd, South Yarra on 27 February 1930. She was buried rwo days later at the Box Hill Cemetery, Melbourne. She is buried with her sister Mary KELSALL.
---
Theodore Griffin HOWE 1861-1935
Theodore Griffin was born at Geelong Victoria in 1861. He appears to have been a twin, the other, named as Josiah Stuart HOWE on Mary's death certificate but unnamed in the Victoria records, died at birth.
Theodore married Emma Christie TURNBULL in Melbourne in 1889. Emma was born in Edinburgh, Scotland on 13 March 1869 to James TURNBULL and Anne Begbie CHRISTIE. Theodore and Emma moved to Brisbane where they had three children.
| Name | Birth | Death |
| --- | --- | --- |
| Keith Rowand | 19 OCt 1890: Brisbane | 1 May 1891; Brisbane |
| Hilda Mary | 16 Dec 1891; Brisbane | 27 Aug 1951; Adelaide |
| Freda MacGregor | 10 Sep 1893; Brisbane | 27 Nov 1962; Adelaide |
The family returned to Melbourne where Emma died in March 1896.
Theodore then married Catherine Rosannah WEIR (known as Rose) in 1898 in Melbourne and they had three children.
| Name | Birth | Death |
| --- | --- | --- |
| Muriel Jean | 1899; South Yarra, Melbourne | 18 November 1982; Adelaide |
| Edna Theo | 14 Oct 1909; Adelaide | 3 Aug 1998; Adelaide |
| Maxwell | 8 March 1914; Adelaide | 11 March 1914; Adelaide |
Theodore and family moved to Adelaide in 1904 where Theodore was the general manager of WD and HO Wills, the tobacco giant.
Theodore Griffin HOWE died in Adelaide on 19 April 1935 at his home, 123 North Terrace, Kensington, Adelaide.
Rowe, his wife died in Adelaide 26 October 1938. Both are buried at Payneham Cemetery in Adelaide.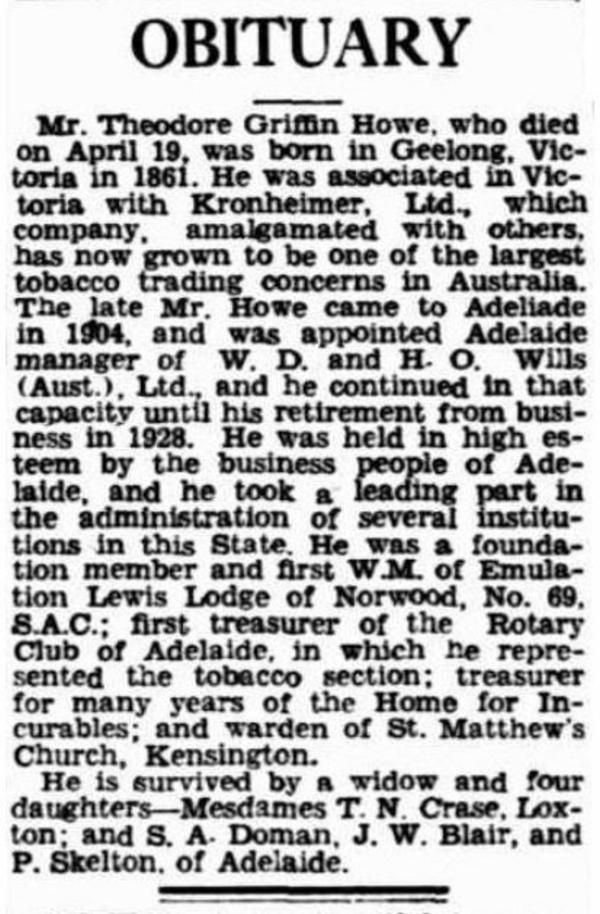 Obituary in Adelaide Advertiser 24 April 1935.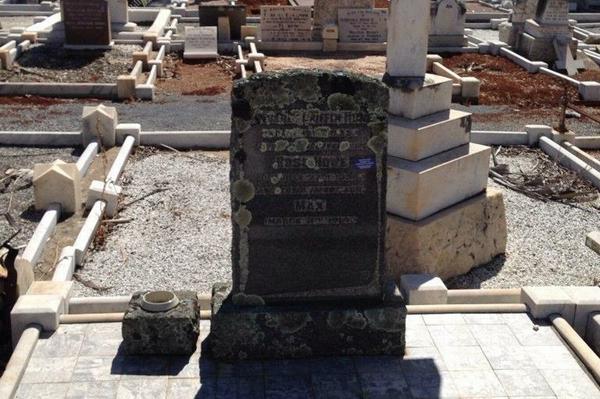 Headstone at Payneham Cemetery for Theodore, Rose his wife and Max, their child who died at 3 days
---
Return to John Laybank Benton page
Last updated: 20/04/2020