THE GOODLIFFE FAMILY OF BATTERSEA
Beginning with Joseph Goodliffe (1812-1887)
Introduction
As you will see from other pages on my website, I have collected a lot of information about the Goodliffe family from Belton in Rutland. My great-great-grandmother was Sarah GOODLIFFE, daughter of Arnold GOODLIFFE and Ann SPEED from Nottingham. But there are other GOODLIFFE families, probably all related if we were able to go far enough back in time. One of these families is that of Joseph GOODLIFFE. Joseph was born in Yorkshire but lived most of his life in Battersea, London. His descendents are now dispersed around the United Kingdom with one branch in New Zealand. Here is the story I have been able to piece together about the Goodliffe family from Battersea.
                                  James GOODLIFFE

                                 Farmer, Yorkshire

                                       |

          Emma                       Joseph                                       Sarah

       KITCHINGMAN========v=========GOODLIFFE============================v=========COLE

        1824-1850       m:1844       1812-1887                         m:1869    1839-1889

                          |                                                           |

              |-----------|--------------|-------------------|

         Maria Sarah  Emily Mary    Louisa Ann          James Joseph

            1845-        1846-          1849-            1850-1877

              |           |              |                   |

            m:1864      m:1873           ?                   m: ?

           William      Edward                           Maria Fanny                                William

           BARKER       PAYNE                   Unk========RUSHTON====================v=============ARNOLD 

             |            ?                       |       1851-1903                    ?               |

             |                                   |           |                                        |

     |-------|-------|---------|-------|         |           |------------|-------|--------|          |---------|

   Minnie  Robert Elizabeth Charles   Henry Maria RUSHTON  Joseph James Emily Charlotte Florence   William   Charles
 1865-1895 1870-   1872-     1875-   1876-     1871         1872-        1874-    1875-     1877-    1882-    1885-

     |       |       |         |       |                     |             |              |

   m:1889                                                 m:1894
 
William                                              Elizabeth Alice

  JORDAN                                                   SMITH
 1864-1929                                               1875-1962

     |                   |-----------------|-----------------|--------------------------------|
 Lawrence          James Charles      Florence       William Frederick                   Kathleen A.
 1892-1892          1896-1930            1898-            1901-                          1911-1978

     |                   |                 |                 |                                |

                      m:1919            m:1918            m:1924                           m:1939
                   Kate Selina          Simon          Helen Violet            Clifford    Harold

                     GOODING           SHAFFIR           WEAVING=====m2:1949====BEAVIS    HORSLER
                    1894-1963          1893-1973         1899-1990             1908-1993  1913-1999
                        |                  |                 |                     |          |

              |---------|          |-------|                 |------------------|             |

           Kathleen   Alfred     Sydney   Doris         Denis Brian       Anthony James   Kathleen C

          1919-1979 1926-1995  1920-1996  1922-          1925-2001          1927-2014        1947-

              |         |          |       |                 |---------|        |             |

            m:1940    m:1951                               m:1948   m2:1959   m:1950        m:1974

            Henry     Olive                              Gladys May Pauline    Eva          Terence

            NOTLEY   LINTURN                               JORDAN      |       HART         BONEHILL

              |         |                                    |         |        |             |

JOSEPH GOODLIFFE (c.1812 – 1887)
Based on the census and other records, Joseph was born in Yorkshire in about 1812, although these records fail to record where in Yorkshire he was from. By 1841 he had moved to London, where he was residing at West Mews, Belgrave Sq. His occupation is listed as M.S., which I think was Man (or Male) Servant.
Marriage to Emma Louisa KITCHINGMAN
Joseph married Emma Louisa on 7 April 1844 at the parish church of St Mary West, London. (This church lies just behind Westminster Abbey.) Both gave their address as Whitehall Gardens. Note that the witness Adolphus Hawkins was also married at St Margaret's on the same date. This marriage record gives Joseph's father as James, a bailiff.
Joseph and Emma had 4 children before Emma died in late 1850 (Sevenoaks Dec 1850 5/298). As this is the same quarter that son James was born in, she probably died in childbirth or soon after.
Name
Birth
Location
Maria Sarah
8 April 1845
Bap 27 July 1845
Sevenoaks, St Luke Church, Chelsea
Emily Mary
12 Nov 1846
Bap 28 Mar 1847
St Luke Church, Chelsea
Louisa Ann
Mar 1849
bap 5 April 1849
Seal, Kent
James Joseph
Dec 1850
Bap 20 Oct 1850
Seal, Kent
In the 1851 census Joseph is a widower, living at Seal in Kent, where he was the Coachman for Sir George Charles PRATT, 2nd Marquess of Camden (see peerage).
The four children were living with a local family in Sevenoaks, William & Sarah ROOTS in Park Lane.
In 1861, Joseph and his four children are living in Charles St, Kensington where Joseph is a Licenced Vitualler. He is still a widower but has Sarah Elizabeth COLE with him as a "servant".
Marriage to Sarah Elizabeth COLE
Joseph married Sarah in late 1869 (Dec 1869 Islington 1b/419). At the date of marriage, Joseph was aged 57 and Sarah was 30. Sarah was born in mid 1839 (Jun 1839 North Aylesford 5/353).
In 1871 Joseph was working as the Publican at the Windsor Castle Pub in Windsor Terrace, Marylebone. His second daughter Emily is still living with him. His age is wrong in this census, it should be 60 not the 50 as recorded.
I have not found Joseph and family in the 1881 census. The only death record for a Joseph is in Dec 1887 at Croydon (2a/157) aged 77. This would give a birth of 1810 that is about right for Joseph.
Sarah Elizabeth died in Ayott-green, Welwyn, Herfordshire on 14 May 1905. The probate register lists her effects at £1056/14/6, with administration to Daniel Cole lighterman, her brother.
---
---
The Children of Joseph and Emma
Maria Sarah GOODLIFFE
Maria was born in Sevenoaks, Kent on 8 April 1845. Joseph is listed as a Coachman living at Belgrave Mews.
In 1864 she married William BARKER (Jun 1864 Shoreditch 1c/412) who was born in 1843 in Iford, Essex. Note the witnesses to her marriage were Joseph Harrison and Emma KITCHINGMAN. These would have been her uncle & aunt or cousins, as Maria's mother was a KITCHINGMAN.
In the 1871 census they were living at Mile End New Town, Tower Hamlet, with daughter Minnie, born in 1865.
1871 Census - Mile End New Town
After this date Maria and William BARKER seem to vanish from the records. There are no more births registered, they are not in the 1881 census yet there do not appear to be any death records either. I may be missing something.
Minnie Maria Ann BARKER, their only daughter is in the 1881 census (this is probably her) as a servant for Thomas RICHWELL of Westbourne Lodge, Coverdale Road, Chelsea, Cigar Merchant.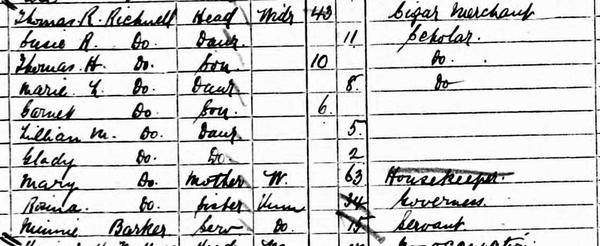 1881 Census - Minnie Barker
Minnie married William JORDAN at St John the Baptist, Hoxton on 2 December 1889. Although the full name and age for Minnie is correct, her father's occupation of Veterinary Surgeon does not seem to be correct, but I cannot find William BARKER in any subsequent census to check this.

1889 marriage - Minnie Barker
in 1891 William and Minne were living at 20 St John;s Rd, Shoreditch.

1891 Census for Minnie and William JORDAN
Minnie and William had one child, Lawrence William James JORDAN, born and died in Shoreditch in early 1892.
Minnie died in early 1895. William married Mary Elizabeth BRAMBEL in 1896 and they had three children.
---
Emily Mary GOODLIFFE
Emily Mary was born in Chelsea, London on 12 November 1846 and was baptised at St Lukes, Chelsea on 28 March 1847. Joseph is shown as a Coachman living at Belgrave Mews.
In 1871 Emily was working at the Windsor Castle pub in Marylebone with her father. She married Edward PAYNE on 3 April 1873 at St Georges Church, Camberwell. The witness was Frederick DUNN, her brother-in-law (having married Louisa Ann GOODLIFFE in 1870).
After marriage, Emily and Edward vanish from the records. There are no children registered and they are not obvious in the census records.
---
Louisa Ann GOODLIFFE
Louisa Ann was born in Seal, Kent in early 1849 and was baptised at St Peter & St Paul Church, Seal on 5 April 1849. Joseph is shown as a servant living in Seal, but in reality he was the coachman for Sir George Charles PRATT, 2nd Marquess of Camden. Joseph probably lived on the estate at Wildernesse House.



Wildernesse House, now converted into luxury retirement apartments.
Louisa GOODLIFFE married Frederick DUNN on 29 December 1870 at Holy Trinity Church, Hull, Yorkshire. Louisa and Frederick DUNN had three children:
| Name | Birth | Location |
| --- | --- | --- |
| Frederick | Jun 1872 | St Saviour, Surrey 1d/171 |
| Herbert Ernest | Sept 1873 | Camberwell 1d/747 |
| Louisa Edith | Dec 1875 | Aston, Warwickshire 6d/250 |
In 1881 Louisa and the children were living at 15 Spark St, Aston, Birmingham. Louisa was married but Frederick was absent.

1881 Census for Louisa DUNN at 15 Spark St, Aston.
The family become difficult to find after this date. There is a record for a Louisa DUNN in the Birmingham Workhouse in the 1901 census and a death in 1905 but this may not be the correct person.
---
James Joseph GOODLIFFE
James was born in Sevenoaks Kent in late 1850. His story is told here.
Last updated 23/02/2020