The Family of Edward Joseph KEITH
Many people today, mostly in Australia, are descended from Edward Joseph KEITH - either though his legitimate family with Ann McPHERSON or his more extensive family in Australia through his parallel relationship with Louisa HANKS. There are many family trees on the Internet for branches of Edward's family, many copied one from the other. As more records become available, or become easier to access, more is known about the family. Sometimes new information has clarified issues or shown up errors in erlier trees. I have attempted to present here all of the original information and copies of original sources but may have missed a few important facts. I have only included information and family relationships that I have been able to verify first hand. Please contact me if you have more to add to this story.


                                                  
                          ?                  
                          John McPHERSON===v===Mary CAMERON 

                                                  
                          |              
                                       
                                 |

                                            
                          Daniel KEITH============v============Jane
                          McPHERSON

                                                               
                          m:17 Oct 1794

                                                                    
                          | 

                              
|-----------|--------------|--------------|-----------|------------|-------------|-----------|

                            Isabella     Mary 
                                Edward Joseph  
                          James G.B.    Robert    
                          Thomas D. Frances J.A.     Jessica A.

                           1797-1811   1798-1874     
                          1801-1837      1802-1811  
                          1804-1804    
                          1805-?       
                          1807-?     1809-1852

                               

|


                                    |    
                                   |    
                                   

|

          
                          

|

           
                          ?             |  
                                  

|



                                                         
                          |

                                                         
                          |--------------------------------------|

                                                   
                          m:25 Apr 1825          
                                       
                              Mistress

                                               
                          Ann Boleyn MacPHERSON
                                       
                                  Louisa
                            HANKS 

                                       
                                      
                          1793-1857            
                                       
                              1801-1837

                                      
                          |-------|----------|----------|      
                                  
                          |----------|---------|

                                  
                          Frances    Ann    
                          Magdelene   
                          Dudley         
                          Edward J.  Isabella   Alfred

                                  
                          1827-1887 1829-?   1832-1833  1834-1868
                                 1832-1902   
                          1833-?   1836-1929

                                      
                          |       ?    
                               |      
                             |          
                               |      
                             |         |
Edward Joseph's Early Years
Despite the persistent family legend that Edward Joseph was born in Scotland to one of the ancient Scottish KEITH clans, he was in fact born and christened in Somerset, England. His father, Daniel Keith was probably Scottish, but not from the Clan Keith. His mother Jane McPHERSON was born in Quebec, Canada but her parents were definitely born in Scotland. (See Daniel's story here.)
The first record we have for Edward Joseph KEITH is his christening on 16 May 1802 at Kelston, a small hamlet part-way between Bristol and Bath in Somerset, England. His parents, Daniel and Jane had been married in Canada in 1794 and already had two daughters, Isabella and Mary. The family had arrived in Somerset in 1798 or early 1799. The entry in the Parish Register for Kelston is intriguing. It states "Edward Joseph son of the Rev Daniel & Jane Keith born May 2nd 1801 christened May 16" 1802. Few other entries in this register give the date of birth. The year is overwritten and smudged. It appears the Minister wrote 1802 and then changed this to 1801. Could Edward have been born in 1802? Further down the same page in the Register is the entry for Daniel's next child, James George Bowen KEITH. This entry also gives the date of birth, 23 December 1802. If this date is correct then Edward could not have been born six months earlier. It is noteworthy that in each case the children were almost a year old before they were baptised and Edward Joseph was "christened" rather than "baptised". Baptisms were usually conducted a few days to a few weeks after birth and were conducted in the church. I suggest that Edward was christened "privately" at home rather than in the local church. As Daniel was a Protestant Minister, rather than Church of England and he had just arrived in Somerset, he may not have felt comfortable in the local church.

Christening entry of Edward Daniel in the register at Kelson, Somerset for 1802

WeEntry for James George Bowen at the same church in 1803
We know very little of Edward's eary years. The family remained in the Somerset area, moving to St George in Bristol where his younger siblings were born. His father was awarded the degree of Doctor of Divinity by St Andrews University, Scotland on 4 Feb 1809, supported by the petition of the Duke of Kent, father of the future Queen Victoria. By this time the family had moved to Hammersmith in London where Daniel established or took over a seminary. But within two years two siblings (Isabella and George James) had died and his father Daniel died a few days later, on 15 Feb 1811. Edward Joseph was just 10 years old.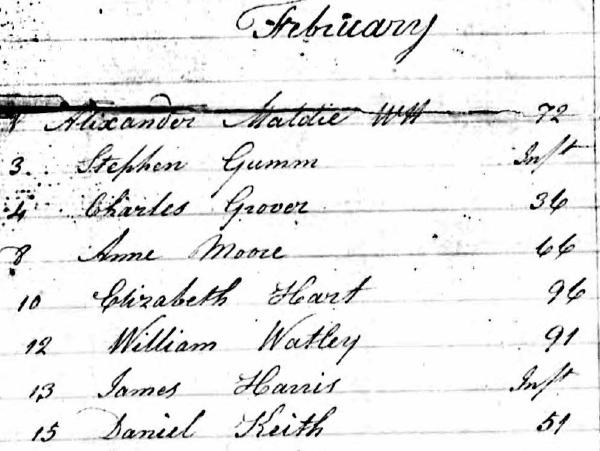 We do not know what Jane did with her family after Daniel died. She may have remained at Hammersmith, as his Will entitled her to do. The Will refers to the property at 10 Lower Mall Hammersmith as "Copyhold" which means Daniel and his heirs held the customary right to occupy the property in return for some service or fee to the local Manor until such time as the right was "surrendered" or on-sold. A few years later, in 1839, the property was still known as Kent House but was in the possession of a Mr and Mrs Hunt "as a seminary for young gentlemen and ladies". We do not know when Jane surrendered the property and moved to St George, Bristol but she died in Bristol in 1824.
Becoming a lawyer
At some stage, Edward Joseph became well educated, perhaps in the school in Hammersmith and by his parents who were teachers. He then entered the law profession. In the early 1800s, a young person would need to be apprenticed to a lawyer for up to 5 years before applying to be admitted to the bar. The records of annual practising certificates for London lawyers are held at the National Archives, Kew. We can assume Edward Joseph was admitted to the bar prior to his marriage and departure for Sydney in 1825 as he is described as a barrister at law in the newspaper on his arrival in Sydney. Where he did his apprenticeship and in which country is the problem. It may have been London but there is a record in the Quebec Gazette for Mrs Keith and family arriving from London in 1816. This was Jane returnng to her parents in Quebec taking with her Mary, Edward, Thomas, Frances and Jessica. Edward would have been 15 so could have been apprenticed as a law clerk soon after arrival. This would allow the required five years to qualify and then be admitted to the Bar in 1822.

Card index for Quebec Gazette

Card index for Quebec Gazette
Marrying Ann Boleyn McPHERSON
The next definitive record we have for Edward is his application for a marriage licence on 30 March 1825 and then his marriage to Ann Boleyn McPHERSON at the Church of St Gregory by St Paul, in London on 5th April 1825. If Edward Joseph did go to Canada and became a lawyer in Quebec this would explain how he met his future wife Ann McPHERSON. It might also explain why he and Ann chose to marry in London rather than Quebec and then immediately travel to Sydney.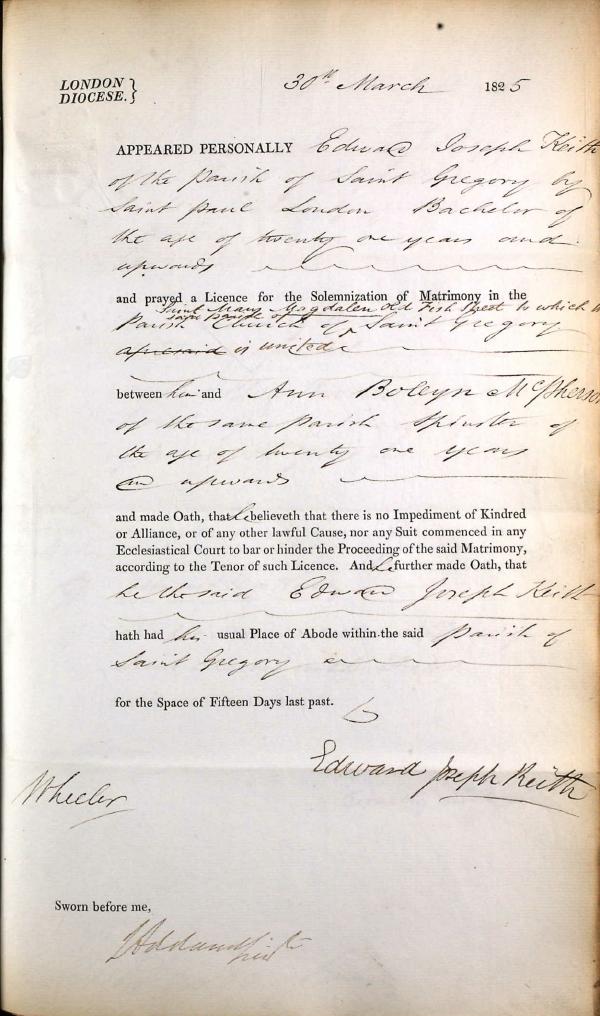 Marriage licence for Edward Joseph and Anne Boleyn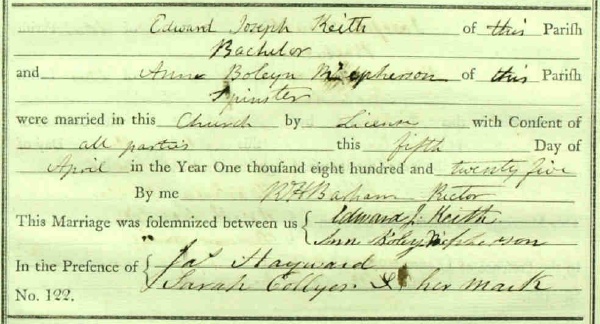 Marriage of Edward Joseph and Anne Boleyn in St Gregory by St Paul, 5th April 1825
Who was Ann Boleyn McPHERSON?
According to the 1851 census, Ann was born in Canada, a "British subject". She gave her age as 58 in 1851 so was born in 1792-3. This would have made her nearly 10 years older than Edward. The only person who reasonably fits the evidence (Ann McPherson, born Canada in 1793) is the Ann McPherson born to John McPherson and Ann Cameron on 10 March 1793 and baptised at the Protestant Church, Trois Rivières, Quebec, Canada. If this is indeed the correct Ann(e) then she was the younger sister of Jane McPHERSON - Edward Joseph's mother. This would mean that Edward Joseph married his Aunt!

Baptism record for Anne McPherson at Trois Rivières, Quebec, Canada
How did Anne meet Edward? As suggested above, Edward went to Canada in 1816 and was admitted to the Bar in 1822 to practice law. He would have met his maternal McPHERSON family in Quebec and would have met Anne there.
Death of Jane KEITH (McPHERSON)
Jane (McPherson) died in St George, Bristol on 26 March 1824. At this time her daughter Mary (PORTER) had an 11 month old baby and had lost her husband. Her son Edward Joseph was aged 22, and a lawyer. Her son Thomas was aged 18a nd her daughters Frances and Jessica were aged 16 and 13. Her sister Anne may have been residing with her.
What we do know is that soon after this date, Mary and baby Jane went back to Canada, Edward and Anne married in London and then Edward, Anne, Frances and Jessica boarded the sailing ship "Mountaineer" bound for a new life in Sydney. There is no evidence that any of the KEITH famiy returned to Bristol to live. Thomas went to Canada in 1826.
Travel to Australia
Edward and Anne married on 5 April 1825. Twenty days later, on 25th April 1825, the newly-weds boarded the ship "Mountaineer" at Plymouth and sailed to Sydney, where they arrived on 25th November 1825. They were accompanied by the Misses F. KEITH (Frances) and J. KEITH (Jessica), and Mrs Saunders, their servant. Edward styled himself as 'Barrister at Law" so he had been admitted to the Bar (or so he said....see below) The Mountaineer sailed by way of Hobart Town where goods and passengers were offloaded.
| | |
| --- | --- |
| Shipping record from the Hobart Town Gazette of 29th October 1825. | Shipping record from the Sydney Herald of 28th November 1825. |
Life in Sydney
On 1 March 1826 Edward joined Mr W.H. MOORE's law partnership. He is listed in various newspaper articles and directories as a lawyer or attorney. Apparently he was admitted to practise as an attorney, but it was later reaslised that he was not actually a barrister. The Australian delicately stated "His admission here, is not exactly authorised by the charter".
| | |
| --- | --- |
| The Australian, 29 Dec 1825, page 3 | Notice in The Sydney Gazette and NSW Advertiser 12 April 1826 |
| Lawyers listed in the 1835 Almanac | |
As a solicitor, Edward and Anne would have been part of the middle class society that was growing in number and power, largely on the back of the convict labourers. Edward acquired a house servant in 1832 while living in Pitt St Sydney, Esther HARRISON, who had been transported for 7 years on the "Louisa" in 1827 for shoplifting (she had 20 previous convictions). She was a needlewoman by trade. We do not know how long she stayed with the Keith family but she married convict Daniel Fearns on 27 March 1837.


Notice in The Sydney Gazette for 1832
Edward Joseph became well known in Sydney society. He is mentioned in many newspaper articles for his work in court, and as a court proctor, recovering debts.
He also became involved in local politics, joining the Australian Patriotic Association, standing for Secretary in 1835.
"The APA was formed in 1835 by a group of influential Australians in New South Wales. It sought a grant of representative government for the colony from the British House of Commons. Their efforts aided significantly in the passage of the Constitution Act of 1842 and the incorporation of the city of Sydney as a municipality with a broadly based franchise. The Australian Patriotic Association stood as a champion of the rights of the less well-to-do and of former convicts (Emancipists). Among the group's most notable leaders were W.C. Wentworth, the son of a convict woman and the publisher of the influential newspaper the Australian; Sir John Jamison, a surgeon and founder of the Agricultural Society; and William Bland, a prominent Emancipist doctor. With its goals achieved, the APA disbanded in 1842."
| | |
| --- | --- |
| Notice in the Sydney Herald, 31 August 1835 | |
Edward and family are recorded in the 1828 census of Sydney, confirming their arrival on the Mountaineer.
Edward Keith and family in the 1828 Sydney census
Land Grants
Edward Joseph began to acquire land soon after arriving in Sydney. His first foray was to gain a land grant in 1828 on 1,280 acres in Argyle and in 1832 to buy the lease on land but there are other records of him buying and selling or leasing land. Here are two early examples.

Land grant for 1828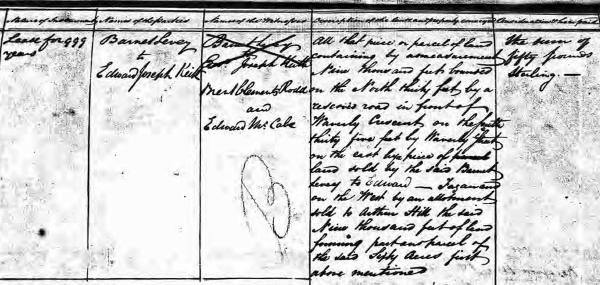 1832 purchase of lease
Death of Edward Joseph KEITH
Edward Joseph died suddenly in Sydney on 29 May 1837, aged 35. There are many unsubstantiated family legends surrounding the untimely death of Edward Joseph. The most common story states "Edward choked on a chicken bone at Government House during a banquet in honour of the coronation of Queen Victoria." The problem with this version is firstly, Queen Victoria was not crowned until 28 June 1838, over a year later. She acceded to the throne on the death of King Willian IV on 20 June 1837, so even that date does not fit with his death. However, the Coroner's report is more authoritative, concluding he died of "apoplexy". Sudden cardiac deaths, ruptured cerebral aneurysms, ruptured aortic aneurysms, and even heart attacks have been described as apoplexy in the past. Any of these causes would match the symptoms recorded by the Coroner.
| | |
| --- | --- |
| Burial record for Edward Joseph KEITH | Coroner's Inquest, 29 May 1837 |
Edward Joseph did not leave a Will. His wife Anne would have had to seek probate from the Court. Probate was granted on 14 February 1838, presumaby awarding all assets to Anne.
The Two Families of Edward Joseph Keith
Edward was not alone in Sydney society in having children with both his wife and his mistress. It would appear that several of his colleagues were in the same situation. Governor Philip King (1800-1806) had two sons by convict mistresses and his deputy, Judge Advocate David Collins had four children by convict mistresses.
Next I cover the two families - his wife Ann Boleyn KEITH, and his mistress Louisa HANKS. After Edward died, and Ann had been gtanted probate on his assets, Anne and her children returned to London, reportedly leaving Louisa destitute. Louisa married Thomas TROY in October 1843 and they had their first child in November 1843. However Ann remained a widow in London, dying there in 1857.
Go to the family of Edward and his wife Ann KEITH
Go to the family of Edward and his mistress Louisa HANKS
---
Return to the Keith Family Index Page
Last updated: 03 May 2020