ARNOLD GOODLIFFE 1837-1913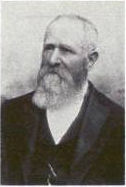 Account, taken from the personal narrative of Arnold Goodliffe. Published in the LDS Biographical Encyclopaedia by Andrew Jenson, vol 1, page 391.
(It should be noted that Arnold was living the law of polygamy that was still in practice until 1890 within the church.)
"I came of goodly parentage, my father and mother's antecedents being staunch Christians, who defended their religion with their lives many of them being burned at the stake, cast into dungeons, etc. in the days of the awful crusade in England by the Roman Catholics. My mother died when I was quite a small child. My father, however, was blessed in his second marriage with a good woman, who proved a noble mother to his children, and we always bless her memory. My parents were Baptists; in fact, all the Goodliffes descend from the early reformers, and have helped to build and endow seven chapels. My father was a firm believer in religious freedom and would defend the rights of a 'Mormon' Elder as quickly as those of the Baptist denomination.
"I became acquainted with the gospel when but a small boy and believed with my whole soul; but my father thought I was too young to fully realize what I was doing; and so I was not permitted to be baptized. I was sent to live with my uncle, Arnold Goodliffe, a merchant, of Nottingham, to divert my attention. I was in Nottingham one year before I learned of any Saints, and I had some difficulty in getting to their meetings; but by attending morning service in my uncle's church, I was allowed to go to the Saint's meetings on Sunday and week day evenings. I was baptized 27 Jun 1853, being over 16 years old.
"My first church donation was to the Salt Lake Temple. My great desire and anxiety now, having been baptized was to go to Zion, and I prayed to God earnestly that my way might be opened. God moved upon my relatives, and my brother proposed that I should go to America, and they would furnish all the money necessary. After a short visit among my relatives, I went to Liverpool, paid my passage, set sail in the ship "Siddons" for Philadelphia, with a company of Saints, bidding farewell to father, kindred, home and friends.
"President John Taylor met us in Philadelphia, where we landed 20 Apr 1855, and gave me my first meal in America. I possessed only twenty-four cents when I landed in America. We travelled by rail and steamboat to Atchison, Kansas. Here the cholera broke out in our company, and I gained quite an experience with this dreaded disease, as I nursed the sick. I was told that the afflicted ones must not have a drop of water- nothing but liquor and hot pepper teas. But I gave them all the pure water I could and had the pleasure of seeing them recover and removed to Mormon Grove. From here I travelled in Captain Richard Ballantyne's company and was appointed clerk to the captain of the guard. On the road I took quite sick, my life being despaired of. Brother Robert Baxter and family (now of Wellsville) were very kind to me and did all they could for me. God heard my prayers, and my life was spared. We arrived in Salt Lake City, 25 Sep 1855. I hired out to Clark Ames for my board, who said to me, 'I see you are not able to work, but you can chore for me, and I will learn you how to get along, but we have only provisions to last about four months.' I told him that I would go, and remarked that when I was confirmed a member of the Church, I was promised that I should not want for bread. He replied, 'Come along, you are the man to live with this year.' This was in 1855. Before he reached his home in Kaysville, he was enabled to get breadstuff enough to last for 12 months. The man from whom he obtained it telling him he could not render any help, but he finally let him have the wheat because of his magnanimity in taking in a poor, lone boy at such a time."
Arnold helped in settling Franklin, Idaho. He also ran a gristmill in Logan for a couple years, went to Bear Lake Valley and then to Malad, Idaho. He was called on a mission to England while residing in Malad in 1875. He was released to come home in May of 1876 because of illness. I will continue with his narrative:
"On arriving in Brigham City, Apostle Lorenzo Snow requested me to take a trip to Curlew Valley, explore the same and report. I complied with his request, which resulted in my being called to make my home in Curlew Valley. Soon after locating there with my family, we were visited by Apostle Lorenzo Snow, Judge Samuel Smith and Bishop Alva Nichols and Johan Evans, when I was sustained as president of the Curlew Branch. This was on August 13, 1876.
In 1877 I was called to act as Bishop of Snowville, being ordained a High Priest and Bishop by Apostle Lorenzo Snow, 21 Oct 1877. I have embraced the principle of plural marriage and have endeavoured to obey it, as well as every other law and ordinance of God's house. I am proud to say that I was numbered among those who were persecuted, hunted, and driven during the recent raid on polygamists. I was arrested in the fall of 1890 on the charge of unlawful cohabitation, taken to Ogden and tried, but finally acquitted, though one of the indictments charged me with having 'seven wives known and numerous others unknown to the jury."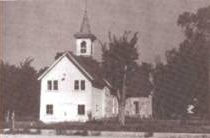 Arnold Goodliffe passed away 9 Jun 1913 and was buried in the Snowville Cemetery.
Old rock school and church house built in 1887 in Snowville. Box Elder County Historical Photo Tour, Utah Statehood Edition 1996