The Hutchison Family Of Glasgow
This is the paternal family of Eliza Agnes Hutchison (1860 - 1940) and her Hutchison ancestors.
My grandmother, Eliza Agnes Goldsworthy married William Froggatt in Sydney in 1910. Her mother was Eliza Agnes HUTCHISON.
Ralph HUTCHISON - David's Father
Ralph was born about 1806 in Inverkeithing, Fife, Scotland, the second son of David Hutchison and Esther (nee MORTON). I cannot find his birth in the Scottish records, although all his siblings are recorded.
Isabella MILNE
Isabella was born about 1811 in Dalgetty, Fifeshire, to William Milne and Isabella (nee McNAUGHTON).
Marriage of Ralph and Isabella
Ralph and Isabella married on 25 February 1828 at the Parish of Inverkeithing.
The Family of Ralph and Isabella
Ralph and Isabella had 11 children. I have obtained these names from the census records as I cannot find most of them in the birth registers. Ralph's name appears in the census records with different ages, suggesting the older one died and the name was reused, but the Scottish death records only begin in 1855 so I cannot check this possibility:
| Name | Born | Died |
| --- | --- | --- |
| David | 1831 | 2 Feb 1897 |
| Isabella | 1833 | |
| William | 30 March 1834 | |
| Ralph Willson | 13 Sep 1836 | |
| Ann | 1839 | |
| Esther | 1842 | |
| Robert | 1844 | |
| Ralph | 1847 | |
| Cecilia | 1848 | |
| John | 1853 | |
| Andrew | 1856 | |
Census Records
1841: Ralph and Isabella with children David, Isabella, William and Ann, are living at "Gouk Hall", with Ralph as an agricultural labourer. It is interesting to note that there is a David Hutchison living at the same address. This is Ralph's older brother. Also at Gouk Hall is David and wife Esther Hutchison, who were Ralph and David's parents.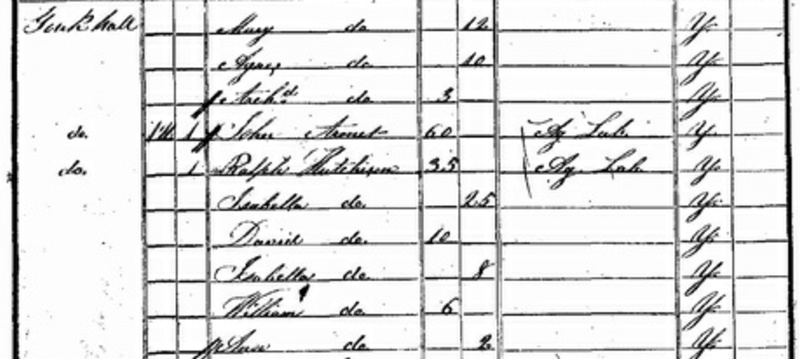 1851: By 1851, Ralph is working as as a stoker or fireman on the local steam boat ferry. Isabella and family remained at Gouk Hall

1861: Ralph is still a fireman, while Isabella and family are now at Alma St, Inverkeithing. Note that Ralph's brother David is also at Alma St, as is Elizabeth McNaughton, who was probably Isabella's sister-in-law and who had also lived at Gouk Hall in 1851:



1871: Still at Alma St


1881: Alma St


1891: Alma St: Isabella is now a widow, but has sons William and Ralph living either side of her.


Death of Ralph and Isabella
Ralph died on 17 June 1881 at Alma St. Isabella died 28 February 1894 at Alma St.
---
David Hutchison (Ralph's Father & David's Grandfather)
David was an agricultural labourer, born 1 July 1771 to parents David and Isabella (Chapman). He died 29 March 1856 at Gouk Hall, Inverkeithing, where he had lived for most of his life.
Birth and death records for David Hutchison
David married Esther Morton. Esther Morton was born about 1780 in England according to the 1841 census. She died between 1841 and 1851.
There is some doubt as to when David and Esther actually married. The marriage was entered into the Inverkeithing Parish registers on 15 March 1795, but the record refers to a "paper which they called marriage lines dated Edinburgh 3 July 1794. They acknowledged themselves married to each other, were rebuked for their irregularity and exhorted to live as becomes a married state."
This may be an example of the old Scottish tradition of "Handfast", especially as the first child of David and Ester was born exactly 5 months after the registration.
Handfasting was originally used to announce the union between a man and woman who wished to live together as husband and wife before receiving the blessing of the church. The couple would stand before their peers, hold hands above their heads, and state their intentions. The agreement was good for one year and one day, or until clergy came to the area. A child born of a Handfast union was considered legitimate and was eligible to inherit. Many times this was an arrangement made so a man would know if a woman were able to bear children.
Marriage record in the Inverkeithing parish records for 15 March 1795:
Family of David and Esther
| Name | Born |
| --- | --- |
| Elizabeth | 13 Aug 1795 |
| David | 2 April 1797 |
| Ralph | 1806 |
| Esther | 24 July 1810 |
| Janet | 26 July 1812 |
| William | 20 Feb 1815 |
| Andrew Gullands | 1 Jun 1818 |
1841 census record for David and Esther

1851 Census, still at Gouk Hall. Esther, his grand-daughter is the daughter of David and Cecilia (Mill), so is Ralph's niece.


From the 1851 census, we can see that Esther died between 1841 and 1851.
---
David Hutchison (Ralph's Grandfather)
David married Isabella Chapman at Beath Parish Church, Fife on 4 June 1762:
Isabella Chapman was born 8 Jan 1744 at Beath, Fifeshire to George Chapman, the miller:
They had at least two children:
| Name | Born |
| --- | --- |
| Janet | 28 Mar 1769 |
| David | 7 Jul 1771 |
---
Last updated: 11 May 2021