The Family of Benjamin Benton the Grocer of Plaistow, West Ham, Essex
William Benton
William, the third son of Benjamin and Elizabeth was born 4 June 1824 and baptised in All Saints Church West Ham on 12 September 1824.
                              John BENTON

                                  |
Elizabeth LAYBANK====v====Benjamin BENTON 

      ?-1847       m:1818     1792-1877 

                     |

                  William========v=====Harriet LOVETT===v===George BEST
                 1824-1871     m:1862    1831-1881    m:1875 1844-1905
                                 |                      |        ❚ 

      |------------|-------------|                               ❚
Emily Harriet   William   Elizabeth Sophia=====v=================❚ 
   1865-1941   1872-1872     1868-1898       m:1875

     
|             |                           | 
   m:1896                                      |
William FLEMING                                |
 1841-1914                                     |
     |---------|-------|        |--------|---------|--------|------|----------|   
   John     Sidney  Edward  Mary Ann   Emily    George  Charles Arthur George Albert
 1899-1977 1903-1980  1906-    1883-  1884-1885 1886-1886   1889-  1891-     1894- 
     |         |     
    m:1920   m:1925
   Florence  Doris 
    SHAW     MEERING  
   1898-   1901-1993  
     |         |   
  Florence 
   1920- 
     |                                  


1841 Census: In 1841 William is apprenticed to a cabinet maker, George Harden, living at China Row, West Ham.
1851 census: In 1851 William is a Journeyman Joiner, unmarried and lodging at Maiten's Alley, West Ham.
1861 census: In 1861 William is a boarder with Thomas and Jane LOVETT, Master Carpenter. Also resident at 40 Cotton St, Poplar was Harriet LOVETT, whom William married a few months later.
Marriage to Harriett Jane LOVETT
William married Harriett Jane LOVETT on 20 January 1862 at the Parish Church, Stepney.
William and Harriet had 3 children:
| | | |
| --- | --- | --- |
| Emily Harriett | Mar 1865 (Poplar 1c/706) | |
| Elizabeth Sophia | Mar 1868 (Poplar 1c/734) | |
| William | Mar 1872 (Poplar 1c/718) | Mar 1872 (Poplar 1c/478) |
1871 census: By 1871 William had married Harriet and they had had 2 children. They were living at 154 St Leonard's Rd, Bromley, London:
Death of William BENTON
William Benton died Sep qtr 1871 (Poplar 1c/435) aged 47. It would appear that his wife Harriet was expecting their third child, as William was born in March quarter 1872, but died shortly after.
Marriage of Harriet BENTON, widow to George BEST, widower
Harriet BENTON (née LOVETT), widow married George BEST a widower on 12 July 1875 at St Leonard Church, Bromley, London. George, like his father Philip was a bricklayer. This was George's second marriage. He had married Emma SCOTTEN on 25 November 1866 at St John Upper Holloway, Islington. They had five children before Emma died in early 1875.
1881 Census: The 1881 census record has Harriet and George living at 39 Tarrance St, Limehouse, London. With them were George's children. Living elsewhere in 1881 were Harriet's daughters. Emily was working as a general servant for Benjamin Preece, Baptist Minister, at 2 Agnes St, Limehouse London. Her other daughter Elizabeth was living with her grandmother Mary Benton at 2 South St, West Ham.


1881 census for George & Harriet BEST with George's children from his marriage to Emma SCOTTEN.


1881 census for Emily BENTON


1881 census for Eliabeth BENTON
Death of Harriet
Harriet died in late 1881 in London (Poplar 1c/469). She and George do not appear to have had any children.
Marriage of George BEST to Elizabeth BENTON
On 20 May 1883, abouth 18 months after his second wife had died, George BEST married his step-daughter Elizabeth Sophia BENTON at the parish church of St Leonard St Mary, Bromley, London. George was aged 37 and Elizabeth was 19.
Children of George and Elizabeth
George and Elizabeth had six children. There is more about Elizabeth's family here.
1891 Census
In 1891 George and Elizabeth were living at 13 Prospect Rd, Cheshunt, Hertfordshire with children Mary Ann and Charles. Their children Emily and George had died.
1901 Census
In 1901 George was again a widower, living at Park Lane, Cheshunt, Hertfordshire. With him were his children from his third wife, Elizabeth - Mary Ann, Charles, Arthur and Albert.
George BEST died in 1905 in London, having outlived three wives and at least three of his 11 children.
---
---
The Children of William BENTON and Harriet LOVETT
Emily Harriet BENTON
Emily Harriet was born 8 December 1864 (accordomg to the 1939 Register). She is listed in the 1871 census with her parents, although her father died a few months later. In 1881 Emily was aged 15 and working as a general servant for Benjamin PREECE, a Baptist Minister of Religion, residing at 2 Agnes St, Limehouse, London.


1881 census for Emily BENTON as a general servant at 2 Agnes St, Mile End, Limehouse London.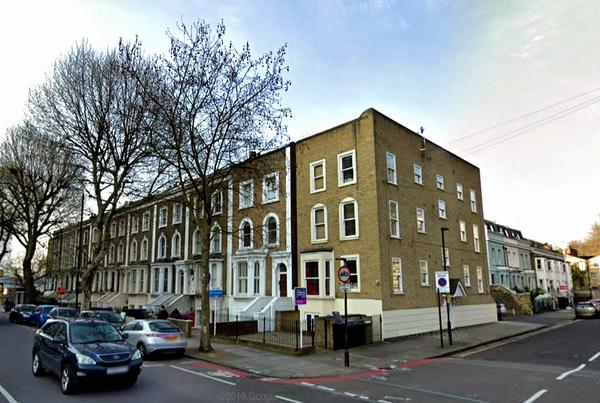 2 Agnes St, the building on the corner. It contains No. 1 to 4 Agnes St.
Emily Harriet married William FLEMING in mid 1896 (Jun 1896 Edmonton 3a/676). William was aged 55 and a widower. William was a machinist for a small arms factory in Cheshunt. He was born in Waltham Abbey, Essex in 1841. He is listed as a boarder in the 1871 and 1881 censuses, only in 1891 is he found with his first wife and family living at Hatton Rd, Cheshunt.


1891 census for William FLEMING and his first wife Sarah ANN (CROUCH) at Hatton Rd, Cheshunt.
In the 1901 census, Emily and William FLEMING were residing at 15 Hatton Rd, Cheshunt, probably the same house that William had occupied 10 years earlier. Today this address is a vacant lot.


1901 census for Emily & William FLEMING and their son John at 15 Hatton Rd, Cheshunt.
Emily and William went on to have three children:
| | | |
| --- | --- | --- |
| John William | 20 Sept 1899) | 1977 |
| Sidney Herbert | 28 June 1903) | 7 Nov 1980 |
| Edward Stanley | 5 Oct 1906 | Jan 1987) |
---
Last updated: 21/01/2020