The Goodliffe Family of Lambley Lodge, Belton in the County of Rutland
Some Notes on Lambley Lodge
The Name of the Lodge
In early documents and headstones, the Lodge is referred to as "Lamley", but in later documents a "b" has appeared - "Lambley".
The area known as Leithfield Forest was, and still is, well known for "The Hunt" and for rambling over the farms. In the early-1800s the number of visitors to the Lodge increased and some mistakenly pronounced the name as "Lame-ley", i.e. "lame" as in disabled. Mary (Arnold) is reported to have taken exception to this, and insisted that the "b" be added to the spelling so that the visitors would pronounce it correctly - "lamb-ley" as in "lamb".
I use "Lambley" here unless the context or a quote requires the older form "Lamley".
| | |
| --- | --- |
| The earliest known photograph of Lambley Lodge, taken in 1889. Caption on back "Lamley Lodge taken by F.A.G. when 21 in 1889 with schoolfellow Wykes with gun and Arnold of Lamley Lodge" [FAG is Frederick Arnold (1868-1944) and Arnold was young Arnold Frederick (1884-1947).] | Lambley Lodge in 2001 with the owners Harry and Kerrian Mason. |
Arnold Goodliffe's description of Lambley Lodge
Arnold (1807-1888) wrote an extensive record of his life "The Story of My Life", completed just before he died in 1888. He had this to say of Lambley Lodge, where he was born and brought up. (See pages 9-10 of his story.)
"Old Lambley Lodge originally was a foresters home, Leighfield Forest being one of the famous hunting grounds of the aristocracy of ages since, abounding in woods, spinneys, and first rate covers for game, and it is still a favourite field for the Melton hunt. The house was enlarged in my grandfather and father's time, and patched up from time to time. It has no architectural beauty, a long 5 roomed building, with little external or internal comfort. The 7 upper as well as lower rooms having no passages, the yards, gardens, farm buildings all being of the old type, cheap, small, and inconvenient, they were only required for the home farm which was but about 30 acres of grazing land. The site was, or might have been, with proper shelter and arrangement as fine as need be. Standing South on a gradually sloping hill, the pretty village of Belton lying out in full view with a woodland landscape beyond. Then on the south-east the extensive view stretching away to Rocking. On the south west the rich pasture land, on the east part of Leicestershire. Yes, Old Lambley, with all thy want of, and fewness of comfort, to me thy pure bracing air, thy pleasant open views, and many many memories of loved ones sheltered under thy partly thatched roof, are rich, tender and blessed."
Early History
The Lodge is marked on Speed's 1611 Map of Rutland, lying just above the Forest word. It features on all later maps.

| | |
| --- | --- |
| Speed, 1611 | Fullarton's map of Rutland, 1845. |
| 1886 map. | 1952 map. |

It is mentioned in the 1664 Hearth Tax returns, being inhabited by Mr. Bringhurst who had two hearths. By the next year, 1665, Mr.Thomas Marston was in residence, still with two hearths.
In 1678 the Will of Mr Thomas CAMPE, a shepherd at Lamley Lodge, was proved at the Consistory Court of Peterborough.
In 1701 Thomas Marston Senior, Gentleman, was buried at Belton St Peter on March 14.
In 1716 the Will of Thomas Marston, Gentleman, of Lamley Lodge, was proved at Peterborough. Thomas had been buried at Rutland St Peter on 27 Deceember 1715.
In August 1718 Thomas Ward from Lambley Lodge was baptised at Belton St Peter, his parents being Thomas and Elizabeth. Note that it was spelled with a "b".


Baptism for Thomas Ward of Lambley Lodge, Belton St Peter August 1718.

William Scott of Lamley Lodge married Anna Wilsend of Great Dalby at Belton St Peter on 3rd October 1728.


Marriage for William Scott of Lamley Lodge, Belton St Peter 3 Oct. 1728.

Elizabeth WARD of Lamley Lodge married William Bailey of Belton at Belton St Peter on 20 April 1742.


Marriage for Elizabeth Ward of Lamley Lodge, Belton St Peter 20 April 1742.

In 1749 the Will of Ruth SMITH of Lamley Lodge was proved at the Consistory Court of Peterborough.
In 1754 the Will of Robert WARD, Yeoman, of Lamley Lodge was proved at the Consistory Court of Peterborough.
In 1755 Mary Collings of Lamley Lodge married Richard Johnston at Belton St Peter.


Banns for Mary Collings of Lamley Lodge, Belton St Peter 8 April 1755.
The Earliest Goodliffe in Belton
The first mention of the GOODLIFFE name in the Belton St Peter records is the baptism of John, son of William and Elizabeth GOODLIFFE on 27 October 1720.


Baptism of John GOODLIFFE at Belton St Peter on 27 October 1720.
The First Goodliffe at Lambley Lodge
The earliest mention of the GOODLIFFE family at Lambley Lodge is in a Memoir written by Mary Goodliffe (née ARNOLD) who began the letter "My dear husband was born at Lamley Lodge, Belton, Nov 13th 1756". Her husband Thomas was the son of Thomas Goodliffe and Ann Curtis. Another Thomas Goodliffe was baptised at Belton St Peter on 13 February 1756, son of William and Frances. Presumably Thomas and possibly his brother William were living at Lambley Lodge by 1756.


Baptism of Thomas GOODLIFFE of Lambley Lodge, at Belton St Peter on 21 December 1756.
Newspaper References
1819 - Miss M. Goodliffe advertied that she will open a school in 1820 at Lambley Lodge. Stamford Mercury 17 December 1819.
1822 - Miss M. Goodliffe advertised Lambley Lodge as a boarding school for young ladies. Leicester Chronicle 29 June 1822, and again on 28 December 1822.
1833 - John Goodliffe broke the windows of Daniel Goodliffe's house, both of Lambley Lodge. Stamford Mercury 11 January 1833.
1904 - Messers Ward and Webb offered the stock, implements, dairy utensils and furniture at Lambley Lodge as they are leaving. Grantham Journal 12 March 1904.
1928 - Mr Hornsby requested the road at Lambley Lodge be repaired. Grantham Journal 27 October 1928.
1929 - Nottingham Journal 4 July 1929 reported the Will of Mr William Hornsby, Lambley Lodge Leighfield had been proved. Hornsby had died 23 March 1929.
In 1935, Mr.Hornsby (the tenant at the time) uncovered an upright stone support of one of the outhouses, on which the date 1760 was cut and the initials W.S. and T.G. These may have been cut at the time that Thomas took over the tenancy from William Scott.
1952 - On 17 May 1952 the Leicester Evening Mail advertised the sale of Lambley Lodge Farm by the owners.
The Occupants and Owners of Lambley Lodge
1600-1800
The Hearth Tax of 1664 record Mr BRINGHURST as the inhabitant. In 1665 it was Thomas MARSTON. The MARSTON family appear to have held the Lodge (probably as owners) for some time. In 1701 Thomas MARSTON Senior died and was buried at Belton St Peter. His son died at Lambley Lodge in 1715. The Lodge appears to have been sold after Thomas' death.
By August 1718 Thomas and Elizabeth WARD resided at the Lodge. Their daughter Elizabeth, of Lambley Lodge, married William BAILEY at Belton St Peter in 1742. Robert WARD of Lambley Lodge died in 1754. The Lodge may again have changed hands after Robert's death.
By 1756 Thomas and Mary GOODLIFFE were in residence as their son Thomas was born at the Lodge. It is not clear whether Thomas owned the property or was a tenant.
The Land Tax for 1798 was supposedly 4/- in the Pound on the assessed value of the land. Assuming the land at Belton was all of similar value, the rates paid give an approximation to the area of land involved. John GOODLIFFE paid 16 shillings on a small holding he owned in Belton. He also paid £8/19/10½ on land in Belton he leased from Francis Cheselden Esq. Nearby in Leithfield (presumably relating to Lambley Lodge) Thomas GOODLIFFE paid £2/9/1 on land he owned (probably Lambley Lodge itself) and George Ward paid £10 for land he leased from Thomas Goodliffe. Thomas also paid £4 for land he leased from Mr Roberts.
Thomas Goodliffe (1722-1810) appears to have lived at the Lodge from about 1756 although he may not have taken over the tenancy until 1760. The old Lodge was in three sections. The oldest part was evidently the eastern end which was thatched. We are told that Thomas built onto this in order to accommodate his growing family. His addition would be the middle section with the two dormer windows. A smaller third section appeared around the year 1800 when Thomas junior and his wife Mary (nee Arnold) needed extra room to house his large family, which was to grow to twelve children by 1809. The accommodation must have been very cramped then as Thomas senior lived until 1810 and his unmarried daughter Elizabeth and son William were also there!
1800-1904
The will of Thomas junior (dated 1929) directed that his wife Mary should live at the Lodge if she wished to. In fact she went to live with her youngest daughter Sarah at Barrowden. The will then specified that the west part of Lambley Lodge should go to the eldest surviving son John, and the east part to the third son William. Daniel was to have three smaller properties in Belton and some closes and an orchard are mentioned. William does not seem to have lived at Lambley Lodge as he was apprenticed to Mr. Hart, a grocer in Uppingham and eventually went into the same trade in Nottingham. The rest of the family were not keen on John Goodliffe (see brother Arnold's memoir) and were probably content to leave him to farm Lambley Lodge with the help of his six sons.
John (1798-1864) offered the farm for sale in July 1855 but it did not sell as John later passed the Lodge on to his son Simpson Stokes Goodliffe (1842-1922). Simpson and his wife Sarah had four daughters and a son, but none of these took up the farm so it was sold following Simpson's death and passed out of the family.
Messrs Royce advertised the sale of the stock and implements "upon the premises of Ward and Webb of Lambley Lodge (who are leaving)" on 24 March 1904.
The farm was leased out for many years and the buildings fell into disrepair, until again being sold in the mid-1970s. The new owners demolished most of the buildings but restored one, so the buildings seen today are mostly post-Goodliffe era.

Lincoln, Rutland & Stamford Mercury 6 July 1855.

Grantham Journal 12 March 1904.

Grantham Journal 12 March 1904.

Lincoln, Rutland & Stamford Mercury 9 May 1952.

Lincoln, Rutland & Stamford Mercury 30 May 1952.

Lincoln, Rutland & Stamford Mercury 30 May 1952.

Lincoln, Rutland & Stamford Mercury 10 Aug 1962.

Lincoln, Rutland & Stamford Mercury 29 June 1962.

Lincoln, Rutland & Stamford Mercury 8 June 1973.

Lincoln, Rutland & Stamford Mercury 27 June 1975.

Lincoln, Rutland & Stamford Mercury 8 July 1983.
| | | |
| --- | --- | --- |
| The old road sign in the village of Belton in Rutland | Lambley Lodge on the crest of the hill, as viewed from Belton | The road up to Lambley Lodge |
| The Lodge from the driveway | Lambley Lodge in 2006 | Sign for walkers at the end of the road to Lambley Lodge |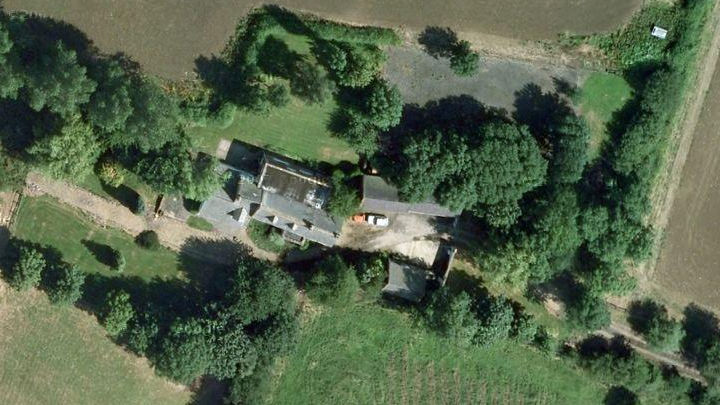 Lambley Lodge from the air
---
Last updated: 24 September 2023